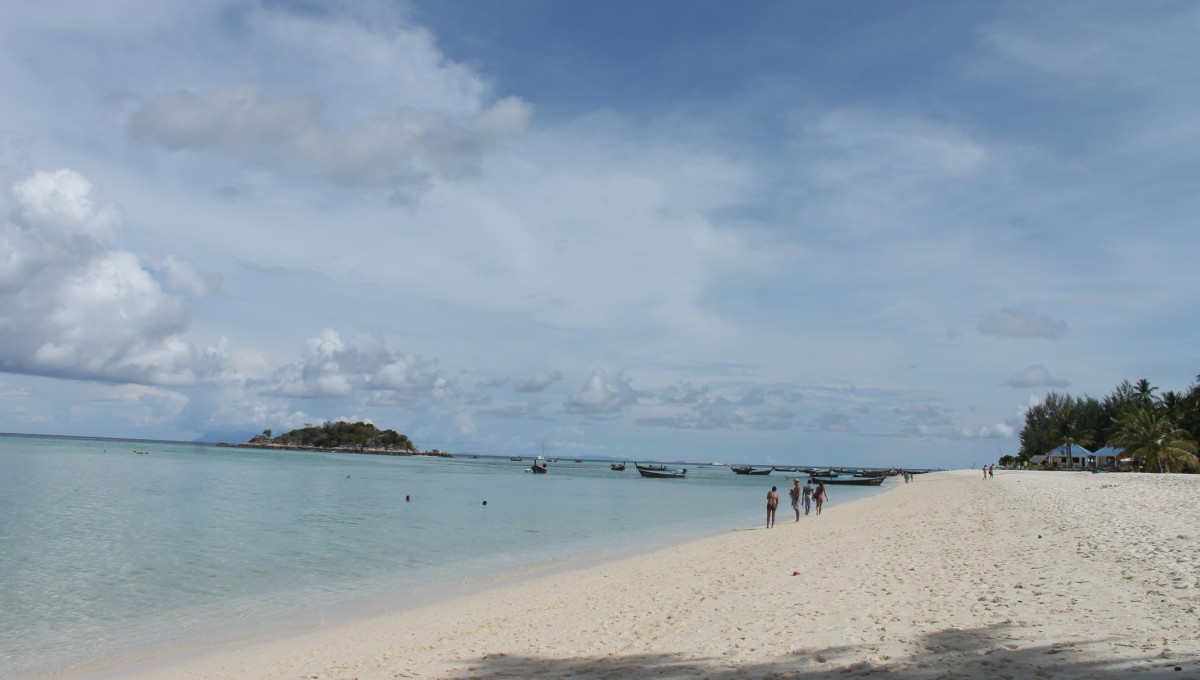 The Langkawi Ferry Service boat from Malaysia to Thailand left Kuah Jetty in Langkawi at about 9am. We'd booked with Langkawi Ferry Service who are currently dominating inter-island transport because they have online booking forms (in English) which allow you to book more than 7 days in advance. Passport control at Kuah was the briefest we'd yet encountered and we were soon following the ferry guide onto the boat. The ferry was slick and streamlined but its windows were all crusted up with salt which hinted at the barrage of waves to come. It was a relief that we could only feel them bash against the sides but in an attempt to keep people's spirits up, a string of Kung Fu and boxing films were played at maximum volume(!)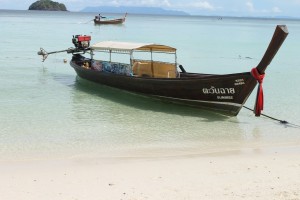 A few hours later, we had crossed the oceanic border between Malaysia and Thailand and had arrived in Koh Lipe's astonishingly clear waters. The ferry came to a slow halt about 100 metres from the shoreline, the closest it is allowed to go, given the reef which surrounds the island. The ferry was met by a couple of longtail boats which are owned and operated by the Chao Ley (literally translating as people of the sea), also known as the sea gypsies who inhabit half of the island. Each of their boats is brightly decorated with day-glo tassels and fashioned out of wooden slats with a bamboo floor. They are the only craft that can manoeuvre safely along the reefs and are therefore the only way on or off the island as there is no jetty.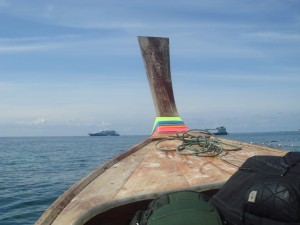 There was a lot of scrambling as passengers and luggage were parcelled onto the longtails, which began to rock precariously. Trousers were rolled up and shoes removed as we all prepared to disembark in the shallows, carrying backpacks overhead to make the short walk to the beach-hut-style port-a-cabin which housed the immigration office (and was conveniently located next to a bar). This has got to be one of the world's most relaxed immigration points where laid back officials stamp in their daily quota of 40 or so new visitors to the island before heading back to their hammocks. We waited on the sand for of a couple of minutes while our passports were inked with a 15-day permit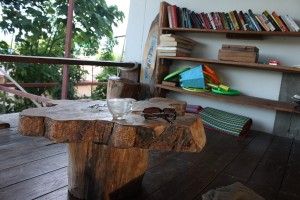 (there is a bit of discrimination towards those arriving overland as you only get half the number of days that air arrivals are entitled to) before traipsing off through the island's tiny main street, which is dotted with coffee shops, bars and restaurants to find our B&B. We realised quite quickly that it had been a mistake to book in advance – we passed many nice beach-side guesthouses before reaching ours (The Reef) which was quite pricey by island standards and slightly inland. Having said that, it was extremely peaceful, had beautiful views across the island, had been sustainably constructed with an outdoor stilted wooden platform from where breakfast was served and had an excellent book exchange library.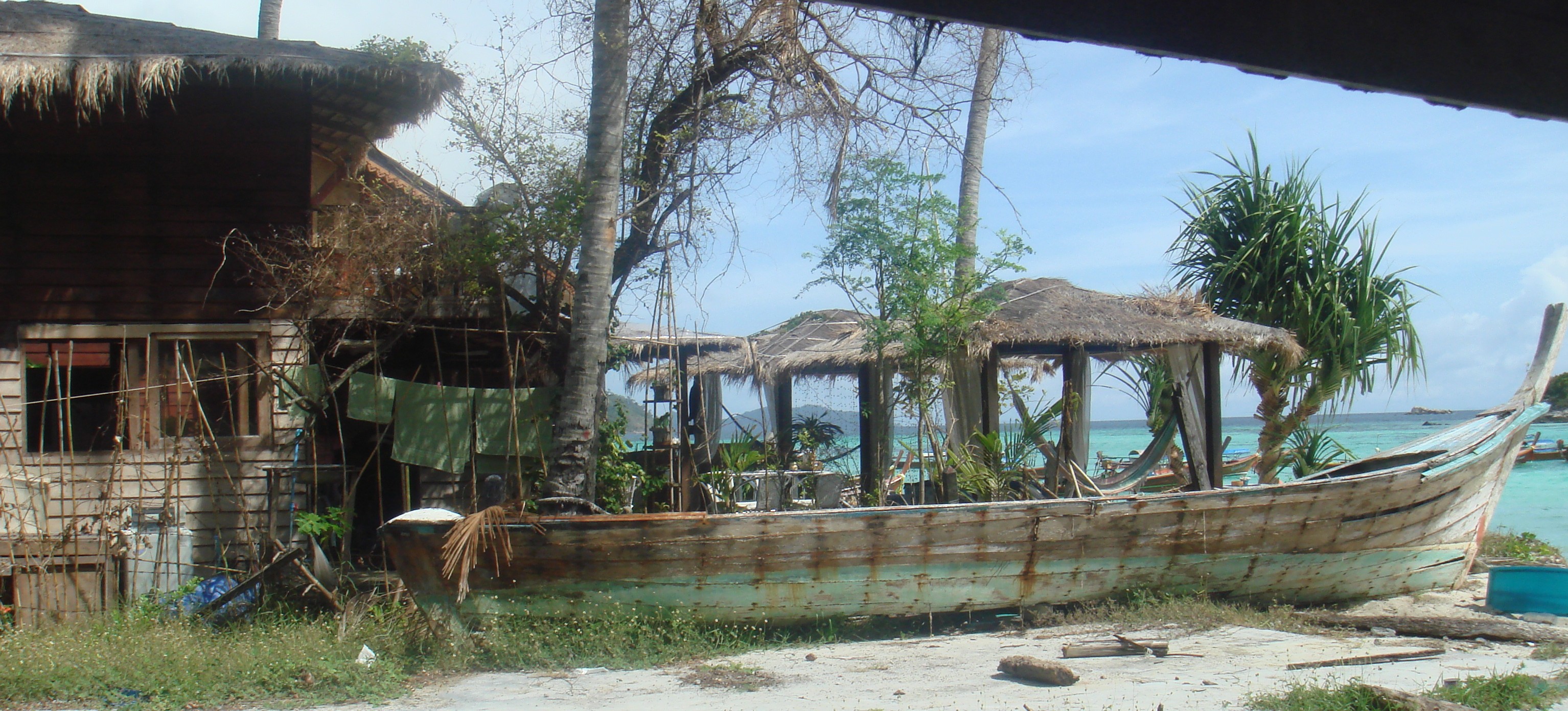 Koh Lipe is sadly starting to face the same fate as many other Thai islands where much of the available beach-front space is being gobbled up by developers whose aim is to create luxury resorts of one sort or another.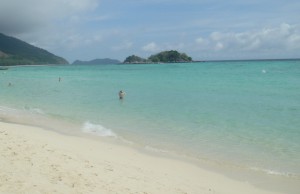 Importantly here however, development has been slower and more tasteful than elsewhere in Thailand due to its unique situation: Koh Lipe doesn't have an airport or jetty; it's surrounded by the Tarutao National Marine Park where development, and the use of speedboats and jet skis are banned; the Chao Ley (who have animistic beliefs) own and run a number of the island's accommodations which they have been able to hold onto in the face of aggressive competition from wealthy developers due to official recognition of their ancestral rights to the land; and plastic cards are as no-go as plastic bags as there are no ATMs to be found anywhere. You can't help but feel that all these things have saved the island from going the way of Ko Phi Phi and the like for the time being and it was still possible to find stretches of almost deserted beach even in January, which is considered peak season.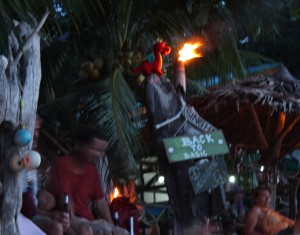 The island itself is very small – spanning only two kilometres from end to end. There are three main beaches where most of the island's accommodation can be found: Sunrise, Sunset and Pattaya beaches. Each beach has its own character – Sunrise beach is where the sun worshippers and dive enthusiasts hang out, Pattaya beach (where the longboats drop off new arrivals) is probably the busiest and is home to the island's smarter bars and hotels, and Sunset beach (reached via walking through a Chao Ley village and wood) is the hippie zone w