We were due to meet the AS Carelia at the Port of Brisbane's Container Terminal, which as it turns out is quite a way out from the city centre. We took a train to an almost derelict suburban station (Wynnum North) and then after a brief panic at not finding a taxi anywhere, managed to call a local firm who drove us to the wharf (after a few wrong turns). The experience of boarding the cargo ship as a passenger was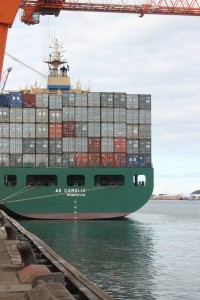 unlike most forms of international transport, in that it was both quick and painless. It offers a glimpse of what travel was like before the introduction of 'security theatre' and the other ridiculous departure rituals that plague air travel (and some train travel today too). We were greeted at the port authority by a friendly old security guard at the front desk who showed us into a smart-looking conference room where we were to wait for immigration. Two laid back customs officials shortly arrived and sat down opposite us at the table before asking us a little about our onward journey, talking us through the departure paperwork (thankfully only one page) and stamping our passports. They said that they don't see huge numbers of cargo ship passengers but that it's not uncommon and in the last year they've stamped about half a dozen in and out of the country (the most notable having been a group from the UK travelling around the world on a fire truck, which came with them on the freighter to raise money for a cancer charity).
We already knew, from the difficulty we had experienced in tracking down any freight companies who were willing to carry passengers between Australia and South East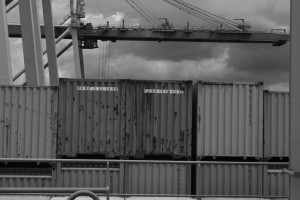 Asia, that the number of passengers who manage to obtain this passage is currently quite limited (it was certainly living up to its reputation as the holy grail of sea travel)! This is partly due to a previous governments' extreme approaches to illegal immigrants and subsequent high-court quashing) – which makes carrying passengers more hassle than its worth for container companies. At the time of writing, the AS Carelia (a medium sized container vessel) is the only ship taking passengers between Australia and South East Asia! If you're more flexible or travelling Eastwards then getting to South Korea or across the Pacific is much easier for some reason.
After we finished with customs we jumped in the security officer's ute and were taken down to meet the ship. A couple of crew in bright orange overalls were there to meet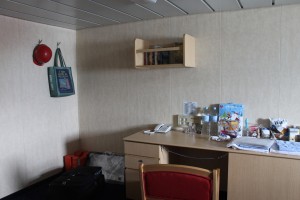 us (roped in by the 3rd officer to help bring up our bags) and after eyeing the very steep steel gangway to the ship, we were grateful for the help! We were then taken inside the tall tower of the ship, which houses the cabins, dining rooms, offices and the bridge) and were shown up four flights of steel stairways in the ship's superstructure to our 'living quarters', which were much bigger (being split into a day room and a bed room/bathroom) and more comfortable than what we had become used to on our previous trans-Atlantic and trans-Pacific journeys. There was a writing desk, a sofa, a comfy double bed and wardrobe, but the cabin was pretty bare apart from that, which presented us with a blank slate for personal touches, postcards and pictures sellotaped to the walls.
We were then taken down to meet the captain, Mr. Alexey Popov, who greeted us warmly but eyed us a little suspiciously. He explained that this is not a passenger ship and that things had to be done a little differently around here, for example we woul
d have to ring the bridge for permission before venturing outside on the lower decks; meals would be served promptly at specific times of the day (we were to eat with the officers) and there was no alcohol available as this was a dry ship. He also asked us if we were married – after a bit a quick eye contact,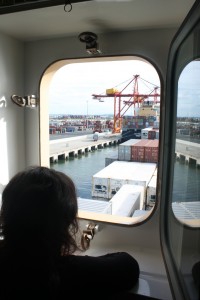 we hesitatingly said that we were, to which he replied 'Good! I thought so but was a bit confused by different name in passports…no matter'. We were then shown back up to our cabin to await a visit from the the health and safety officer who would explain the safety procedures to us. While we waited, we watched the large cargo cranes loading and unloading containers in a cacophonous sort of Tetris dance from our cabin windows. The ship finally pulled out of Brisbane Container Terminal in the late afternoon, slowly inching its way towards the open sea and New Zealand. As we veered away from the Queensland coast we caught a brief glimpse of some dolphins jumping alongside the boat. By sunset, the coastline had become a distant strip on the horizon, the last land we were to see before arriving in Auckland.