When it came to navigating our way through China, we knew that we wanted to spend some time in the more rural countryside outside of the power and manicness of its cities. We were due to meet Alex's parents in Hong Kong early the next month and so we couldn't wander too far away from the coast if we were to make it back overland in time to see them. In Hanoi, we had got talking to an American who had been teaching in China and he suggested that we make our way to Guilin and then take a bus from there to Yangshuo – "you'll see why when you get there" he said with an almost whistful look that we took to be a good sign.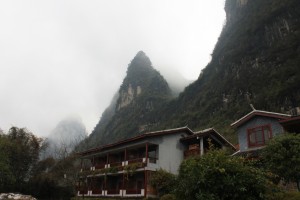 He also recommended that we look up the Yangshuo Mountain Retreat – an eco residence on the banks of the Li River set against some 'incredible' scenery. Upon investigating further we could see why he pointed us in its direction; not only is it set in a spectacular part of the country but it also invests in sustainability initiatives, educational programmes and the community (importantly for us, it is also 100% managed by locals who help their visitors to understand and learn about the area). Luckily for us, we just caught the end of low season and managed to book in for few nights; now all we had to do was get there.
The train to Guilin left Nanning early the next morning. We soon discovered that there were no taxis around at that time due to commuter traffic on the roads, and it would therefore be easier for us to walk/run to the station. It was pouring with rain and my small wheelie case – which had made it over Cambodian dirt tracks without a problem – chose this moment to break. Luckily, the handle was still (just about) intact and so we made it to the station with five minutes to spare. What we hadn't bargained for (this being the first domestic train we'd take in China) was the security processes you have to adhere to here before boarding any inland train. First through the ticket officers, then through the scanners and finally through a turn style controlled by some fierce looking guards. We got through the first two okay but I was taken aside at the turnstyle where the guard grabbed the red notebook I was carrying and started frowning into its pages (we'd be playing cards and so perhaps he thought the lists of numbers were some sort of code). He demanded to see my passport which he just glanced at the cover of before saying "British?, Okay". For the first time on our trip, I felt relieved to be holding a British passport (we later heard stories from others about how certain countries discriminate against certain nationalities). This time, our passports had worked in our favour and we just had enough time to run through the barrier and hop on the train before it left.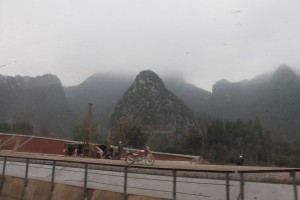 We had booked the 'third class' wooden bench seats but the cabin guard took pity on us (we must have looked wet, flushed and tired) and ushered us into another cabin with softer seats which we were glad of as the journey would take 5h 30. The train wasn't full and it was relaxing to watch the scenery go past. A smartly dressed businessman sat opposite us and I was amused to hear that he had Yann Tiersen's La Valse D'Amelie as his mobile phone ring tone (we later found out that the Amelie soundtrack is very popular in China).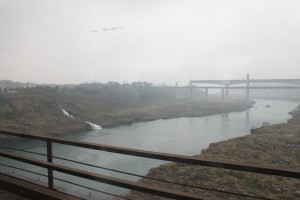 It somehow set the scene for the journey and the time passed quickly as we watched urban sprawl fade into rice fields, rivers and small stone peaks. These started to grow in size as we neared Guilin and looked incredible through the steamed up window panes.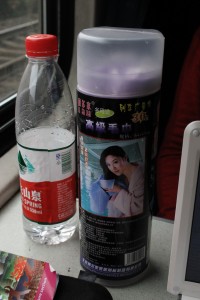 On board a sales man was standing in the middle of the carriage doing a pitch and demonstration involving a bowl of water and a quick drying towel which fit into small plastic tubes and came in three bright colours. He handed one out to each passenger and placed its casing prodly on the table in front so we could delight in its magic; unfortunately we were more enchanted by the scenery outside the window and so didn't make the most attentive of audiences. Catching on, he quickly released his tubes from the clutches of our hands and sauntered off to the next carriage in search of more appreciative listeners.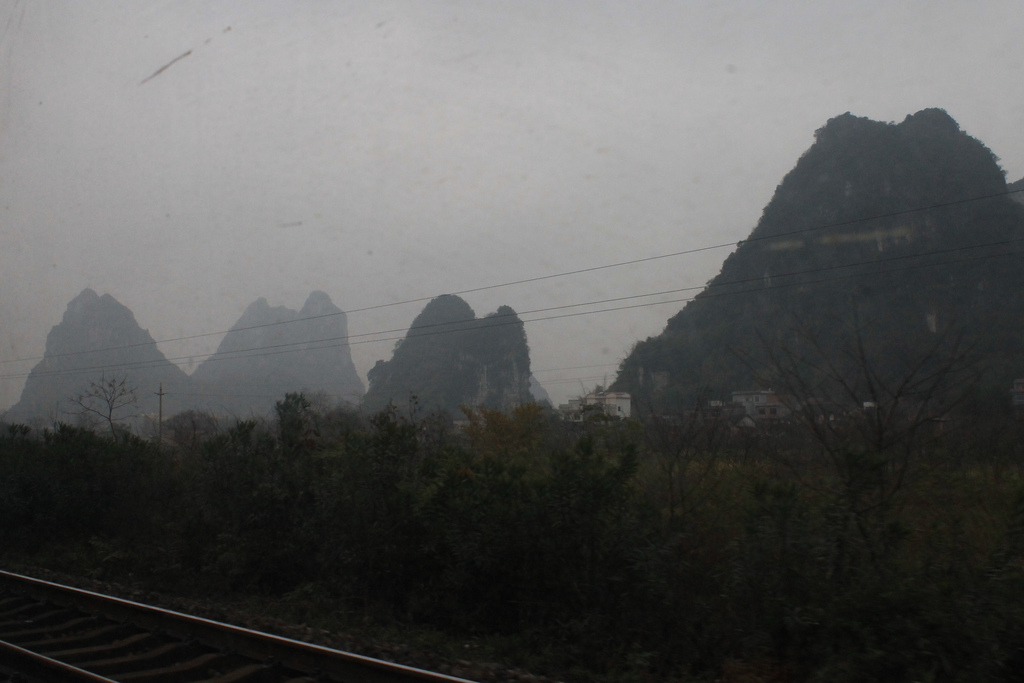 The peaks rolled on and it wasn't long before we pulled into Guilin's station. It felt good to be off the train and stepping into fresher air. We found our way out into a carpark where there was a small cabin with pictures of buses on the side. We showed the lady behind the desk where we wanted to go on a map and she nodded, picked up my bag and ran across the car park with it. There was a local bus just leaving which she ushered us onto after taking our money. This turned out to be a very local bus which not only seemed to stop nearly every 10 meters to pick up and drop off shoppers but also appeared to collect and dispatch post.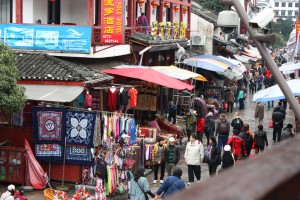 We hadn't seen the sun since arriving in China and although it was only 4pm, the light was already fading – we willed the bus on, not relishing the thought of finding our way to the mountain lodge in the dark. About forty minutes later we arrived in Yangshuo town centre – a strange mix of sports shops, cafes and Austrian mountain style buildings – perhaps the result of the influx of tourists the Lonely Planet coverage of the town brought in the 80′s and 90′s. West street is the main shopping street here and was buzzing with tourists (mostly Chinese, escaping from the cities on the increasingly popular bus tours on offer in every major urban area). We felt glad that the Mountain Retreat was a 15 minute ride out of this tourist ville, into the mountains. We managed to find a willing taxi, negotiate a fair price (which we were always getting in the habit of asking about from whatever guesthouse we were headed for prior to arrival) and were soon heading into the mountains…