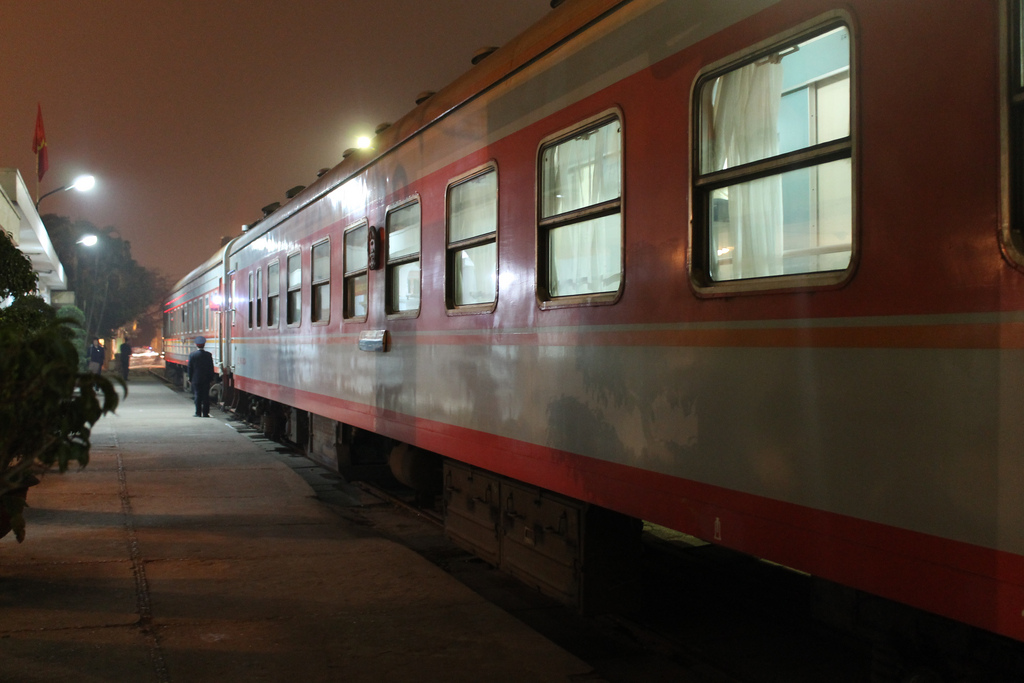 The last train we caught in Vietnam left late in the evening. We hopped into the taxi arranged by our guesthouse and were soon rushed through the laneways of the Old Quarter, flanked by a stream of motorcycles and scooters which flowed onto the freeway. The international train station at Gia Lâm is located a few kilometres North East of town and we arrived a little early only to discover that the train was delayed – we were in for a couple of hours spent examining the other visitors to the waiting room and watching the sunset fade to a deep shimmering red through the window.
In the waiting room we had a short conversation with one of the staff from our hotel, who happened to also be waiting for an arrival from the train. We couldn't exchange much in the way of conversation, still being reliant on our phrasebook and wild gesticulation, but managed to swap greetings, some basic stories and, in true English style, complain about the last few days' weather.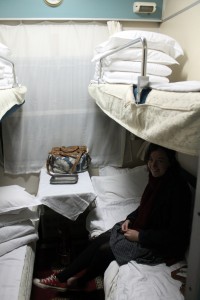 At long last the train pulled up – this was a Chinese train, markedly different from the Vietnamese versions we'd travelled on before in interior (the Chinese go in for emblemed carpets, polished wood and sleeker sound-systems/screens). It was our first step into what would become a constant flow of elaborate and ornate displays of affluence.
In 1902, the line from Hanoi to Đồng Đăng (the Vietnamese station on the border with China) was built. At the time Vietnam was still colonised by the French and the line was heavily bombed by the Americans during the Vietnam war. Since then it has been patched up and is again a major route for the transporting of goods and passengers between China and Vietnam. It is also a great way to experience the marked contrast in landscapes and philosophies between the two countries.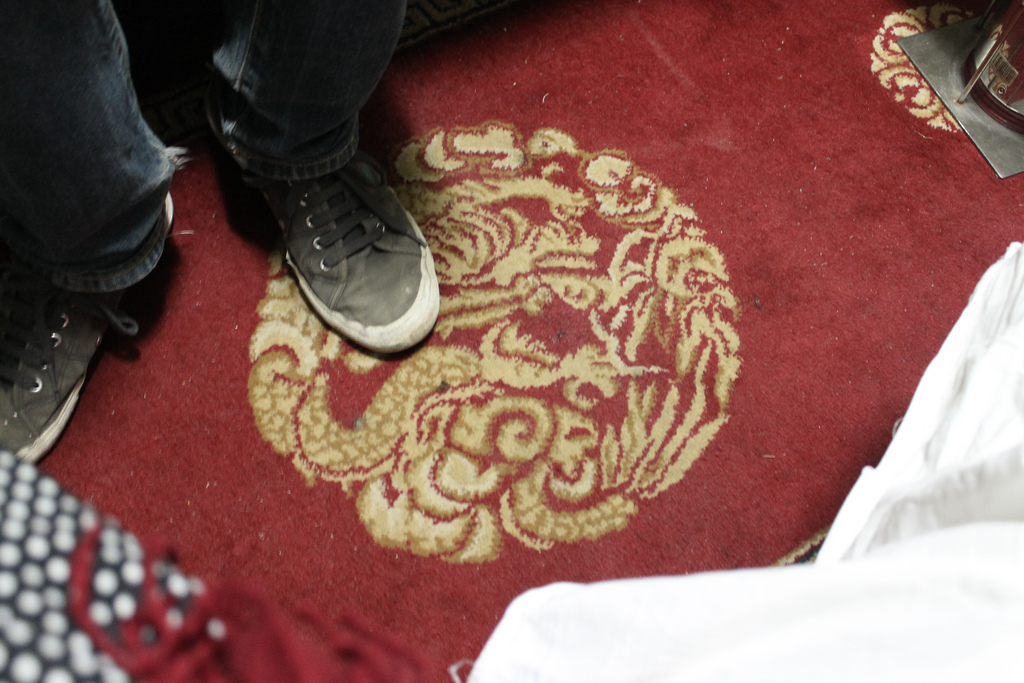 This line would carry us over 396 kilometres of terrain to the relatively small (by Chinese standards) border town of Nanning – but first we had to experience the delights of our first Chinese border crossing.
Not long after we'd settled into our cabin on board, a train guard knocked on our door to check our passports, visas and tickets before swapping them for a couple of colourfully decorated plastic cards, leaving us free to wash and get ready for bed despite the knowledge that in a few hours we would be rudely awakened for our first border check by train. We had been on the train for around three hours, enjoying the luxury of a train carriage all to ourselves, before we were alerted by the guard to get ready for the border crossing (it was about 1.30 am and the cabin felt freezing so we quickly pulled scarves and warm jumpers out of our backpacks). We couldn't see much outside apart from the occasional collections of lights in the distance and the noise and flash of sparks coming off the axles. It felt like this went on for some time but the train had started to slow and ten minutes later it came to a complete stop at the dimly lit border check point.
The night air was the coldest we'd felt in a long while – and we felt glad of the warm clothes we'd purchased in Hoi An. By the time we assembled ourselves, we were one of the last off the train and the platform was eerily empty but for a couple of border officials who were inspecting the train carriages and carriage underbellies with torches for stowaways and contraband. We were motioned into a brutalist style building where a group of around 30 shivering passengers were gathered around the glass screens of the passport office, protected by three officials in thick military coats. Behind the screens, the office staff had begun to stamp, hand-wave and pore over the minute detail of each passenger's passport, taking especially long over our European ones. Once a stamp had been granted a stern-faced official would bark the passport holder's name and wait for them to come to the front and collect it, rather like a school prize giving. The stern expressions of the officials only changed once – amusingly when they reached Anna's passport – at which point the guard's frown melted into a smile and he raised his shoulders in an actual laugh. We don't know whether it was the photo, the strange butterfly hologram on the passport's photo page or the surname 'Rice' which did it but whatever it was, it brought a more human side to the otherwise military-style experience.
After twenty minutes of huddling in the cold, we were back on the tracks for a five-minute train ride to the Chinese side of the border, where we had the pleasure of repeating the entire process again, thankfully in a heated room this time. The difference between the sides couldn't have been more stark: the Chinese border post was kitted out with top-of-the-line scanners probing our bags with all kinds of rays and sniffer dogs mainly on the lookout for dangerous fruit-bearing tourists. Presumably other 'dangerous' goods are occasionally tried but I wouldn't bet on a smuggler's chances here…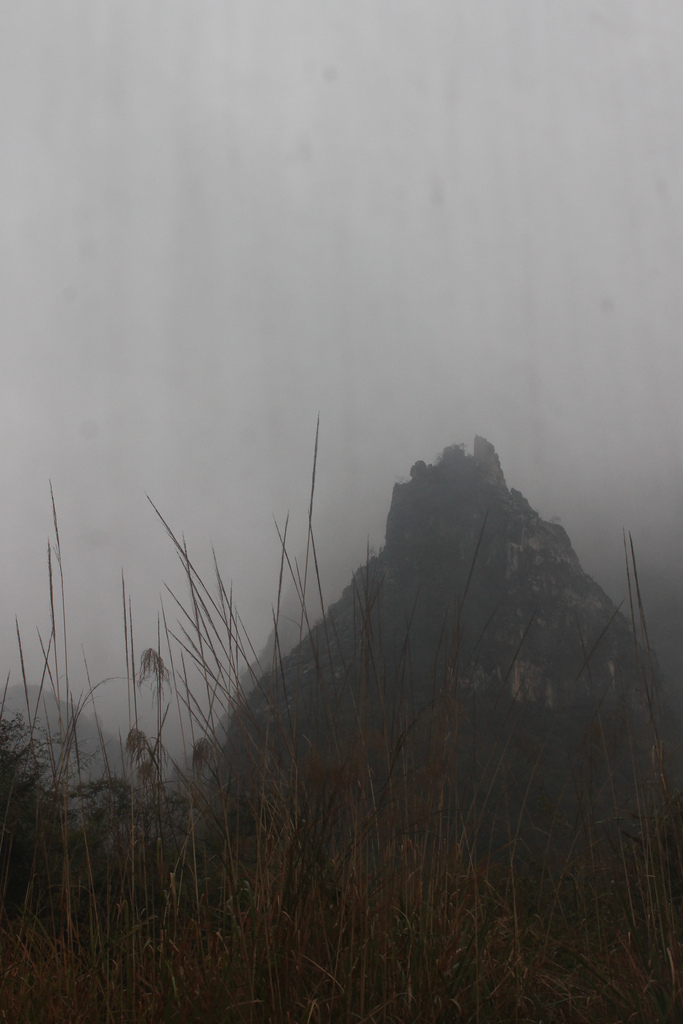 We were now officially in China and it wasn't long before the train was pulling away and edging towards Nanning. The train carriage was pretty freezing by this point, so we decided to keep our jumpers on underneath the duvet before attempting to get some sleep (tip: Chinese provincial trains are rarely heated except in extreme conditions so always bring something warm for nights). As day broke, we were woken to a dawn chorus of hauntingly beautiful piano music, played out through the sound-system to wake up sleeping passengers.  We drew back the curtains to see our first glimpse of China – the paddy fields of Vietnam had transformed into beautiful Karst peaks, huge towers of rock that stand alone in the mist as millenia of rivers have whittled their edges down to steep cliffs that oscillate across the landscape. This didn't last for long as we soon hit the urban sprawl of Nanning's outskirts. This "small" border town is in fact huge – with a population of six million, it is almost the same size as London and has a shopping district to rival that of any British city. This wasn't the easing into Chinese culture we'd hoped for but it was at least a 'real' introduction. With no airport terminals to soften the blow, we were soon released into a station heaving with Chinese workers and commuters (and not another 'tourist' in sight). Hanoi felt like a village in comparison.
The area outside the station station is a large concrete mass with an underground shopping centre to shield pedestrians from the cold in winter and a topside market full of motorcycles, each laden with a different speciality of fresh fruit or hot dumplings simmering over portable gas heaters. Vast video displays arch over entire sections of the streets, while four lanes of traffic speed past pavements full of pedestrians all moving as fast as they can to get out of the smog.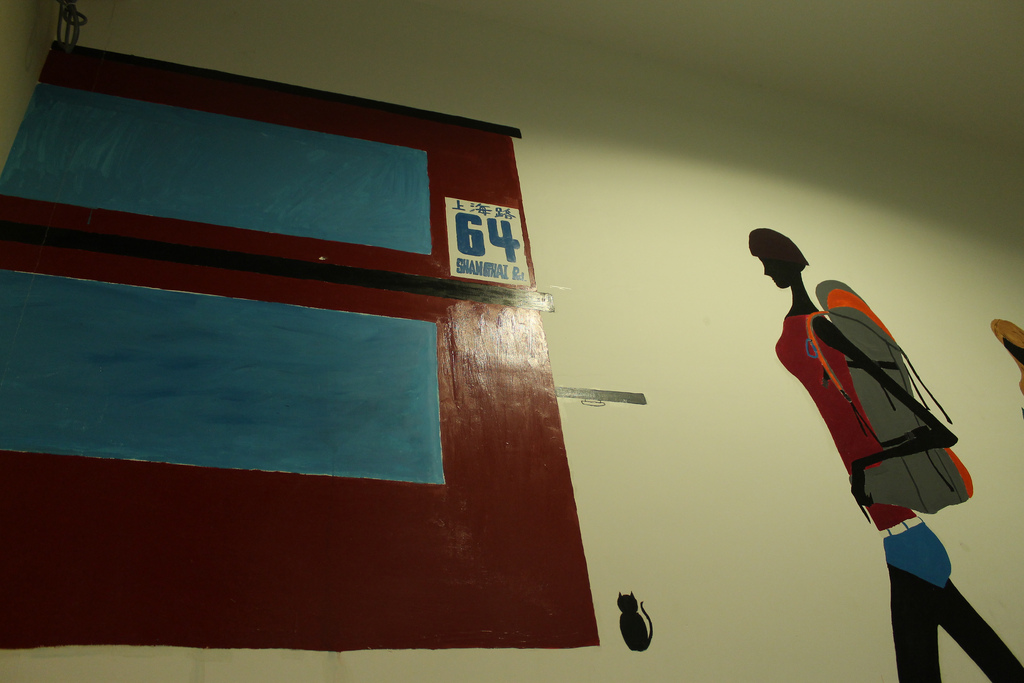 Our hostel was located a 10 minute drive away, so we pulled the Chinese phrasebook out of our backpack and attempted to find a taxi. Luckily, we'd thought ahead and had the address written down in Chinese which saved us (I don't think our terrible attempt at conversation was getting us anywhere). The hostel was located in a side street in a sort of park next to the river – if it hadn't been signposted, I would have taken it for a toilet block. The inside was thankfully quite welcoming and there were a couple of Australian and British travellers who were about to continue their routes into Vietnam. They told us that Nanning is really a business town and most travellers just stop by en-route or to investigate business opportunities (one of the Aussies was there to try and sell New Zealand and Australian wines into business hotels and restaurants – an alcoholic beverage which is apparently becoming more popular with Chinese businessmen and women since travel has become more commonplace). Although it was still early morning, we were incredibly hungry and so decided to go out to find something to eat. The back streets which wound their way to the centre were abuzz with activity – metal sheets were being sawed, old men were playing Mahjong in the park, pans and pots were bubbling over and textiles were being hung out to dry. It felt similar, yet different to Vietnam – more industrial with a slightly aggressive sense of purpose hanging in the air.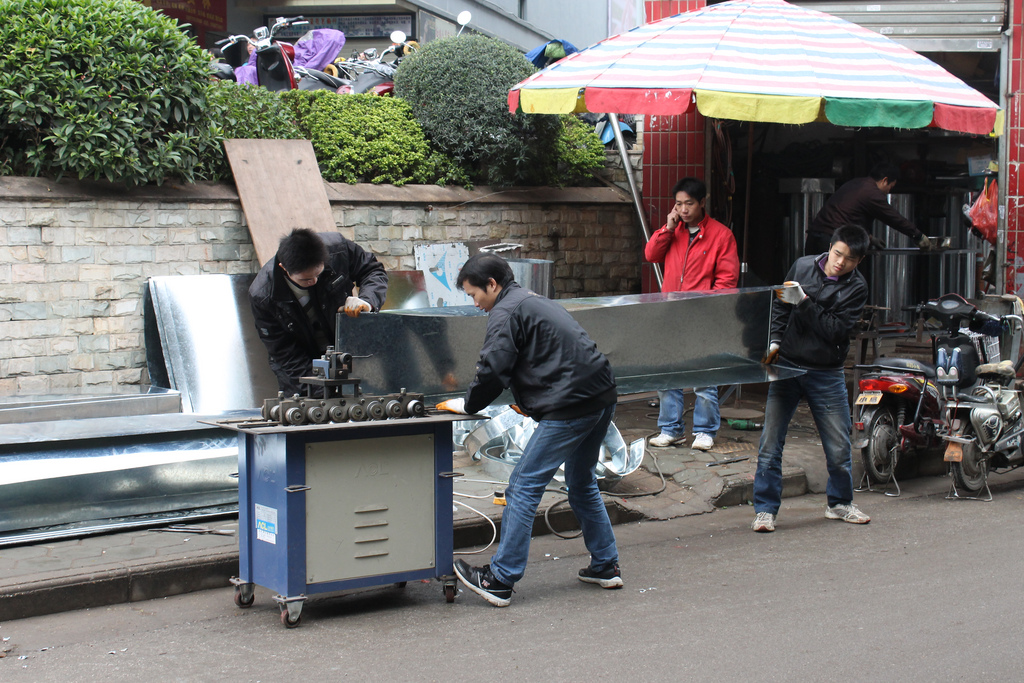 We followed the streets until we hit a line of cafés (where no-one spoke a word of English) on the main street. We opened our dictionary but realised stupidly that we didn't know whether to use Mandarin or Cantonese. We went into one of the cafés and attempted to order something vegetarian, trying the word in both languages before the lady behind the counter nodded and ordered something for us, directing us towards a hatch at the end to collect it. The café was full of smartly clothed office workers and mothers with warmly-wrapped babies. After collecting our food, which arrived in a sturdy iron vessel from the hatch, we took a place at one of the bright red plastic tables. We'd ordered some kind of soup, which was definitely not vegetarian judging by the tentacles and grey bits of meat which were floating in it. There were however piles of vegetables and tofu thrown on the top so it was halfway there and tasted really delicious.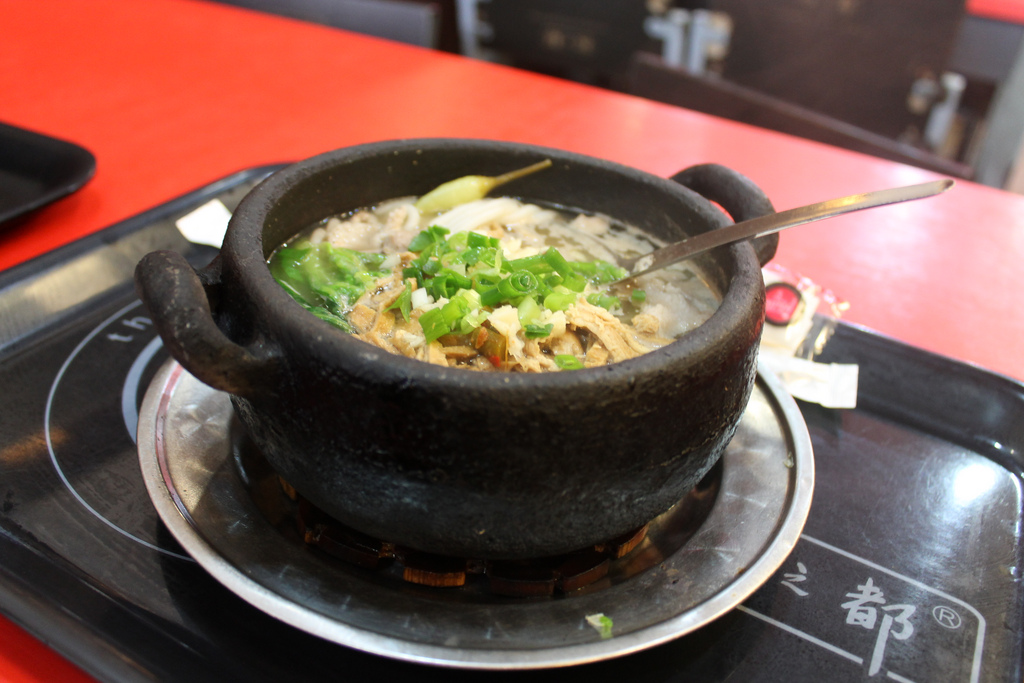 After travelling for this long, we were used to eating what we were given and in all honesty it was exactly what we needed. While we were busy sucking up the noodles, a toddler at the next table decided to take an interest in us and tried to feed us noodles from her bowl. The mother was soon encouraging her to wave and say 'ni hao', so our first breakfast in China became something of a family affair, a welcome change among all the offices and business suits.
Feeling refreshed, we made our way back to the hostel, where a French family were watching Alvin and the Chipmunks on the television in Chinese with badly-dubbed subtitles ("get suitcase down Alvin chipmunk", "no, I am furry-tale Simon chipmunk" etc.) Our train to Guilin was due to leave early the next morning and so we decided to catch up on some sleep before heading out for dinner. After conducting much research on travel forums, we came across a well-rated Chinese-run restaurant called Babel, serving British/American cuisine which was apparently very popular with dating couples and the young crowd of Nanning. We decided to give it a go, feeling like a change from noodles, and were surprised to find ourselves in a slick style palm house where the after-work crowd were quietly sipping on Bellinis and Cosmopolitans. We ordered a vegetable burrito with cheese (we hadn't seen dairy products in quite a while!) and a 'roast chicken' with gravy and a dish of mashed potato. The next table were busy tucking into a massive wedge of chocolate cake and cream while sipping on an American beer. We didn't think the food came close to the deliciousness of the noodle broth we'd had for breakfast, in either quality or taste, but this was one of the pricier restaurants in Nanning and there was a large queue forming at the door by the time we'd finished. Was this the 'changing face of China' which we'd heard so many people speak of? We'd have to wait and see…