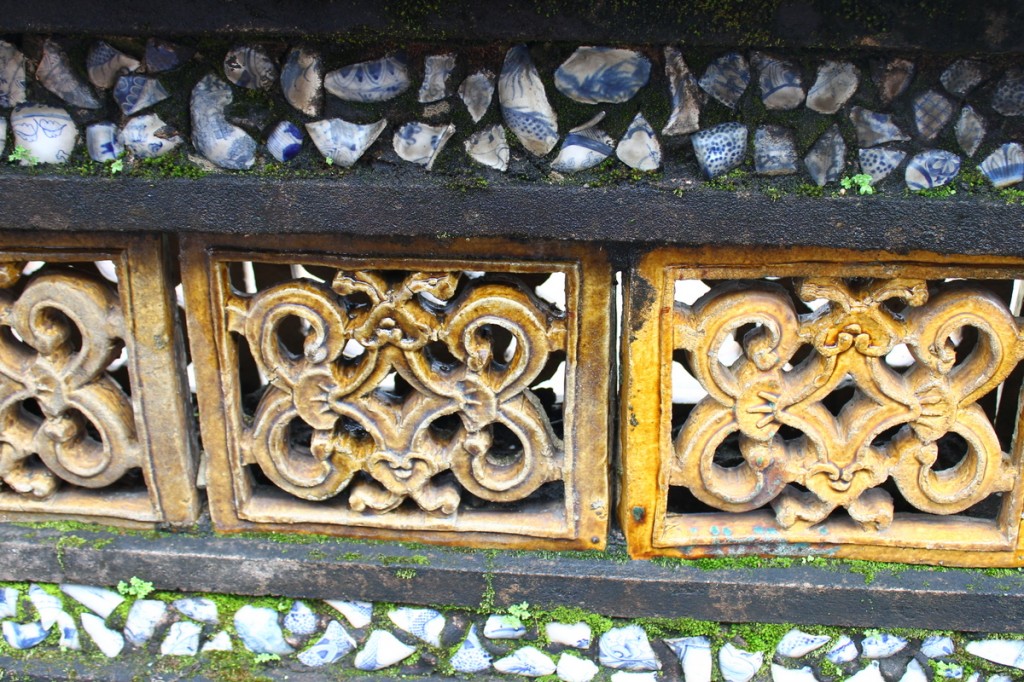 Huế is a town with a rich history and a turbulent past which has dragged it through everything from the feudal dynasty of the Nguyễn Lords in 17th-19th centuries through to the Tet offensive and massacre at Huế by Communist forces in 1968 and the persistent aerial bombardment from the Americans during the Vietnam war.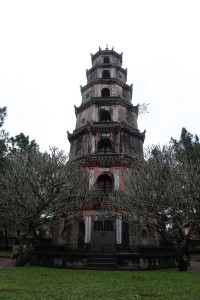 Even after the war had ended, the historical structures at Huế were seen as relics from a past no-one wished to preserve and many were left to rot and ruin. Since 1993, when many of Hue's historical monuments were given UNESCO heritage status, work has taken place to preserve those buildings which managed to survive both war and neglect. And it's a good thing too as there are some truly beautiful buildings here, not least the Thien Mu Pagoda (a 16th century structure and one of the oldest in the country) and the Imperial Citadel with its interior Forbidden City. The Thien Mu (celestial lady) Pagoda was a few miles from the centre of Huế where we were staying at a small but extremely cosy hotel called The Jade.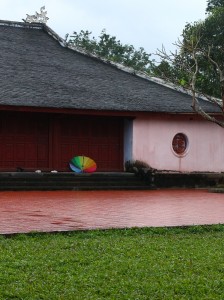 As it was pouring with rain we decided to opt for a taxi instead of a Tuk-Tuk to the pagoda and as it's about a 15 minute drive across the Perfume River and out of the town, the driver offered to wait for us and take us back. The monastery attached to the Pagoda is still active and so it is a peaceful place dedicated to learning – the car of the monk Thich Quang Duc, who burned himself to death in Saigon in 1963 in protest of the regime's clamp down and violations against religious freedom, is on display here as a gentle reminder of what he fought to achieve. The bells, incense, bonsai trees, statues and spectacular views of the Perfume River make this an ideal place to take some time out to reflect and admire the many facets of this fascinating country.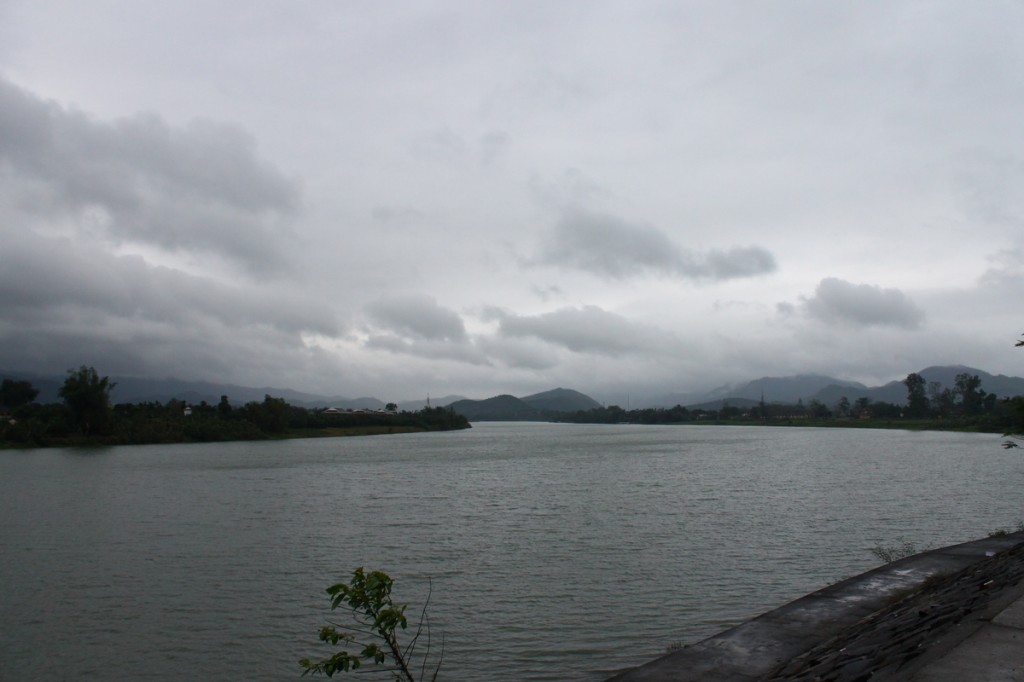 Huế is certainly less geared towards tourists than Hoi An, making it an excellent place from which to observe the local day-to-day activity of the town. We were amused to watch fishermen in wooden boats on the Perfume River using traditional fishing techniques but taking breaks every now and again to talk on their mobile phones.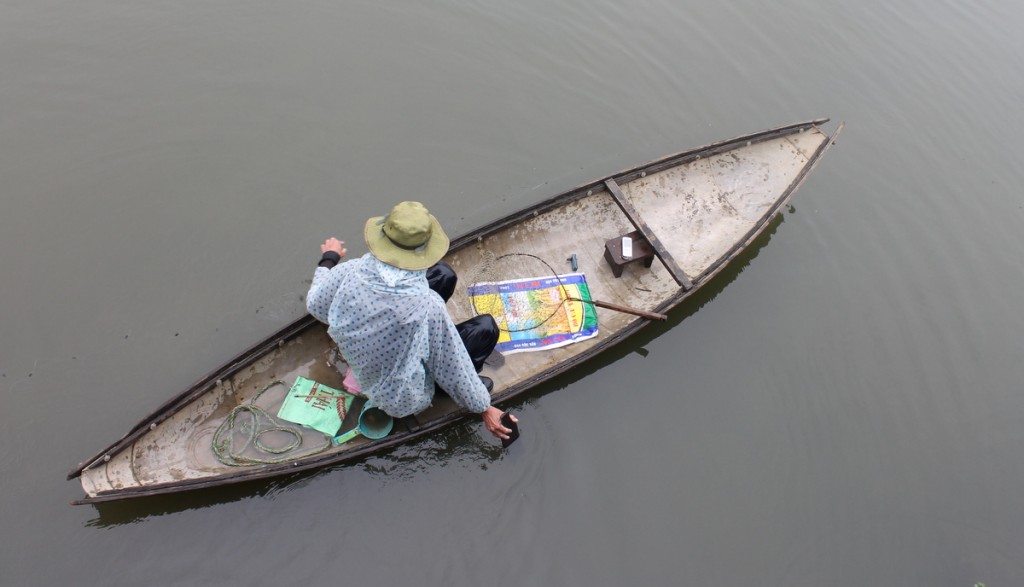 It's easy to forget that in seemingly timeless places such as this mobile phones have become as much a part of the culture as Nón Lá hats and you are just as likely to find Angry Birds merchandise for sale as you are silk embroidery. We also found that many young people very much wanted to practice their English and we had some interesting conversations about how they approach it. One lovely girl at our hotel was volunteering there to practice conversation by talking to guests and many of her favourite phrases had been taken straight out of Gone with the Wind and Little House on the Prairie – her favourite film/series. She said she wants to be just like Scarlett O'Hara and when I asked her why, she smiled and said "because she is a strong and fearsome woman".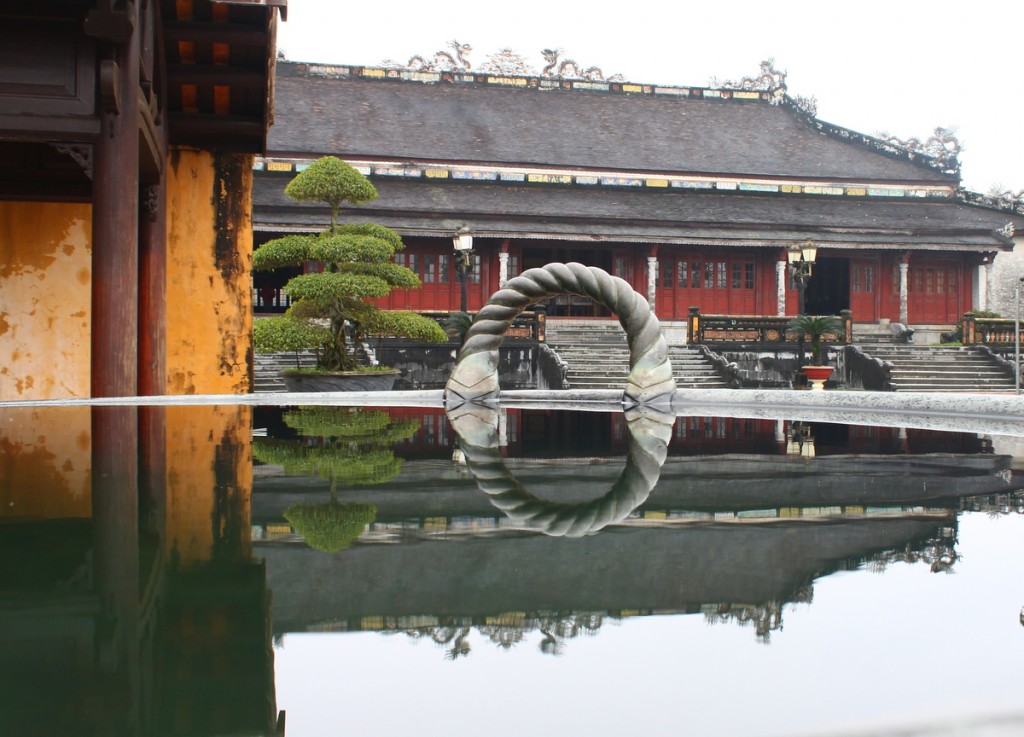 Our stay in Huế was only short as we were due to catch the train to Hanoi the next day but we couldn't leave without a visit to the Citadel and its Forbidden Purple city within the walled and moated Imperial complex which was once the centre of life in the old capital.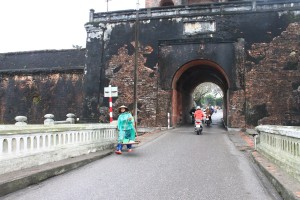 Most of the 17th-century buildings in this fortressed complex were destroyed or damaged during the war and bullet holes can still be seen in some of the stonework. Restoration work is in progress but slow, which suited us as there was something magical about the crumbling buildings set amongst lush green paddocks and rivers.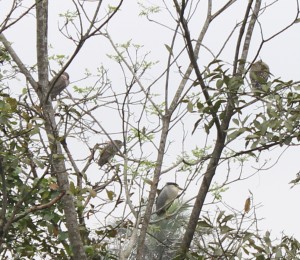 Night Herons nestled in trees above the river while a couple of rather sad and damp looking elephants grazed in the old palace gardens (apparently they were due to appear at the Huế festival later that month but we hoped they'd be moved to better grounds after as they were on quite short tethers when we saw them). Apart from that, exploring the vine-covered city was an unexpected pleasure;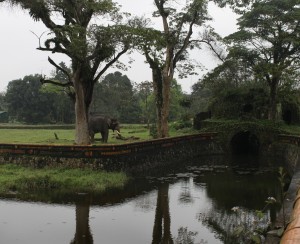 we could weave in and out of its maze of buildings without coming across another soul, which brought back something of how we'd felt at the temples surrounding Angkor Wat. The interior buildings house art galleries and theatre spaces which were a great place to shelter in from the rain when it got a little heavier. There were some really beautiful and affordable pieces in the art gallery so I was able (after some gentle negotiation) to buy a charcoal sketch of two Vietnamese women despite being on a restrictive traveller's budget.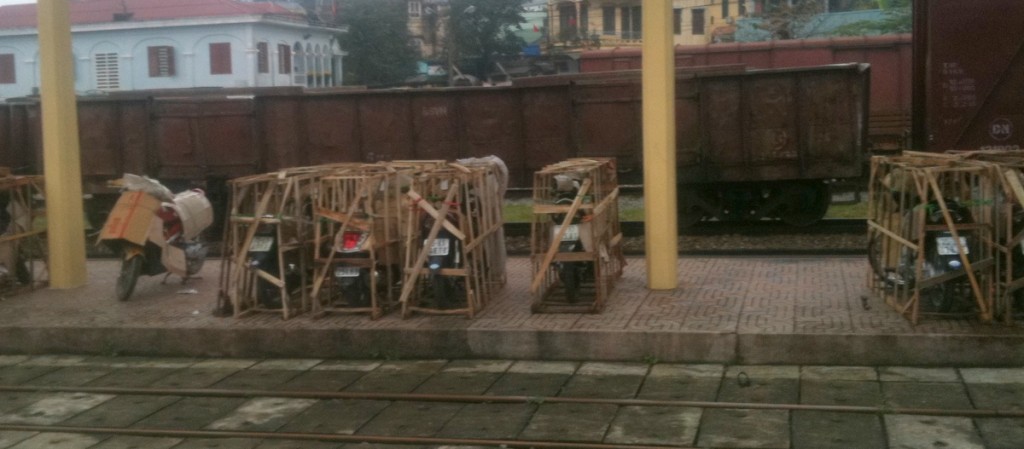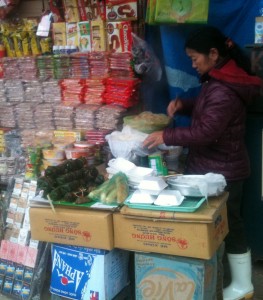 Feeling restored and relaxed we headed for Huế train station to board our night train to Hanoi. The station was one of the more interesting we had encountered of late, with motorbikes and other merchandise being noisily crated up for transportation and delicious food being cooked up all along the trackside. I won't forget the sights, sounds and smells of that train station for a long time and I was really looking forward to experiencing more of it in Hanoi.