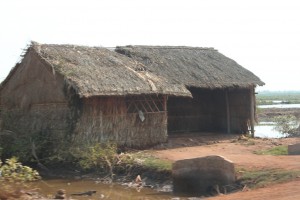 The 'new' border crossing (newly open to tourists that is) at Ha Tien is basically not much more than a dirt track with a tiny passport control shack and a giant casino (aka the 'Ha Tien Vegas') on the Cambodian side. These gambling establishments can be found in the no-man's-land between most of Cambodia's border crossings, and are a favourite weekend haunt for many Thais, Vietnamese and expats working in places where gambling is illegal. It was soon time to get out of the minivan which had taken us through the scenic drive from Kep to the border.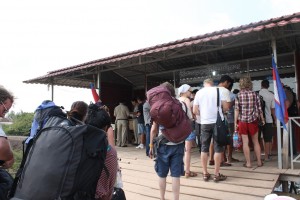 Passing palm frond and mud hut structures alongside salt marshes and rice fields, we got the feeling that this was one of the increasingly rare areas of Cambodia to be remain untouched thus far by the tourism trade. It was soon time to walk our last Cambodian dirt track and make our way to the short queue of backpackers which was assembling at the checkpoint. The border passage was pretty uneventful, except for an outburst from an American who pulled up in a motorbike and began to row with immigration officials because he hadn't got his Cambodian visa in advance – apparently the rules on this have tightened in recent years, much to the annoyance of the weekend gamblers.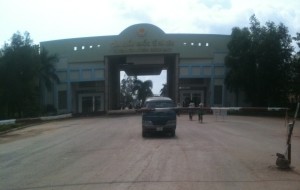 After being stamped out of Cambodia, we made the final approach to the Vietnamese border post which marked the last part of our journey down shaky, dusty roads and our first steps back into pavements, tarmac and air-conditioning (which oddly made us feel somewhat nostalgic for what we had left behind). Even the passport control office on the Vietnamese side was markedly different from the Cambodian one, with a fanned waiting room and a bulk passport stamping operation in place. It wasn't long before we were back on the road, this time in a slightly larger coach which would slowly make its way from the Vietnamese coast towards the urban sprawl of Ho Chi Minh City/Saigon via the Mekong Delta.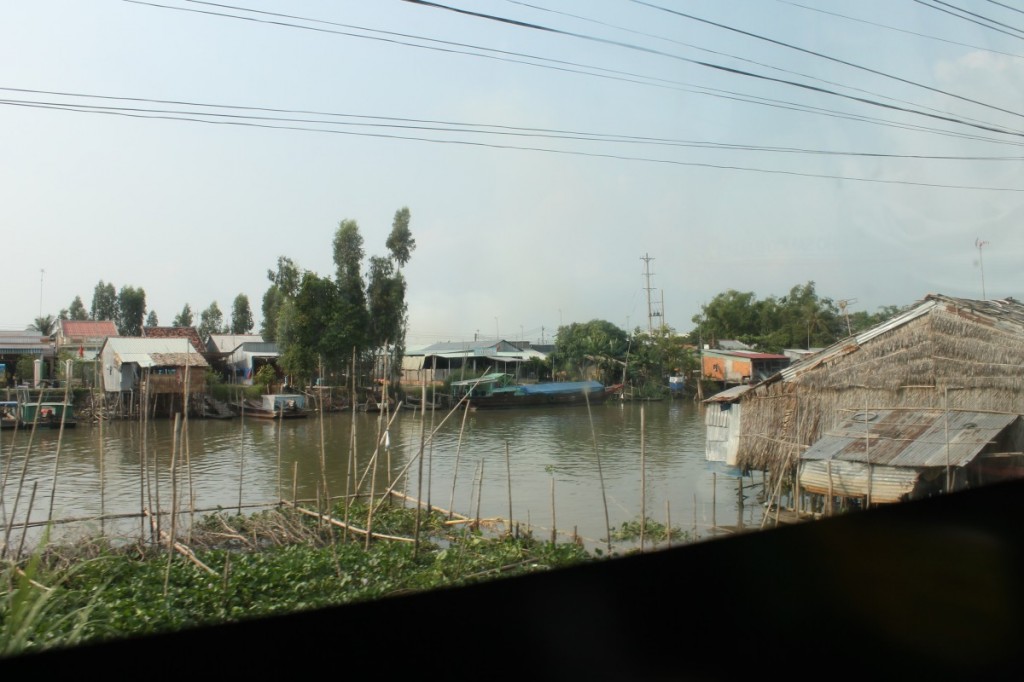 For the next four or five hours, we traced the banks of the Mekong, watching various scenes of river life unfold along the way. We began to realise that the Mekong highway is perhaps the longest high street in the world with its almost unbroken stream of small shops and family businesses, parted only by small bridges, water gardens or fisheries. The river is the lifeblood of most of these businesses and settlements, providing either the source of their trade or a means to transport it by.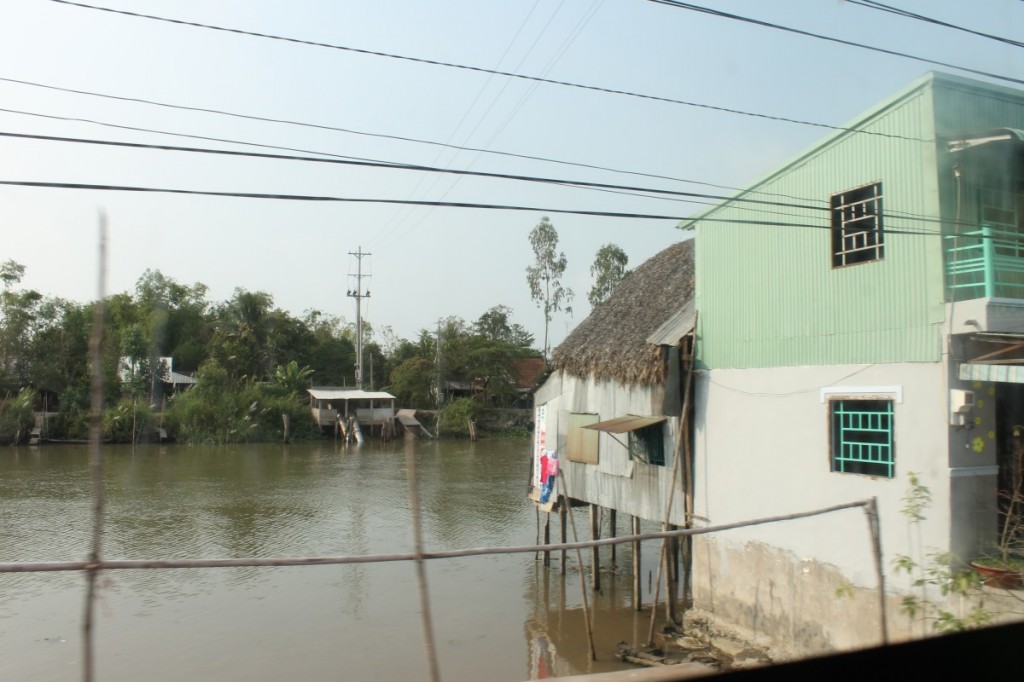 Large barges carrying gravel and construction materials and smaller boats ferrying everything from food to furniture between jetties were seen at regular intervals from our bus window. Punctuating the route every few metres were small cà phê joints, selling the ubiquitous cà phê sữa đá (strong Vietnamese iced coffee), Com (Steamed or fried rice with vegetables) and Phở dishes which are staples of the local cuisine.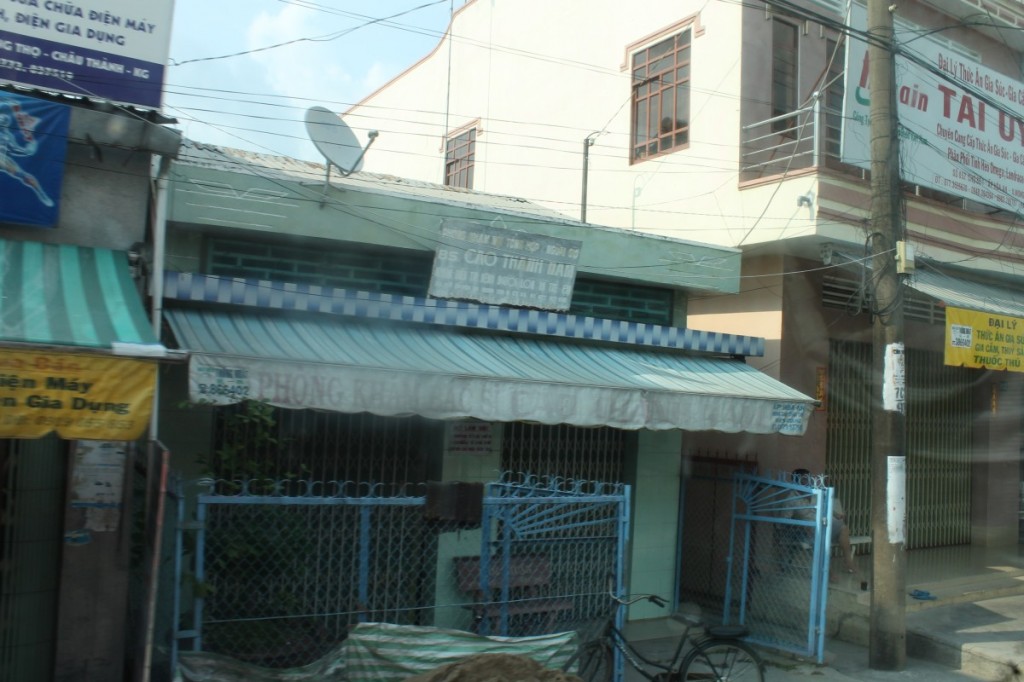 As was to be expected on such a long journey, there were regular stops, or more appropriately pauses, which gave us the opportunity to sample some of the local delicacies such as the roasted sweet potato and dried bananas. We had to be careful to keep up with the bus however, as it often didn't actually stop but continued to move slowly along a line of traffic, for example when we were heading for the chain-ferry across the Mekong itself. Shortly after we jumped back on, a number of street sellers followed suit, boarding the bus with packages of rice, hot corn-on-the-cobs and Bánh mì, leaving only moments before we made it onto the chain ferry. By this point, the sun was setting and we were greeted on the other side of the river's bank by the sight of colourful kites floating in the wispy sky. Kite flying is something we very much came to associate with Vietnam and China – which we romantically interpreted as the display of irrepressible freedom in the face of control.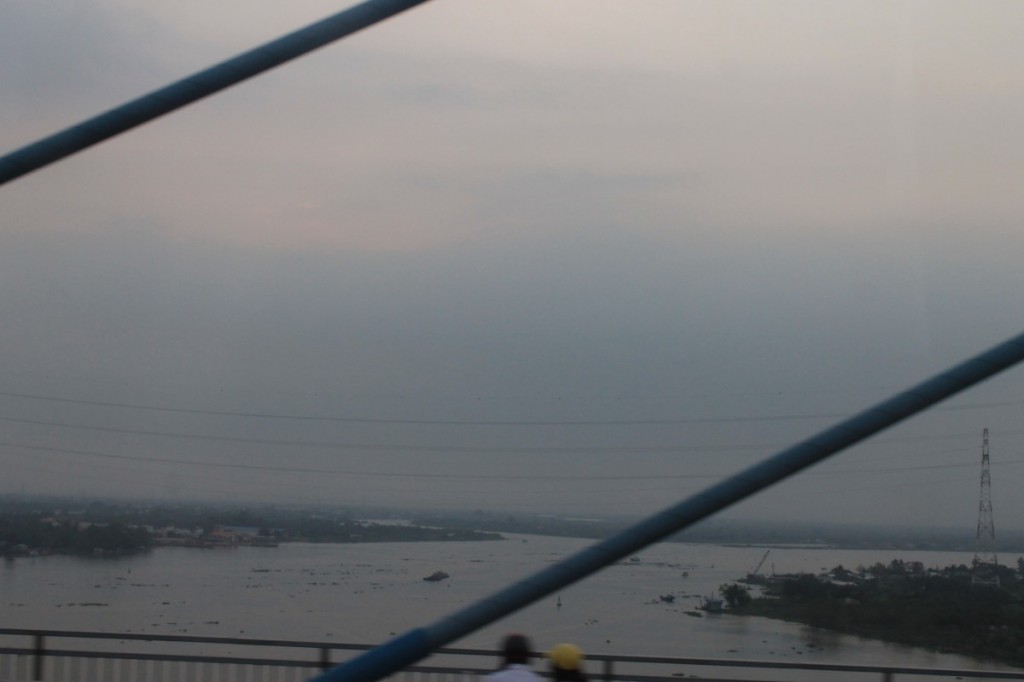 It was late by the time we arrived in Ho Chi Minh City (or Saigon as the centre is still referred to by most locals) and after surviving the now customary haggling for a taxi we found ourselves in a sweet little guest-house (the Diep Anh) right in the heart of the less-sweet backpacker district.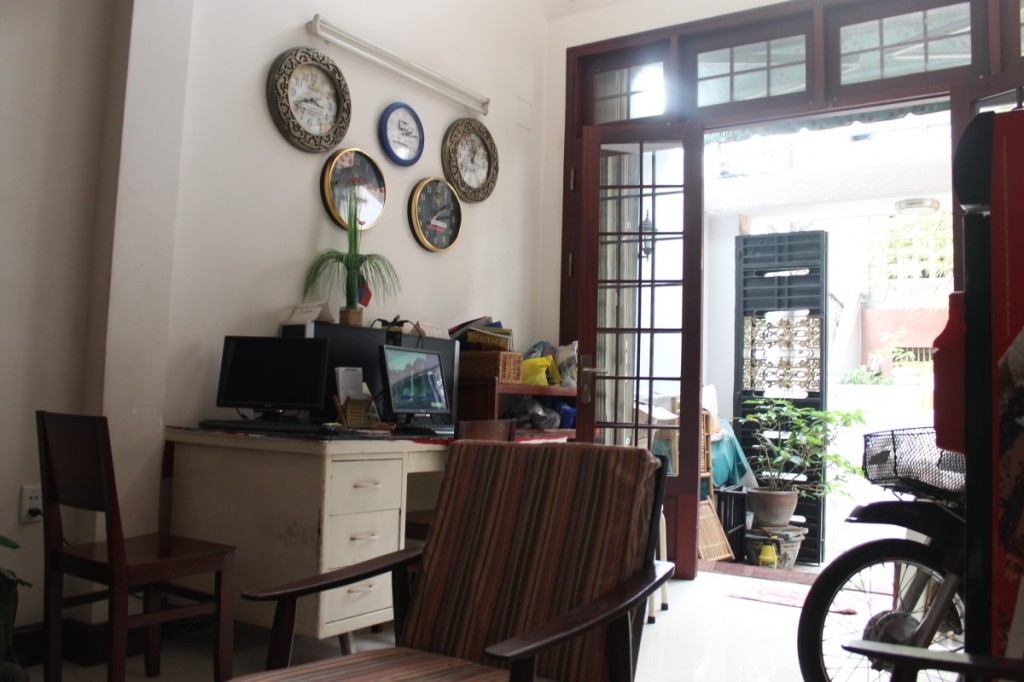 The following day, we dodged the prostitutes and motorbike touts down our guesthouse's alley to make our way to the Chinese Consulate. Due to border disputes in the South China sea, relations between China and Vietnam are by all accounts slightly strained, which meant that acquiring our Chinese visa was sadly not as straightforward as we had hoped. In a strange piece of circular logic, in order to get a Chinese visa in HCMC/Saigon you must already have a ticket from there to Mainland China, but in order to get a train ticket, you need a valid Chinese visa… We were nearly thrown out of the Chinese embassy after growing increasingly frustrated at this intractable consular blockade. We were told we would have to book a direct flight, which we thought ridiculous and thinking there must be a way round we decided to accelerate our journey north to Hanoi to try our luck with an agent there.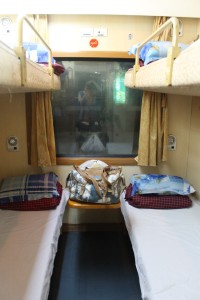 The train is an increasingly popular way of exploring Vietnam as a tourist and there are now many agencies which can help you book the tickets and have them delivered to your hotel if you can't get to the station yourself or if your Vietnamese language skills are lacking (you cannot currently book train tickets online unfortunately and must usually book in advance at the ticket counter). Vietnam Impressive is a well regarded agency (though they do add on a fairly large agency fee) but many hotels now offer a booking service too so it's worth asking around. We managed to get ours through a guest house and so prepared to leave a very hot and busy Ho Chi Minh City the next evening. The American legacy of the Vietnam War is still alive and well in HCMC/Saigon, leaving it a polluted, maddeningly busy pit of expensive designer marketing and exploitation on a mass scale.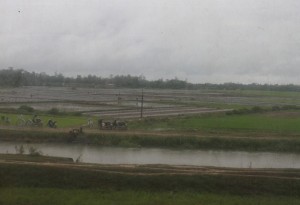 After a day of wandering the streets and marvelling at the hypocrisy of the designer outfits setting up shop in the very countries where the extortionately priced goods are being made for a fraction of the price, I was only too glad to see the back of it. It was with great relief that we boarded a sleeper train that evening, bound for Danang (the nearest station to Hoi An). The next morning, we woke up to the beautiful sight of paddy fields, rivers and lush greenery, a welcome exchange from pollution clouds and dust…