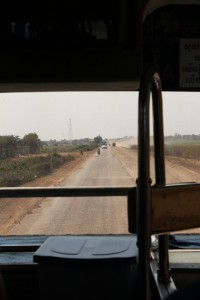 The bus service between Cambodia's two largest cities – Siem Reap and Phnom Penh – is more regular than ten years ago but in many ways unchanged. Peeling seats and moody air-con on ancient Chinese buses which travel along bumpy dirt roads are still very much par for the course. The trip took four hours, short by our increasingly lengthy journey time, and was characterised by miles of flat, pastured landscape punctuated by the occasional village or political party outpost. We were just beginning to relax when the bus began to slow and rumble along a particularly rough stretch of gravel path – it turns out that the 'paved' road from Siem Reap to the capital isn't actually all there (despite what people may tell you) and for about two hours we grumbled along a narrow, single-track strip of concrete flanked by mud and rocks. We now played 'chicken' with everything else on the road –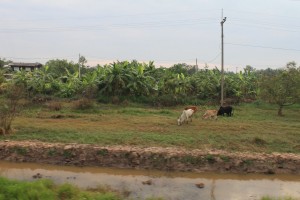 leaving us and the rest of the passengers gasping for breath when we nearly careened into an oncoming petrol tanker which refused to give way or slow down. Eventually I came to a point of acceptance about our situation and joked that if we did end up splayed all over the road, there would be a hundred tuk-tuks arriving at a moment's notice, waiting to drive any survivors across the border to the nearest hospital for a handful of dollars.
We only stayed for one day in Phnom Penh, as we were en-route to Sihanoukville to organise our Vietnamese visa, but we tried to take in as much as we could in the short time that we had. I immediately noticed the barbed wire covering almost every building in the older parts of the city – I couldn't work out whether it was a gruesome reminder of the old regime or a reaction to an area plagued by theft. The Tuol Sleng Genocide Museum, at the site of the old S-21 prison, painted a horrific picture of life under the Khmer Rouge.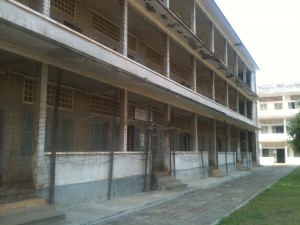 Converted from an old school into a 're-education' camp, hundreds of men, women and children were brutally tortured and killed here – packed into small solitary brick or wooden enclosures a couple of feet wide. The orchestrator of the prison, Kang Kek Iew, nicknamed 'Duch', is still alive and has been sentenced to life imprisonment for crimes against humanity, but it is only recently that any of the atrocities committed by the Khmer Rouge have started to be addressed in Cambodian courts. Despite full knowledge of their actions, for years the KR were supported by the West (John Pilger amongst others have been trying to bring this to the attention of the mainstream media for years) as an alternative to the socialist influence of the liberating Vietnamese.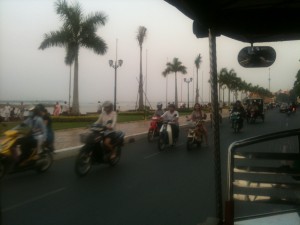 The city and the Cambodian people are nothing if not resilient and are steadily moving on from the past. In the centre is a huge shopping district which houses fashion stores, gadget shops, art galleries, health food stores and organic restaurants alongside the more traditional market stalls. Whole families pack onto single mopeds zooming across town, skilfully avoiding wedding and party marquees which are often just set up in the middle of the road. Most of the younger generation that we talked to seemed much more interested in making something for themselves than in dwelling on their murky past – for now they choose to leave that task to their parents.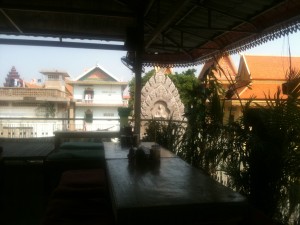 After a long, hot day trekking around the city, we found refuge in a French-style rooftop vegetarian restaurant near our hotel. We were busy enjoying a surprisingly peppery plate of pan-fried morning glory when a group of French journalists arrived with translators in tow to interview a man who had been waiting patiently in the corner sipping a dragonfruit smoothie for the last hour. The conversation became quite intense but from what we could gather it was something to do with the upcoming elections. In this dreamlike city of smog filled haze and sumptuous sunsets, events like this start to seem quite normal as does the sound of a thousand mopeds buzzing along the streets below. It certainly has hidden depths and is well worth taking the time to explore – we are told that it has more than one rabbit hole to lose yourself in…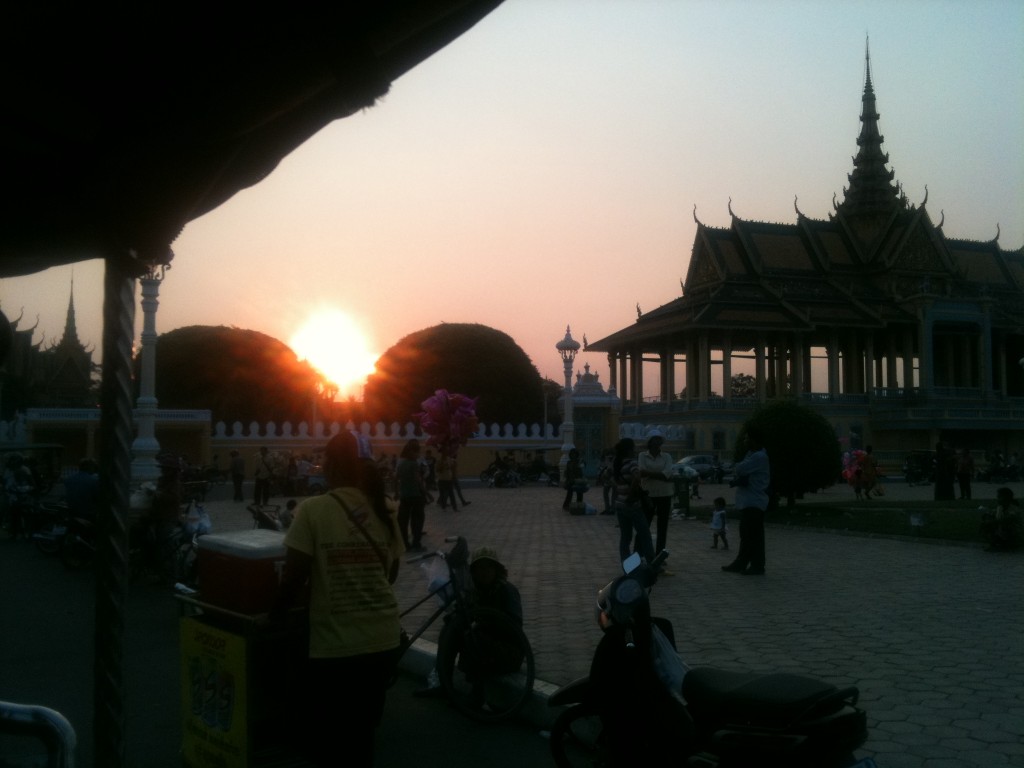 The following day we headed south on the bus to the small coastal town of Sihanoukville, proclaimed to be Cambodia's best beach resort. After the short two-hour journey we arrived in a rain storm, to our surprise, which we soon came to realise is the tuk-tuk drivers' favourite type of weather. Although our guest-house was only a short 15 minute drive away, the waiting tuk-tuk drivers (who were grinning broadly by this point) immediately tripled their prices.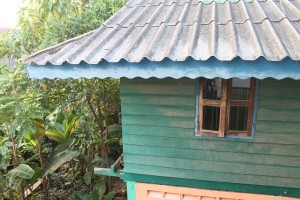 We managed to barter down slightly but had little option but to cave in given the intensity of the downpour. We arrived at the Geckozy guest-house soaking wet but were greeted warmly by the French owner, Lionel, and given a seat next to a well-stocked bookshelf. We asked if there was any food available to which he replied rather sadly "not any longer". Apparently he used to run the business with his wife, who was an excellent cook, but they had recently divorced leaving him to go it alone alongside an interesting team of quirky locals with a love of leopard print who help staff the reception. After showing us to our room and giving us an excellent list of French DVDs (perfect for a rainy afternoon) he returned to tend to Geckozy's leafy garden with a wistful sigh.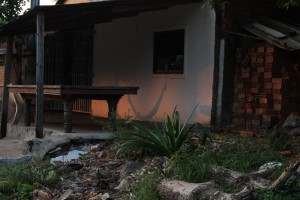 The next day, rain had given in to sunshine and I set off very early to make the short walk past countless mechanics and fruit stalls to the Vietnamese Consulate, guarded by a tired looking man in a phone booth. Inside I took a seat and watched an entire office of clerks idling in wait for their daily shipment of applications to process from the regional office in Phnom Penh. As they didn't have much to do, ours was processed in a matter of minutes and with few bureaucratic hurdles, setting an unfairly high standard for the consulates to come (Anna wasn't even with me and they stamped her passport with no questions asked).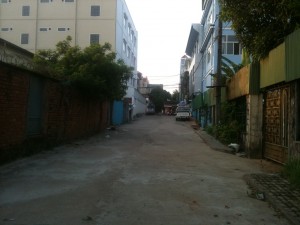 Sihanoukville town has the laid back atmosphere of a beachside resort, though is far enough away from the water itself that we needed to ask directions in order to find our way to the beach. Luckily we had been warned in advance by other travellers not to expect much of the sandy stretches nearer the town which have nearly all been ruined by over-development and litter…  instead we spent most of our time walking the streets in search of a relaxed café which at first seemed to be something of an impossible task given the number of fairly grim failing businesses run by anxious expats we were passing. One such outfit was an English-style outdoor bar run by a friendly but morbidly obese Englishman who seemed very excited that some 'English' people had dropped by to enjoy the pool tables, English Breakfasts and bingo nights that characterise his establishment. The 'for sale' sign behind the bar gave more away than his smile and we later found out that his business partner wants out and back to Yorkshire.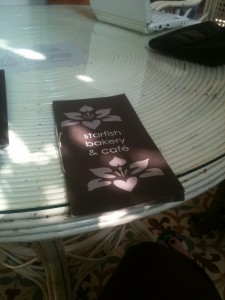 This was all quite depressing but later that afternoon, our luck changed when we stumbled upon the wonderful Starfish Café.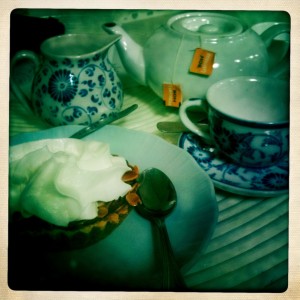 This became our base for the next couple of days and really felt a world away from the streets outside with its tiled veranda, shady courtyard and home made cakes. It also donates all of its profits to a local charity for disabled children and runs well-regarded local tours, making it a good place to stop by if in search of the less touristy side of Cambodia. The owners were very friendly and gave us lots of tips for where we should visit next over a lengthy afternoon tea. They had many stories and suggestions but we decided to take the short onwards path along the coast to Kampot and Kep.