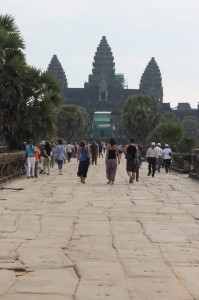 I have heard Angkor Wat spoken of as many things – 'pineapple towers', rubble mountain, overgrown jungle, the Tomb Raider set, magical this, spiritual that, enchanting, devastating and even 'Disneylandish'. But none of these really prepare you for the experience itself. It's one of those places that defies definition and this is what makes it special. I have to say that the 'magic' moment took a little time to arrive for me. We made the mistake of first heading for the pine cone domed beacon of Angkor Wat itself and I found myself somewhat under-whelmed.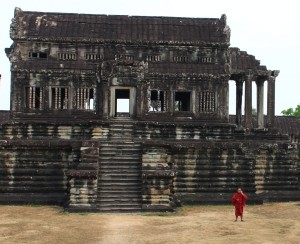 This was not the fault of the structures themselves but down to the sad fact that in attempt to feel the awe inspiring, jaw dropping sensation that everyone else seems (or at least claims) to feel, I spent most of my time trying to get away from monks talking loudly on mobile phones or from huge tour groups and their flag-waving, megaphone-wielding leaders. This felt something akin to a tomb raider attraction at a theme park and was not what I had hoped to see – although a monkey stealing one of the groups' packed lunch, resulting in much shrieking from both sides was something of a highlight.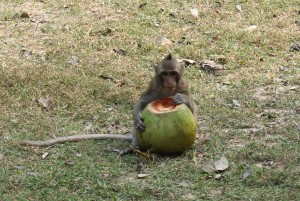 It wasn't until we finally escaped this complex in search of some of the smaller temples that the real magic started to weave. Soon we were among lurching towers, tilting doorways, toppled stones, jungle canopies, twisted roots, mottled bricks, spider webs, red moss, orange-robed butterflies and monks, minute bats, dragonflies, moths, swallows and …timelessness itself.