The train from Bangkok to the Thai border town of Aranyaprathet leaves Hualamphong station every morning at 5.55am. At 4.50am we left our hostel to make the short walk to the station. The city streets were already bustling with newspaper deliveries and families of sellers congregating on the pavement, unwrapping the bundles from their string packaging and reading snippets of the day's news.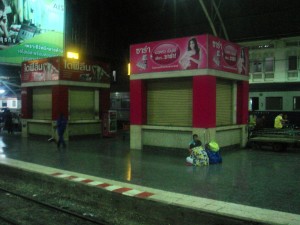 We made it to the station in plenty of time and managed to get two tickets no problem – the train is third class only, the journey being just six hours, and there's no need to book in advance. In the ticket queue we noticed a few other backpackers and we talked to a couple called Sarah and Guy, also heading to Siem Reap, who we agreed to navigate the border and share transport with in order to make the crossing as smooth as possible. We boarded the train and found a couple of seats –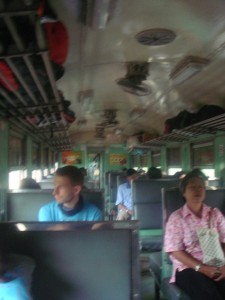 it was basic but clean and the especially welcome news was that the windows open, providing both beautiful, unadulterated views and a refreshing breeze. The train left bang on time and as we slowly made our way out of Bangkok, we passed huts and houses that clustered along both sides of the railway track, so close that you could see right into bedrooms and kitchens. These houses were made out of corrugated iron, old cardboard advertising signs and anything else that seems to have come to hand and it felt odd to be able to see such intimate details from the window of a train. It was still dark outside but as we continued to move along the track, we could smell the sizzling of breakfasts waft through the shacks and see the warm glow of fires and grills, huddled around by various family members in the half-light.
Dawn rose as we reached the edges of the suburbs and the city became illuminated with a smoggy haze. At a crossing I noticed a smartly dressed police officer trying to lure a cat off the tracks with a sucking noise while people scurried past him and each other on foot and moped trying to get to work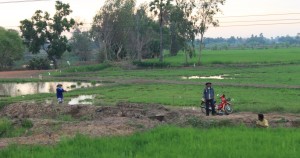 . It was a relief to leave the franticness of the city behind and it wasn't long before we were in open, breathable countryside – among lush green pastures farmed by one or two early risers. A few stations along, the train began to fill up with local traders carrying bananas, rice packaged in banana leaves and other breakfast delicacies, which seemed to go down well with the other passengers. As we ate some mango slices we had just bought from one of the sellers, the landscape outside began to subtly shift from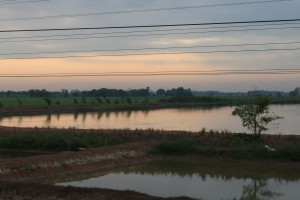 grazing land into paddy fields which in turn gave way to rivers, stilted housing and large areas of wetland. What we hadn't read about this train journey from anywhere before is that it provides an absolutely fantastic opportunity to spot wetland birds. The train snaked alongside small canals of water for almost three hours, passing entire fields filled with white ibis, tall statue-like herons, small water rails, kingfishers and countless other wetland inhabitants. For bird watchers and nature lovers this train journey would be worth taking for the wildlife alone (especially as the tickets cost a total of £1.50 each).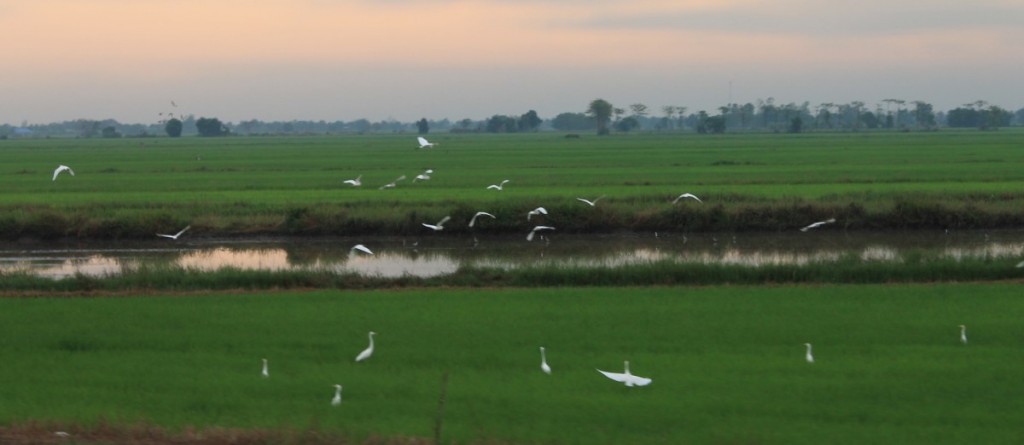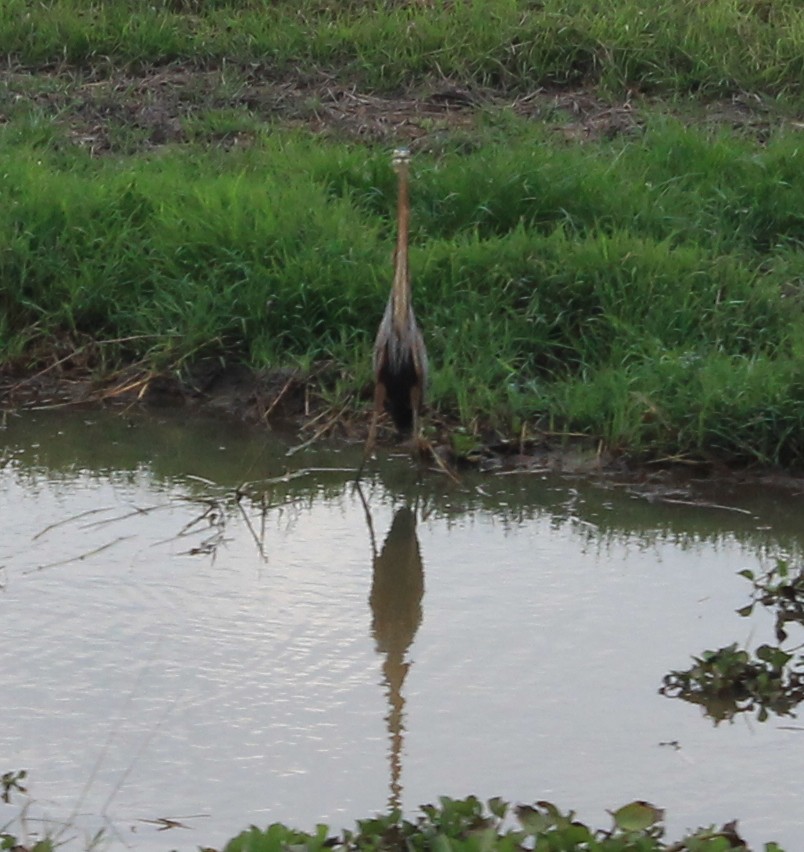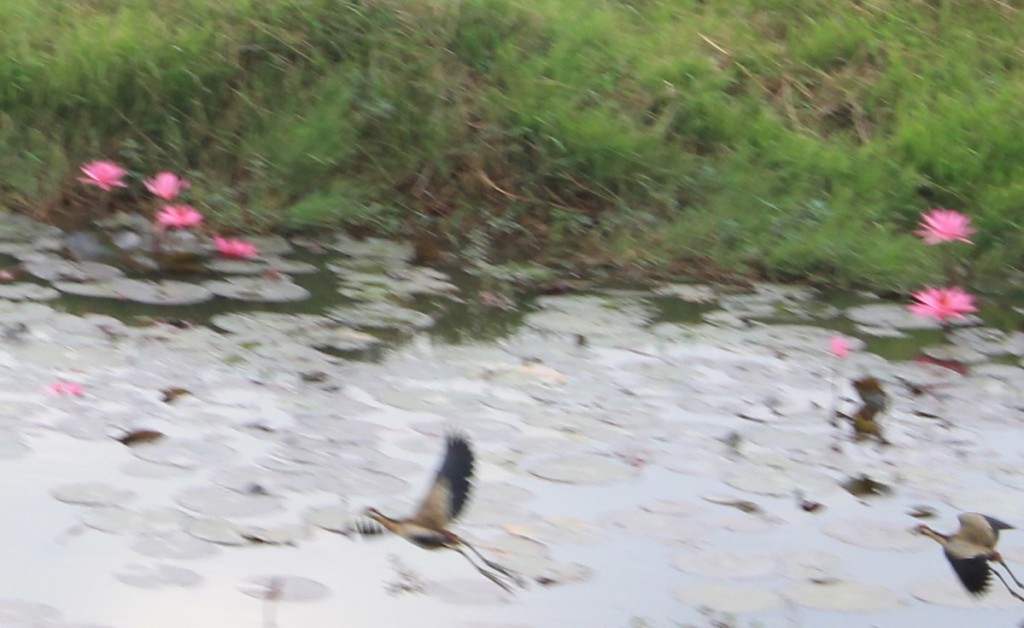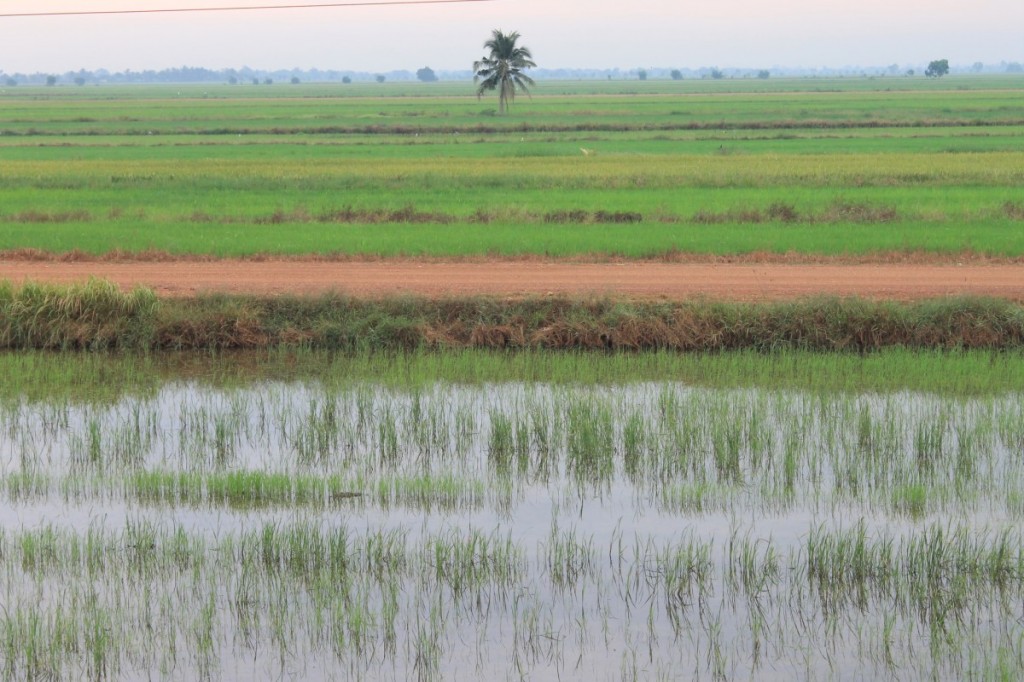 The six hours passed quickly and we both managed to have a small sleep before arriving at Aranyaprathet.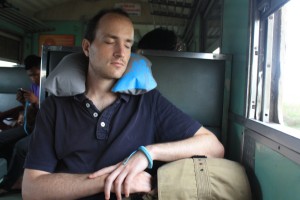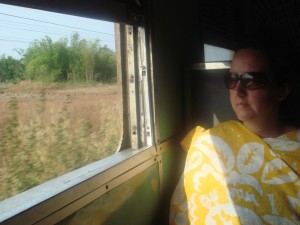 By now, the sun was gradually climbing the sky and the heat was intensifying, so it was a relief that we met up with Sarah and Guy and tackled the tuk-tuk negotiating together (the actual border point is a short drive from the station). To avoid unnecessary hassle and scamming, we had got e-visas online a few days before, which is well worth doing as without them, tuk-tuk drivers will attempt to drive you to visa points before the border which are all basically scams. Our tuk-tuk driver did attempt this but we were able to present him with our e-visa and demanded to be taken straight to the border, which he reluctantly accepted. The Aranyaprathet/Poipet border crossing has improved massively in recent years, though the government on the Cambodian side have now set up transport schemes for tourists which make it very difficult to get anything apart from government-approved transport to Siem Reap (and is obviously set at inflated tourist prices). We had printed and read a fantastic guide, written by a local who crosses the border often, which explains all the workings of the border crossing and points out the pitfalls. You can find it at Tales of Asia. The border crossing itself was fairly painless. First we were stamped out of Thailand, and then had to walk across a dusty road in between the two checkpoints in order to reach the Cambodian immigration office. This is a major transport hub between the two countries and we saw families pulling heavily laden wagons and sacks, along side trucks full of live pigs squealing in the heat. We had to walk behind the truck all across the border which was difficult to watch.
If you don't have an e-visa you can still buy a visa at the border, though the queues can be very long. Once you've got your visa and filled in a health card you can get stamped into Cambodia, which was very quick and efficient (they even take fingerprints) once you reach the office. Once you are on the other side, you are swiftly shepherded onto a bus which takes you to a transport centre where all the government-approved transport options are waiting for you. We have heard that people have still managed to get into Poipet to make their own arrangements for travel, but the guys hanging outside the immigration office make this very difficult for tourists. It is worth trying to get to Poipet to at least eat before your onwards travel as the food at the transport hub is both overpriced and terrible. They will also insist that you must buy some Cambodian riel or dollars at the exchange, but whatever they say, you are not obliged to do this. All their transport prices are in dollars, the de facto currency of Cambodia, so it is worth taking at least $50 with you across the border. We shared one of their cabs which came to $45 which we split between the four of us. There have been reports of some taxis dropping passengers outside Siem Reap if they had been paid upfront but our taxi driver was pretty good and took us to our hotel (the Golden Temple Villa) after asking someone for directions in the town.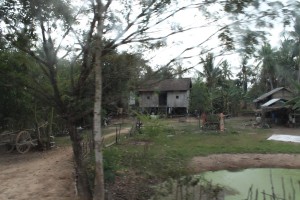 The journey from Poipet to Siem Reap takes about three hours but thankfully the road has been much improved (from dirt track to a single gravelly road). It didn't take long to fully realise how different Cambodia is from its richer Thai neighbour. Buffalo and horse drawn carts were as numerous as cars and chickens and ducks pecked in the dust along most of the roadside. The houses were mainly stilted and wooden with haystacks and cows dotted around front yards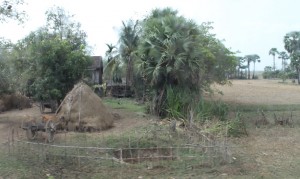 . It may be what the Thais term as a more 'simple existence' but I couldn't help but find it beautiful after a week in Bangkok. Cambodia is still a relatively rural country, the most built up towns being Phnom Penh (the capital) and Siem Reap (which is the accommodation hub for those visiting Angkor Wat). The latter is where we were headed and despite being perhaps the most touristy town in Cambodia there are still many delightful pockets of it left to explore, as we were to find out…