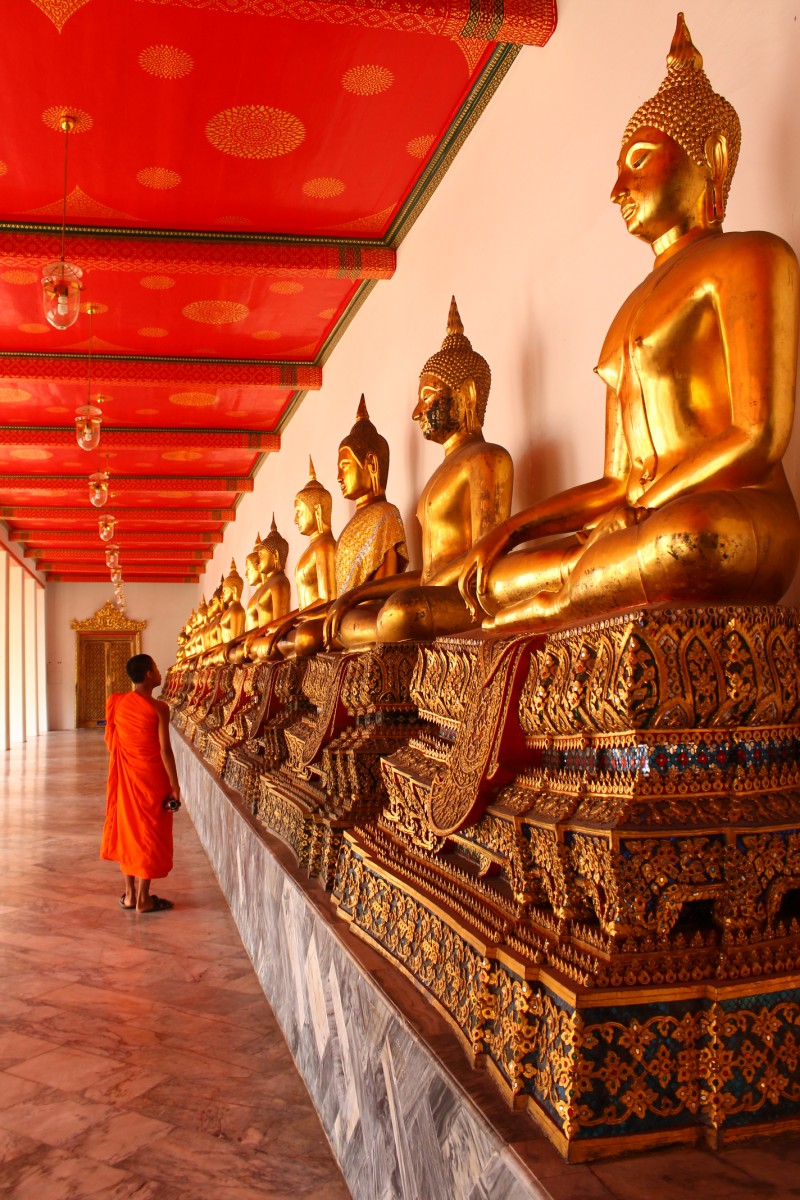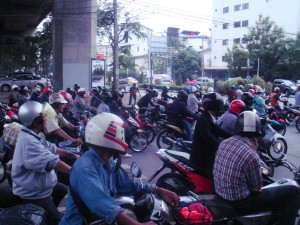 Our first impressions of Bangkok were of a strange, hedonistic city combining old-world markets, beautiful temples, seedy strip clubs and slum-like houses with manic motorbikes, gigantic shopping centres, banks and LCD screens. The heat was intense on the first day we arrived and a dust-like cloud of pollution hung in the air, causing the skin on my arms and hands to come out in a bumpy red rash. My hypochondriac-fuelled reaction was to conclude that I'd been bitten by bed bugs from the bus or had caught some infectious skin disease from using the blanket, so I ran into a pharmacy waving my hands at a startled looking woman who then calmly reached into a glass cabinet behind her and produced an ointment from the shelf which said 'prickly heat' on the label. So this was my first real taste of the tropical heat…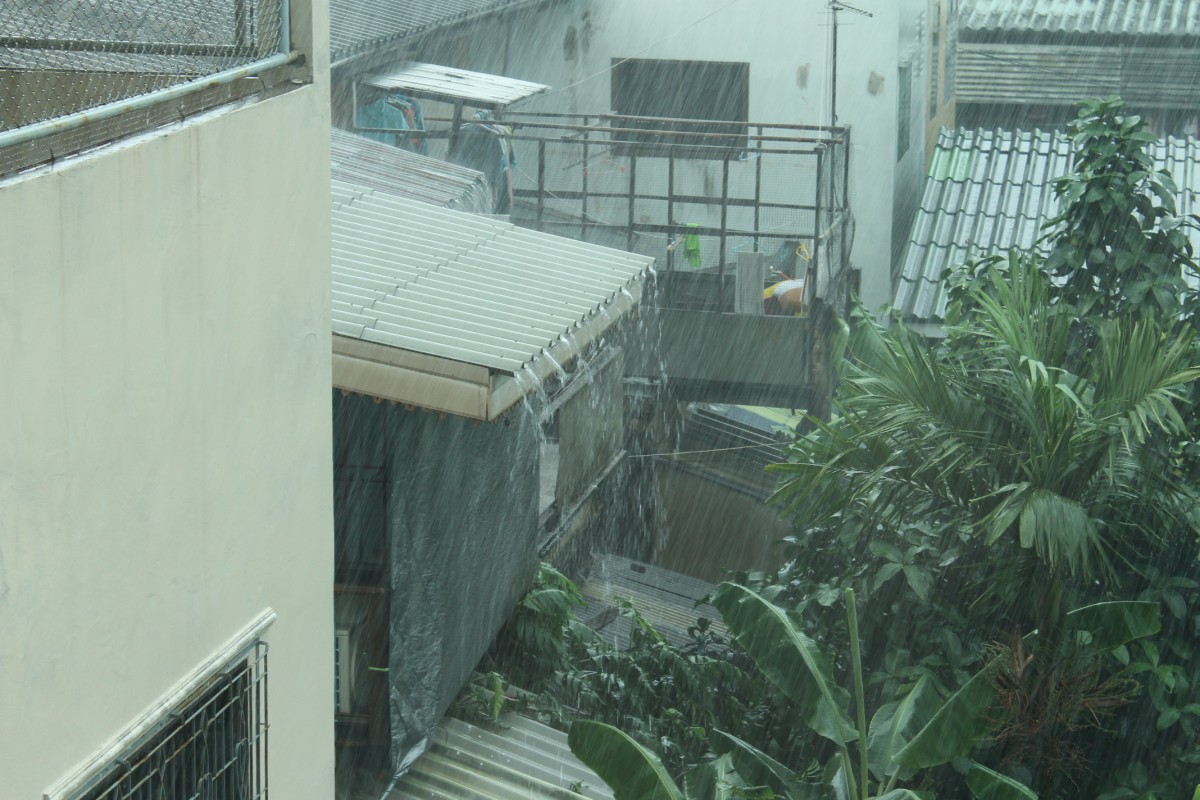 Luckily the rash died down that evening and the next day brought torrential rain, which seemed to clear the air a little.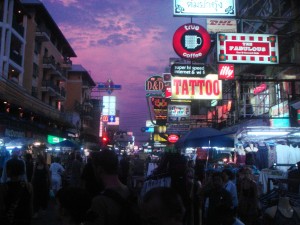 After it had rained itself out, we paid an obligatory visit to the Khao San Road, walking once up and down its insanely crowded street and nebulous side alleys, where people brandished cardboard signs in our faces advertising tailors, foot masseurs and other, more sinister operations. Old women sold lucky frogs (wooden frog-shaped Güilo instruments which actually do sound like frogs) while others peddled catapults launching sycamore-seed-like lights which glow brightly when launched high into the air.
Feeling hungry, we decided to end the day somewhere a little quieter to unwind after the craziness of the KSR and so decided to try out a vegetarian restaurant called Ethos,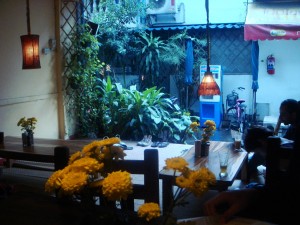 which my sister Katie had told me about (see the Food section for more details). After filling up on organic chocolate cake and trying some of their home-made Tempeh and Kombacha (apparently some kind of wonder detoxification tonic) and chilling out on their comfy cushions under paper lanterns and brightly-coloured flowers, we felt relaxed enough to face some of the visa preparations we had to do for the next day.
Early the next day we caught a cab to the Chinese Embassy, to find a big notice saying that it would be closed for the next seven days (Chinese New Year strikes again). The Vietnamese Embassy was similarly shut for Tết festival, so it looked like Bangkok, reportedly the best and easiest place to procure visas of all kinds, was not going to offer any help with ours. After conducting a fair bit of online research, we found out that our next best bet was to try the Cambodian town of Sihanoukville for the Vietnamese visa and Ho Chi Minh City for the Chinese. Recent success stories had been reported on Lonely Planet's Thorn Tree forum for both so that fixed our onward journey plans a little.

We still had five days left to spend in Bangkok, and with nothing specific planned we arranged to meet one of my sister's friends, Charlie, who was out here teaching English. We fixed a time for Saturday night and decided to visit some attractions in the meantime.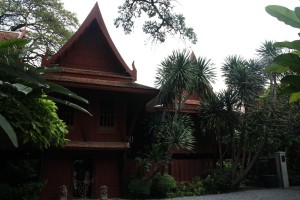 We began with the house of the famous American silk merchant (and former CIA agent), Jim Thompson, who has held a particular interest for us since we learned about his mysterious disappearance in the Cameron Highlands in the 1967. After a tour around Mr Thompson's elegantly furnished villa, we decided to spend the afternoon at the temple and teaching complex of Wat Pho.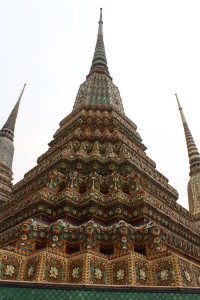 It was only upon visiting this magnificent place, with its many gilded Buddha statues, smouldering pots of incense and orange-robed monks taking exams or serenely wandering its lofty halls, that we began to experience the spiritual side of Asia that so many travellers bang on about. The temple complex is huge and you can easily spend a whole day there exploring its many courtyards and crevices which house everything from a Thai massage training school (it is the birthplace of Thai Massage) to teaching halls for Buddhist monks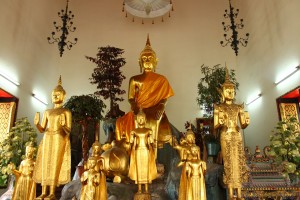 and it was also historically important as a centre where people would come to copy texts written in sanscrit from stone tablets to take back to their villages. It was easy to while away the hours ducking in and out of the almost Gaudí-esque ornate statues and pyramid-shaped Chedis. We ended with a quick visit to the giant statue of the Reclining Buddha, which peers down serenely upon the many tiny people gazing up at it, open-mouthed with awe at the statue's polished appearance, towering size and mother-of-pearl-encrusted feet.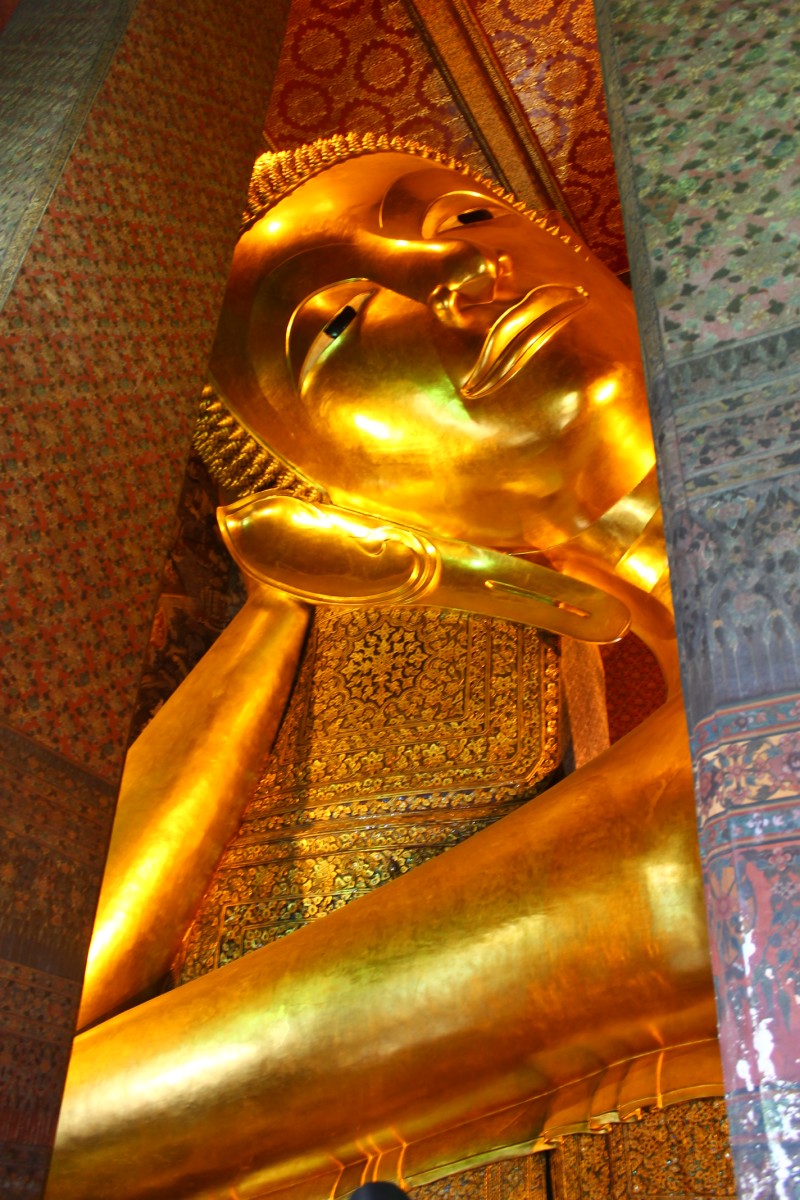 A few days in, we were feeling rested and stuffed full of pineapple and banana-filled pancakes, so we reluctantly left the Lamphu Tree for a cheaper hostel closer to Hualamphong station, in preparation for our early-morning 6-hour train journey to the Cambodian border in a day's time. As it was a Saturday, we had just enough time to dump our things before heading to the famous Chatuchak Weekend Market, where the best bargains in Bangkok (and possibly the whole of South East Asia) are to be found.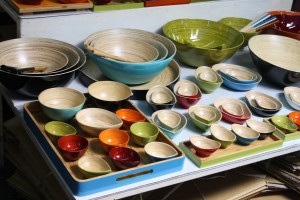 The market is huge and is split into wings dedicated to everything from pottery to bath products and even, sadly, exotic animals (Charlie told us that she'd seen sloths for sale there in the past). Before entering the fray, it's best to know what you're after and to prioritise what you do and don't want, to see as it's impossible to cover the whole market in a day. Helpfully, there are entire websites dedicated to mapping it out, and we found Asia Travel Tips particularly useful, which not only has a map but also includes a guide to haggling. In most cases, expect to pay at least 30% lower than their initial offer, but it's best to start your opening bid below the 50% mark to get the best deal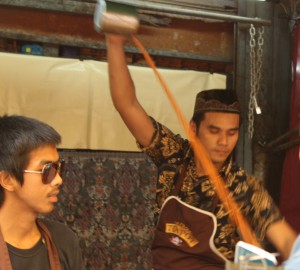 , and don't wear expensive-looking jewellery or clothes or the traders will immediately jack up their prices. We also found that making an effort to speak the prices and some phrases in Thai allowed us to banter a bit more with the traders. We didn't have any particular aims, but we enjoyed wandering around the various colourful stalls, and we came away with a Chinese-style tea pot, two pairs of linen 'Aladdin' trousers, silk pillowcases, table runners and wooden wall carvings, which was just about all we could fit in our backpacks. There is not much in the world you can't find at Chatuchak, if you know where to look…
That evening we met up with Charlie and her friend Ben, who took us first to an Irish pub, for the only Guinness we had had since leaving home six months ago, and then to a local Thai eatery to sample the delights of Sangsom rum (which tastes like whisky) and cheap but delicious Thai food.
It was really great to spend an evening with people who had some links to back home, as well as finding out all about the ups and downs of living in Bangkok as an expat. Bangkok, as anyone who has visited it for a while will tell you, begins to wear you down little by little until you know it's time to move on, which Charlie said she had begun to feel. The rest of the evening passed in a hazy blur, but we did wake up in the morning with some hand-crafted bracelets and an interesting picture of the taxi we took home (at least we think it was a taxi).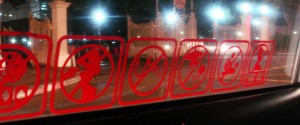 It seems that the sleazy underbelly of Bangkok with its Soi Cowboy street, drug peddlers and brothels is never that far away as the prominently displayed 'No Bad Guy' sign in the Cozy Bangkok hostel we were now staying in reminded us…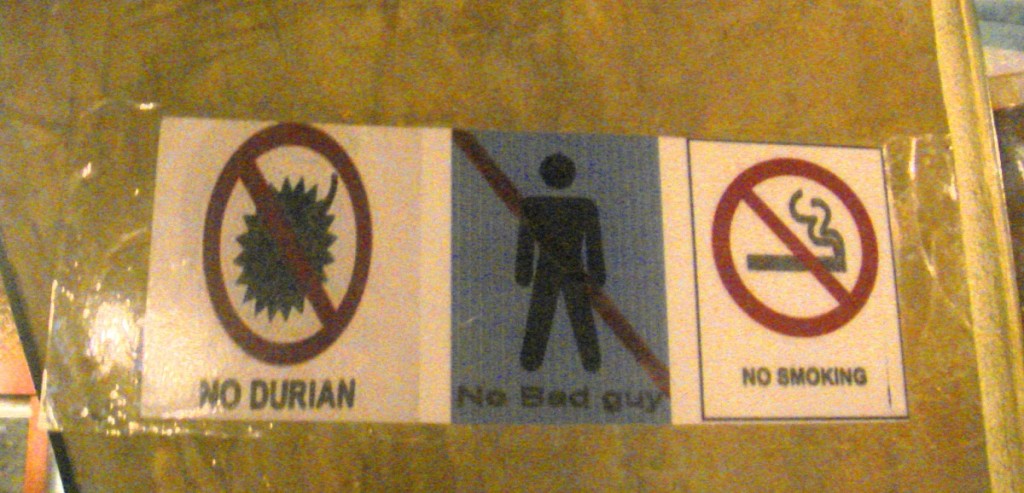 We began to feel it was time to leave Bangkok ourselves, which we would have done the next morning had we not been nursing terrible hangovers and had Alex not succumbed to a stomach disagreement (he thinks from eating too many chillies). It was clear we were going nowhere far that day, so we decided to make the most of the situation by visiting the dentist to get Alex's tooth cap fixed (a relic of an old sports injury from school, which had managed to dislodge itself conveniently on the cargo ship). After all, what better cure for a hangover than anaesthesia?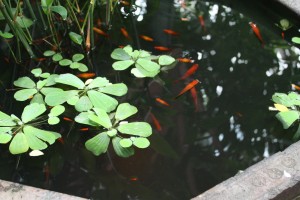 We called around and found a dentist who could see Alex today in the centre of Bangkok (as opposed to one of the side alley operations). The street that the surgery was on turned out to be full of other dentists and plastic surgeons. While Alex was being worked on, I sat in the downstairs waiting room where Mona Lisa Smile was being shown on the TV – it was the first film I'd seen since Australia. As more people piled into the waiting room, I soon realised that we weren't the only Brits paying the dentist a visit. I spoke to a few people from Manchester and Liverpool who said that they had flown to Bangkok specifically to have dental work done. It's so much cheaper there for cosmetic dentistry that it's worth the price of the plane ticket, apparently, and you get to enjoy 'a little holiday once the anaesthesia's worn off'!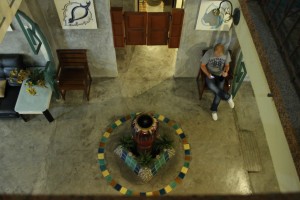 Alex soon came out re-capped but feeling comfortably numb, so we returned to our brightly painted hostel (another of those in the increasingly popular art boutique brigade) in an attempt to pack so that we could actually make it out to the border the next day before our visas expired. We quickly popped into the local 7-Eleven to get some supplies for the train and I somehow wasn't surprised to meet an orange robed monk speaking loudly on his mobile phone by the crisps (a bit of a different from those we'd seen earlier at Wat Pho). The air outside was smoggy and the roads manic, but I couldn't help but feel the seductive charm of this strange, conflicting city.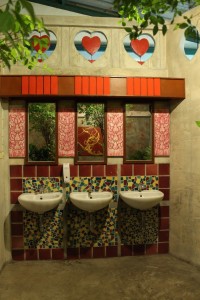 Back at the hostel, I went to wash the day's grime off only to find the bathroom sinks were all full of dying moths. The overhead lights must have made the sinks look like giant moons to them, simultaneously turning them into moth death magnets. As soon as the insects touched down, their paper-like wings absorbed the water droplets and pinned them to the bowl. Trying to free them was useless, and I just stood there and watched as the guy from the room next door emerged and efficiently flushed them all down the plughole before gelling his hair in the mirror. It might have been the end of the hangover fragility, but I was once again ready to leave Bangkok.