We arrived at Hat Yao Pier after a fairly stuffy three-hour journey on the ferry from Koh Lipe. Our ferry ticket had included a transfer to Trang and we were a bit bemused to find a 12-seater minibus waiting just for us. This was the plushest transport we'd seen for a while, complete with TV, air-conditioning and drinks holders, so we weren't quite sure whether this was meant for us (our phrasebook didn't help us out much here) but with no-one else around it meant that we either had to get on or sleep on the pier.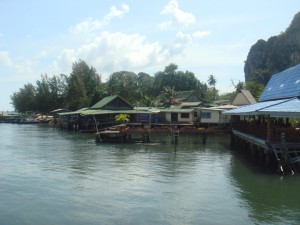 So we climbed aboard and after hurtling through the Thai countryside as fast as the bus's suspension would allow, we arrived in Trang and headed to KK Travel, which we'd been tipped off about in Koh Lipe. The office was small but homely and was staffed by two smiling women, with lots of tired-looking travellers occupying the seats. When we asked about the possibility of getting on the overnight train to Bangkok, their smiles widened into laughs which signalled we had no chance. An American expat happened to wander into the office at that time and bluntly translated their cackles, telling us that most trains from Singapore and Malaysia up to Bangkok had been booked for weeks ahead because it was Chinese New Year (which we had forgotten all about) and our only hope of getting to Bangkok would be on a local bus, which he said with a wince.
Trying our luck, we turned to the office ladies who were composing themselves and we asked in very bad Thai about the possibility of booking onto a bus, that day. One of them raised her eyebrows and picked up the telephone. After five or six phone calls involving lots of rapid speech, we were told "Yes, there is a bus… you will be VIP" (but what she meant was, you will pay VIP prices). Not wanting to be stranded in Trang, we took her up on her offer, after which the American chuckled and said, "The buses aren't that bad". I asked him what he was doing in Trang, to which he responded "Oh, I'm waiting for the train", after which I quickly started to lose my sense of humour. We were told to come back a few hours later when someone would accompany us to the bus station, so we sat in a local café for a few hours, checking emails and calming/cooling down with a beer and an iced chocolate alongside a French man who was also waiting for the train (which he had sensibly booked in advance).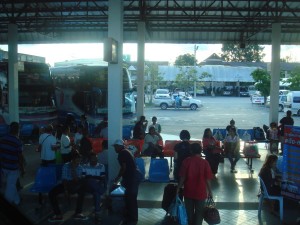 At about 5pm a Thai student turned up, and said that she would take us to the bus station and wait with us until the bus arrived. When we asked why, she said, "You know, it's safer"… By this point we were beginning to really wonder about this bus. At the bus station itself, we were noticeably the only Westerners present (until a couple of German girls arrived later to catch a local bus) but most people either smiled or ignored us, and we didn't feel uncomfortable at all. Our bus driver eventually turned up looking like an East Village hipster (white crocodile shoes, skinny jeans, tight band t-shirt and a little waistcoat and shades) and more scarily like he should have been in school rather than driving double-deckers cross-country. He motioned in the direction of the upstairs of a bus whose windows were stuffed full of cuddly toys (we wondered how he'd have any space to see the road).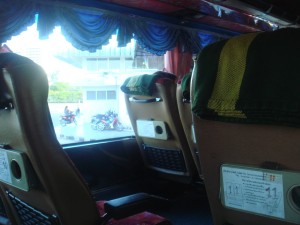 We said goodbye to the Thai student (whose English was much better than our phrasebook Thai) and boarded the bus. The downstairs was full of parcels and post so we climbed upstairs as we had been motioned to and were pleasantly surprised to find comfortable, spacious seats complete with a bottle of water, a custard pie and a pillow to make the 13-hour journey more bearable. Our fellow passengers were very helpful, showing us where to put our luggage, where the blankets were etc. so perhaps the American had been winding us up after all.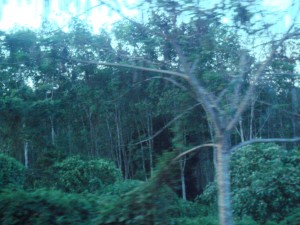 As dusk began to set in, we passed hundreds of rubber trees and could see rows and rows of little taps fitted to the bases of their bark with buckets underneath. Later we stopped to pick up a couple more passengers outside a sunset market where the last of the day's wares were being flogged. Pirates Of The Caribbean dubbed in Thai was our entertainment for the evening, as well as the repetitive soundtrack of some irritatingly catchy Thai pop songs. At 9pm we paused at a local service station, our last stop before Bangkok, where we had a quick wash before getting ready for bed.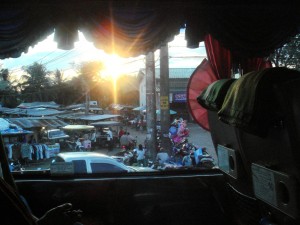 My iPod provided an eerie soundtrack to the nightly goings on outside as I tried but failed to get to sleep. Around 1am, we passed a prison-like lorry which was crammed full of people looking out from between bars. Other trucks with wooden slats