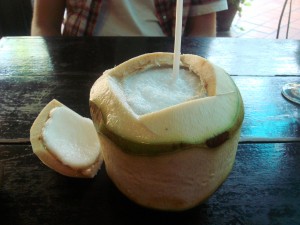 There is perhaps nothing more satisfying than enjoying a good Thai curry in Thailand, where the taste is different enough from the varieties you've tried back home to make you wonder… This je ne sais quoi is partly thanks to the fantastic range of fresh, local ingredients available and partly thanks to some excellent family recipes. If you like the taste of something, ask what's in it – there's usually an added ingredient such as lemongrass, cilantro or kaffir lime leaves/juice adding to that mysterious flavour.  Our favourite dishes seemed to usually include coconut milk or froth and crushed chillies somewhere in their mix, but there's a lot of variety to be found and just because a dish has the same name, it does not mean that it will taste anything like the one you tried in that other place…
Red Curry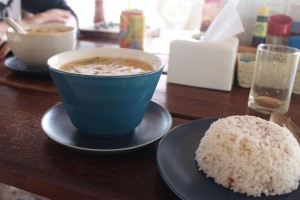 This is one of the staples of Thai cuisine. It is made with a curry paste (usually prepared in advance from fresh ingredients), a little bit of fish sauce and a large helping of coconut cream or milk, served on a bed of steamed rice. The spiciness of the curry varies from restaurant to restaurant and region to region so it is worth asking about this before you order. We found that most of the 'tourist' restaurants tone down the spice quite a bit anyway or can adjust the level to your preferred taste. If you want to try the real thing, find a place which specialises in a few key dishes, that appears to be frequented by local people. Some of the cheapest curries we had in Thailand also turned out to be the best. If you find yourself on the island of Koh Lipe , the Sunrise Beach restaurant on Sunrise Beach served an inexpensive but delicious version.
Panang Curry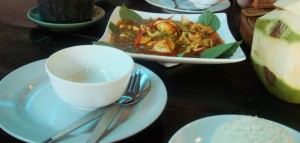 One of us ended up trying this dish at almost every restaurant we went to – slightly milder than a regular red Thai curry, it is subtly flavoured with lemongrass, lime and kaffir lime leaves to produce a delicate but delicious dish. When in need of a break from spicy food, we found that this hit just the right balance between heat and flavour (though we also often tried the green and red curries as points of comparison). Once you've got all the ingredients it's not too tricky to make. There are lots of versions of the recipe circulating in cook books and online. Below is a good one that we came across:
(recipe sourced from Catherine at Food Musings, licensed under Creative Commons – if you prefer to create the paste rather than use the packeted ready made stuff, Chez Pim has a good recipe for that)…
2 TBSP vegetable oil
1/2 red onion, sliced into thin half moons
8 TBSP fresh panang curry paste
2 14-ounce cans of coconut milk
3 carrots, sliced 1/2-inch thick on the diagonal
3 crookneck yellow squash, sliced 1/2-inch thick on the diagonal
1 yellow pepper, sliced into strips
1 zucchini, sliced 1/2-inch thick on the diagonal
1 cup baby bok choy, stems and leaves separated
3 TBSP fish sauce
2 TBSP sugar (use palm sugar if you have it)
5 kaffir lime leaves, cut into thin strips
Heat the vegetable oil in a large pot and add the onion and the curry paste. Let the onions fry up a bit and stir the curry paste until the clumps break up. Add a splash of coconut milk and stir the curry paste until it's a bit mixed in, then dump in the rest of the coconut milk and bring it to a gentle boil for several minutes. Reduce the heat to a simmer and toss in everything else except the bok choy leaves. Let simmer until the vegetables are cooked through and the curry has thickened a touch, 10-20 minutes. Add the bok choy leaves, stir to wilt, and serve over rice.
Tom Yum Soup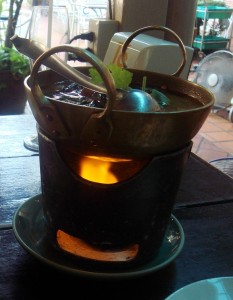 This is a clear, spicy, sweet and sour soup that is served at pretty much every restaurant in Thailand and Laos but is also hugely popular in Malaysia and Cambodia. The soup usually contains fish stock, noodles, crushed chillies, kaffir lime leaves, lime juice, lemongrass, meat such as shrimps or chicken, or mushrooms if vegetarian, and sometimes pineapple. We tried a lot of this soup while travelling through South East Asia and our two favourite versions were found at the Mayflower Restaurant in the Cameron Highlands (22, Main Road | Tanah Rata, 39000) and at Tom Yam Kung in Bangkok, pictured left (on a side street off the Khao San road).
Tom Ka Soup