Malaysian food is drawn from Malay, Indian, Thai and Chinese influences, resulting in a fusion of flavours and textures that's difficult to find anywhere else. Penang especially is renowned for its food, and some of the very best can be found on the street or hawker stalls and late night food markets which are dotted around the city. It only took a short detour from Love Lane to find a row of hawker stalls, each only serving couple of dishes or cuisines but staking their entire reputation on the quality of those particular items. We only had one night to sample the variety on offer but below are some of the best dishes we found in that short time:
Koey Teow Soup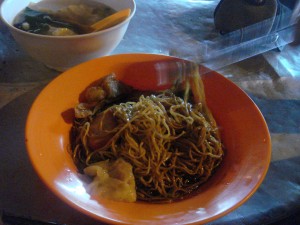 This is a relatively simple broth-based noodle soup to which strips of grilled meat, fish balls or dumplings are added to create a tasty, nutritious main course. We fought to find a spare plastic chair and table space – the pavements get incredibly congested at dinner time but the lady at the stall told us that someone would find us and bring us our order. Amazingly they did and were soon presented with a plastic bowl of delicious noodles, vegetables and an accompanying dumpling broth soup. All this cost about 50p and was absolutely delicious.
Sweet Crispy Pancakes
These are made in a similar way to crêpes, but the batter has a thicker consistency and the end result is a crispy pancake that is typically dipped in honey, chocolate or coconut sprinkles. Absolutely the best way to finish off a hawker stall session and also usually priced at only a couple of ringgit each.
Clay Pot Dishes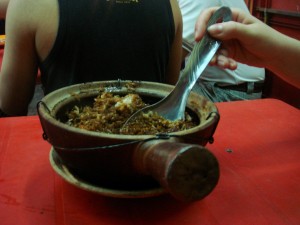 More easily found in Chinatown, this is a local speciality whereby a bowl of rice and vegetables and/or meat are cooked with a barbeque sauce in a sizzling pot. Good for sharing when the daily budget gets a bit tighter.
Cendol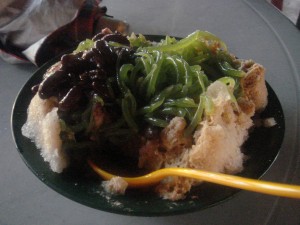 This is a surprisingly hard to find but quite tasty Malaysian dessert consisting of sweet red beans, sugar and jelly served on a bed of iced condense milk. Though most ice in Malaysia is of good quality, watch where the ice is coming from or it could cause you some unpleasantness in the days to come…