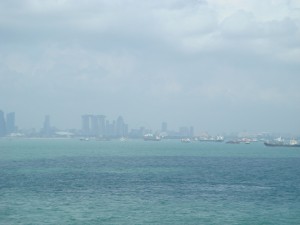 Our last day at sea was spent slowly crawling up the Singapore and Malacca straits. The Captain called us at midday to come and watch Singapore emerge through the heat and smog haze as a strip in the distance. The number of cargo boats and barges in this small stretch of water was insane and as we approached the area a thin strip of yellow smog surrounded us, which brought home the polluting impact of these ships. There are over 90,000 cargo ships sailing the oceans and seas of the earth at any one time, many of these still burning low grade ship bunker fuel 24 hours a day. This hit the headlines back in 2009 when it was revealed that one giant container ship pollutes the air as much as 50 million cars. The mounting industrial prowess of countries such as South Korea and China mean that plans for even bigger container ships are on the cards which seems like something akin to madness when particulate matter emissions from ship engines have already been shown to have contributed to the premature deaths of over 60,000 Americans and many others in Europe and South East Asia, not to mention its contribution to climate change.
It's not all doom and gloom however; the International Maritime Organization finally got off the fence in 2010 and introduced a sulphur cap which will see sulphur in fuel reduced by 90% by 2020 which is in addition to the introduction of buffer zones (where emissions are controlled) around the US, Canada and it is hoped in Europe too. If these longer term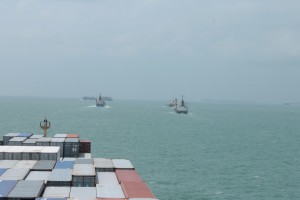 action goals seem frustrating however (which they do to me), there are some refreshingly different smaller scale projects (see B9 Energy group) on the go, which focus on the development of wind-powered cargo ships that are also commercially viable. The B9 Energy group claim that its ships can 'deliver competitive freight rates and equal performance against schedules of conventional oil powered ships' which could prove to be a very important show piece for those who don't believe that efficient and affordable low-carbon shipping is possible. A group called the New Dawn Traders have also just set off from the UK on a slow cargo adventure of their own, where they will transporting Devon beer to France and Spanish olive oil to Brazil. You can follow their adventures here; and not to forget the Pacific Voyagers who we met earlier in our trip and are currently sailing their way from Mexico back to the South Pacific in traditional vakas. They have exciting plans to introduce sustainable, wind powered transport between islands in the South Pacific so it's definitely worth checking out their blog.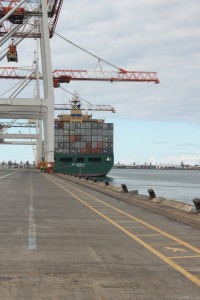 Back on the Carelia, our last night on board was spent packing and trying to reduce the weight and size of our luggage, which had slowly grown to epic proportions and desperately needed a diet. The seas were calm and at about 11pm we were able to tuck into bed for a few hours' rest before immigration were due to board. The AS Carelia pulled into the container terminal of Port Klang in the very early hours of the 6th January. We were expecting an early wake-up to meet the port agent, but we instead got a call from the 3rd Officer to let us know that we could look forward to a lie-in as the immigration office, in Klang style, would not be opening until at least 9.
We had time for a quick breakfast before we said goodbye to the crew and finally stepped off the ship for the last time to meet a representative of the port agent who was to drive us to immigration. In an unusual arrangement for those used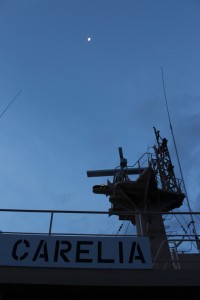 to airports and passenger terminals, it turns out that in order to get our passports stamped we had to leave the port and drive for a few miles to the back of a warehouse which looked remarkably similar to the Elephant and Castle shopping centre. Herein lies the the immigration department of Port Klang (though the sign for the adjacent department for the regulation of massage and alternative therapy was far more prominent).
Further cementing our belief that there really are very few tourists arriving this way, the man who had just driven us to immigration asked us to wait a moment before rapping on the roof of a chrome-plated sports car that had a man's legs sticking out of its window. This it turned out was the port agent, Mr. Wen. He was friendly enough and did direct us through the passport control in an efficient manner (although we were the only people there so he didn't have much directing to do). I think we may have been the first non-seamen and maybe the first male and female travelling couple that they had received in a long while, and we were presented with the lighter side of border control (lots of giggling and joking around with forms). In five minutes we were stamped into the country, if o