During our time in Melbourne we made several weekend excursions to the surrounding countryside, in an attempt to explore some of the beautiful coast and bushland that Victoria is famous for. On Melbourne's doorstep there are opportunities to spot some of Australia's extraordinary wildlife including Koalas, Echidnas, Emus, Kangaroos, Wallabies, Kookaburras, Lyrebirds and even Penguins (and we're not talking about Melbourne zoo)…
Dandenongs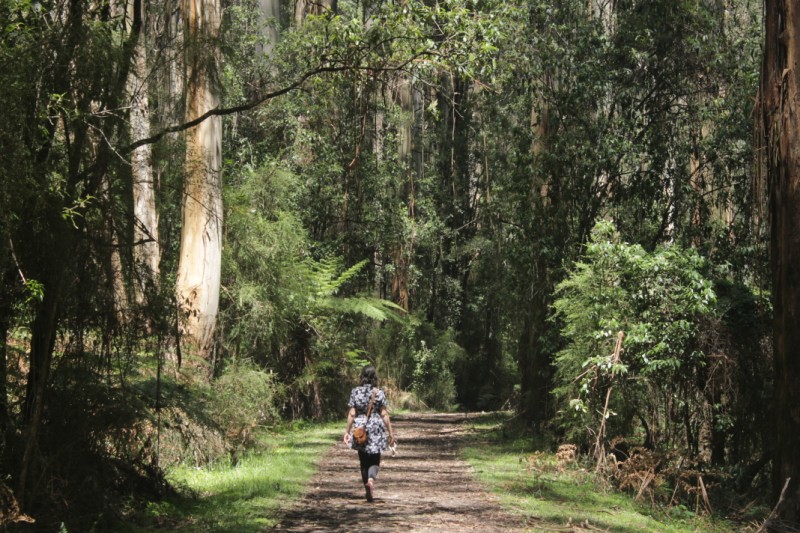 This is a small mountain range to the east of the city – it's close enough to get there via public transport and visit in a day, with a commuter train route nearby and regular buses visiting the main points of call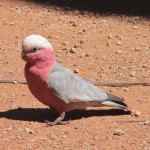 , but I recommend carpooling if you can, as some of the good sights aren't on the bus routes. Our first stop was the Lyrebird walk at Sherbrooke Forest which is next to Grant's Picnic Ground, a place where people have, wrongly or rightly, been feeding local birds for decades thus allowing people to get closer than normal to wild Rosella Parrots, G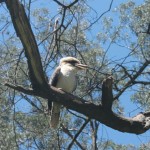 alahs, Sulphur-crested Cockatoos and Kookaburras. The Lyrebird walk is what we came for however and if you are fortunate you may be able to hear one of these famous mimics imitating a mobile phone or a chainsaw (they really are incredible – see this video). Unfortunately luck was not on our side and even after an extensive trek we had to settle with what we thought were the notes of a distant lyrebird call. The trek did however lead us through a forest which echoed with the sounds of eerie Kookaburra laughter – one of those 'we could only be in Australia' moments.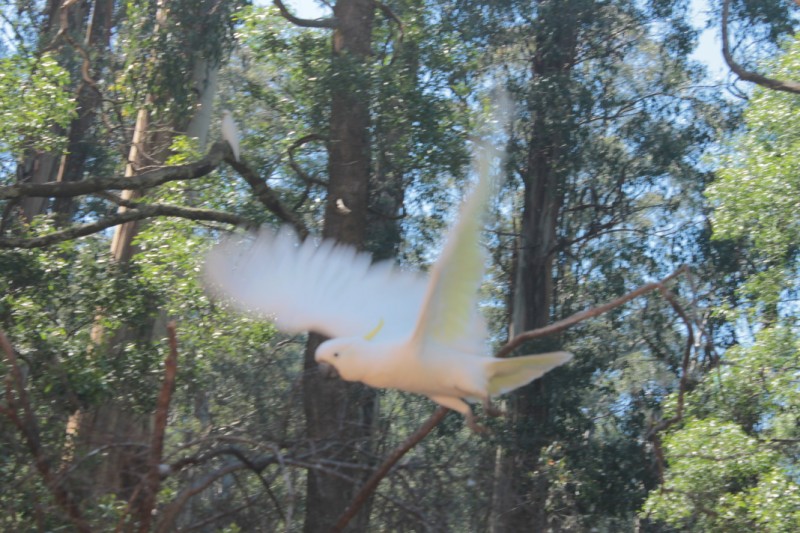 Next, some advice: whatever the local information point in the town of Dandenong may tell you, avoid 'SkyHigh Mount Dandenong', which is supposed to be a viewpoint where you can see the whole city of Melbourne and its surrounds from above. Unfortunately, it has been turned into a ridiculous tourist trap, charging sky high car parking fees and encouraging local buses to drop tourists off here, where the "Sky High Mount" is the only restaurant for a long way around. Needless to say, it is overpriced and you can access the view from elsewhere in the Dandenongs with a bit of research.
A much better alternative is to buy a picnic-style lunch from one of the abundant village bakeries and tea shops and then make the short drive/bus ride south from the Dandenongs to Cardinia Reservoir Park. Here, you can enjoy some beautiful walks along the banks of the reservoir and then head down to the grassy plains where wild kangaroos emerge at dusk to feed. As with most public parks in Australia, there are communal barbeque areas and fuel is even provided!
St. Kilda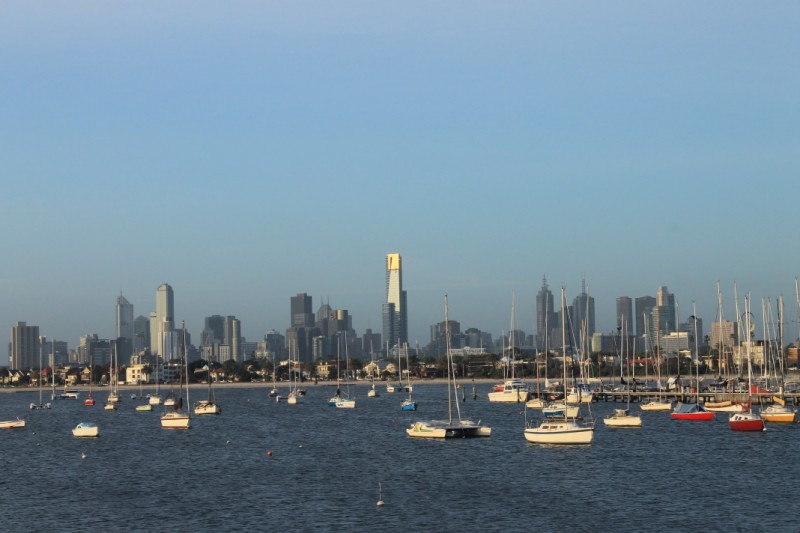 St. Kilda is a suburb of Melbourne that is easily accessible via the tram. Traditionally a bohemian part of town (further inland to the east, St. Kilda still retains its edgy side) but as in many other waterfront locations, more affluent patrons are starting to roll in. A favourite mecca fo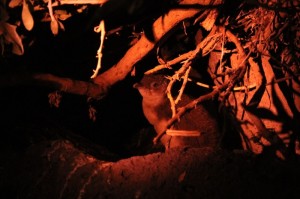 r Brits on holiday visas, it slightly resembles seaside towns such as Brighton, with lanes full of interesting boutiques, bars and cafés while also maintaining a chilled seafront vibe. It also comes complete with its own iconic fairground, Luna Park, which was designed and constructed in 1905 by the original creators of Coney Island in New York and houses the longest continually-running vintage wooden rollercoaster in the world.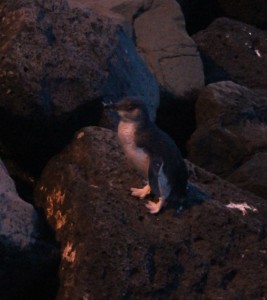 The main draw for us, however, was to be found out at the end of the pier where a colony of Little Penguins have been breeding on the rocks since at least 1986. The adult penguins swim out during the day to catch fish while the chicks (when there are any) hide under the piles of rocks that make up the seawall at the entrance to the marina. If you arrive half an hour before sunset, it is possible to watch the penguins shuffle across the beach back to their nests. There are now volunteer wardens who turn up at the site at dusk with infrared torches (which the penguins can't see) in an attempt to stop people using flashes. Apparently there have also been previous incidents where tourists have tried to hug and pose with a penguin, so the wardens' job is to make sure that this doesn't happen. Also living amongst the rocks is a protected species of water rat with a white tail tip called the rakali that you might just catch a glimpse of while waiting for the penguins to arrive.
Great Ocean Road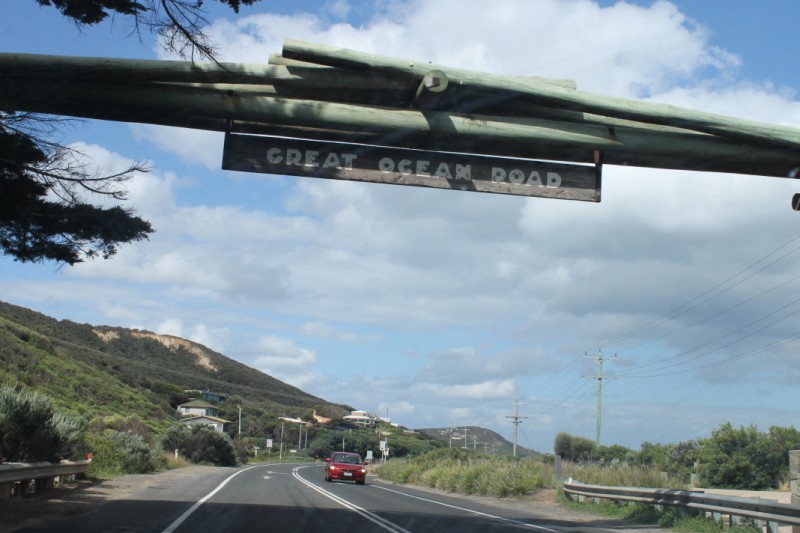 This is a 243 km stretch of road that runs from the south of Geelong, southwest of Melbourne itself, to Warrnambool, following the extensive coastline and running through a stretch of temperate rainforest. Because of the distance, we opted to stay for a couple of nights on the way, but it is common for people to travel the entire length in a day (especially if they've gone with a Melbourne tour operator). Again, it's possible to take public transport but after the experience of our road trips in California, we figured that the journey would be much more interesting if we hired a car. Our plan was to head as far west as we could on the first day, leaving just after lunch on the Friday, explore a little on the Saturday and then take a leisurely drive back east to Melbourne on the Sunday.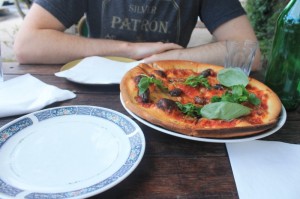 Leaving Melbourne just after lunch, our first destination was a small town called Lorne about 50km along the road, where a local café and pizza place had been recommended to us as pit stops. It took us about two hours longer than we had originally planned to get there – the eastern section of the great road may not be as long as the west in terms of distance but because of the winding coastline, the excellent views (each excursion always led to one or two detours) and the road's precarious bends it does takes quite a long time to pass through.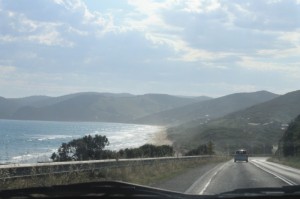 A couple of delicious pizzas gave us the energy to push on, and we arrived at the half-way point of Apollo Bay by sunset, though we were by this stage running late. Thus followed hours of driving through the forest in near darkness, as a distant thunderstorm briefly illuminated the night sky through the trees. As we entered the dense, foresty area, our headlights occasionally picked up an erratic kangaroo or two, hopping alongside or in front of us before disappearing into the darkness. One hopped in front of our car, like a startled deer, for a good five minutes before making its exit over a fence into the trees beyond. We finally reached Port Campbell, a popular backpacker destination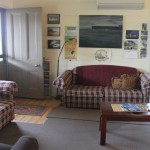 where we had booked at a place called 'flashpackers' for the night just after 10pm. Arriving late in the evening and with no mobile reception to call ahead for the last two hours, we were lucky to get hold of the owner to let us in after someone called him from the pub for us. He hadn't thought we were going to turn up but luckily hadn't given our room away and so we were able to settle in for the night after watching a bit more of the spectacular fork lighting storm still raging offshore.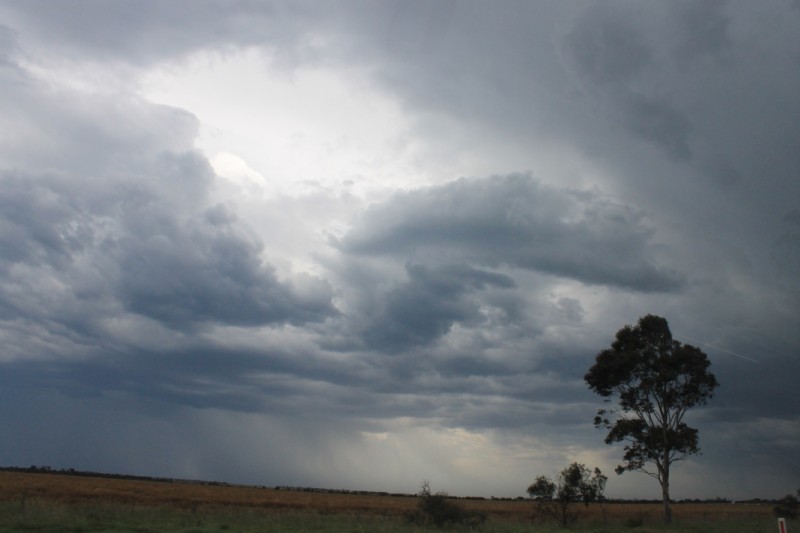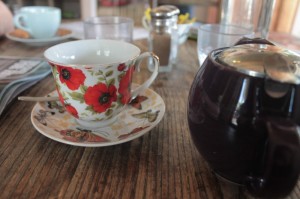 The following morning we woke to the sounds of boiling water, popping toast and the chatter of people sipping coffee. In a hostel such as this, where food is provided (I think this is the 'flash' part), breakfast is a great occasion to talk to fellow travellers – and on a road like this one most of the conversation is inevitably dedicated to peoples' destinations and experiences along the way. We met a couple of teachers from the U.K. who were driving all the way around Australia and a German who had been working in Melbourne for a while and was taking a weekend excursion.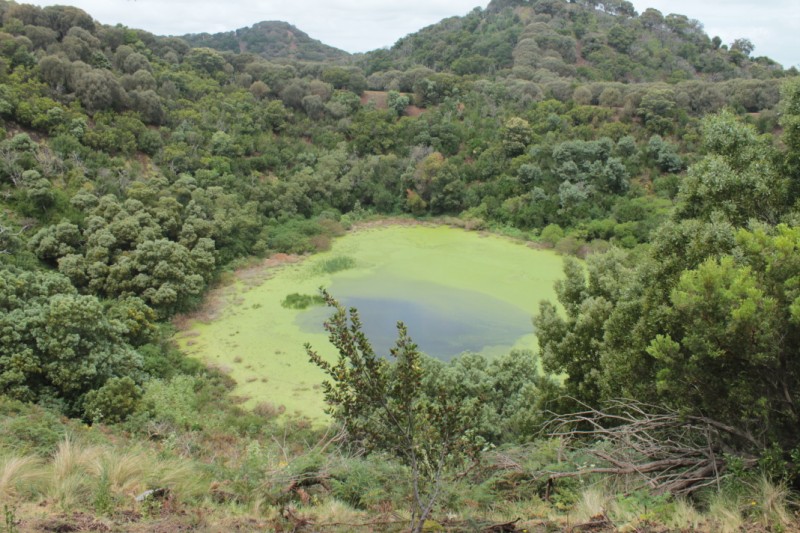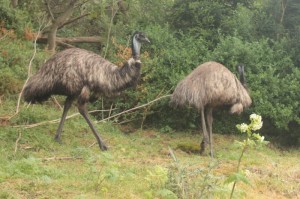 The following day our first visit was to the nearby Tower Hill Nature Reserve. Situated in an old volcano crater, this is an example of colonial 'expertise' gone madly awry. Settlers cleared the area of nearly all its native trees to use it as grazing land and a game reserve where European animals such as rabbits, pheasants and grouse were introduced. The park was mismanaged for nearly a century before it was abandoned until the 1950s – since then, all the European wildlife has perished and the park is now a refuge for a diverse range of Australian wild animals such as Kangaroos, Wallabies, Emus, Koalas and Herons.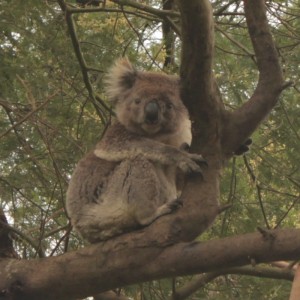 We took a trek around the old crater's edge, to see ducks and other marshland birds exploring a lake in the middle. We also bumped into our first Koala here, who greeted us with a terrifying growl through the undergrowth (at first we thought we had sighted the Bunyip!) While they look quite cuddly high up in a tree, when you see one at ground level their claws become more reminiscent of Freddy Krueger than Winnie the Pooh. Thanks to their huge claws, they can move pretty quickly around the trees when they want to, despite spending most of their days in a eucalyptus poison-addled state, which is apparently what makes them docile. Along the way we also spotted some emus rustling in the undergrowth, which looked quite formidable up close, with huge velociraptor-like legs and large claws for digging through the dirt.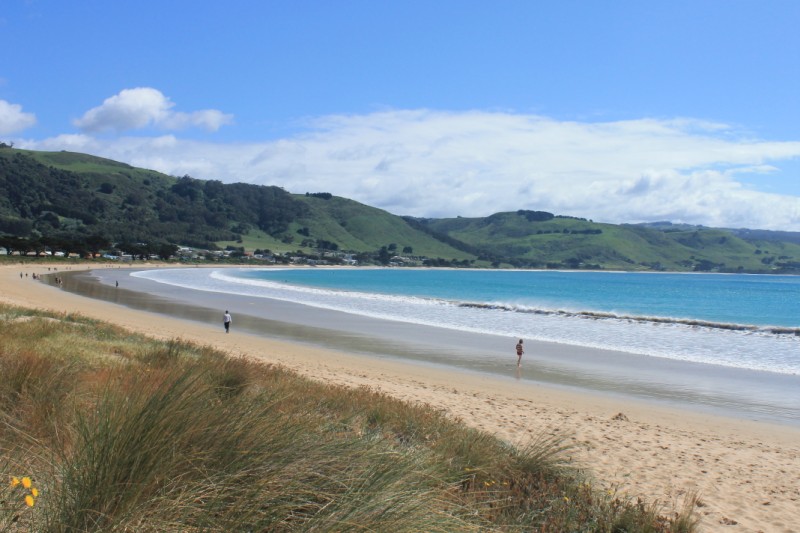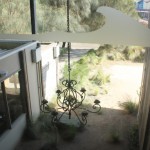 A short stop in a tiny bakery, in a suburb that time forgot not far from the official end of the Great Ocean Road, allowed us to refuel ourselves before pressing on. Our next destination was Apollo Bay, another seaside town with a main street lined with small cafés and bars, as well as the smart 'Eco Beach' YHA hostel, just a short walk from the sand. This hostel has been purpose-built to use as little energy as possible, making intentional use of the area's sea winds as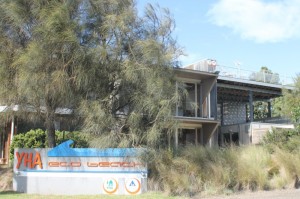 opposed to air conditioning, and using the ample sunlight to provide most of the power required for hot showers and some electricity for the communal TV etc. In the evening we strolled down the main street and watched the sunset from a little vegetarian café, while eating chunks of warm home-made bread. After a glass of wine or two, it was easy to drift off back in our hostel room listening to the whispers of the sea breeze and the sound of the ebbing tide carried by the wind.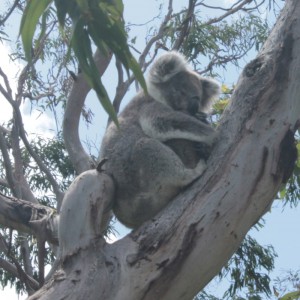 Our last day on the Great Ocean Road was spent heading east, for the most part. It was a beautiful sunny morning so we decided drive to Cape Otway which is a great place to spot more koalas clinging to the Eucalyptus trees that line the road. The famous Cape Otway lighthouse lies at the end of the route but we decided to do one of the free coastal hikes instead. We then took a short detour to visit Maits Rest, an area of temperate rainforest which has a short boardwalk trail, weaving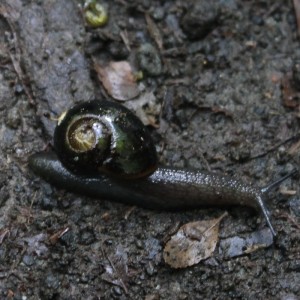 through rain-filled gullies and giant redwood-like trees. It is also home to a rare indigenous species of carnivorous snail (so rare that we almost stood on one which was inching its way across the footpath, unaware of the hundreds of tour party feet headed its way). While we were on our way out we passed two large groups of Japanese tourists making their way trepidatiously along the slippery forest board-walk, while carrying iPads, laptops, suitcases and massive telephoto-lens cameras. Luckily, we had moved the snail out of foot crushing reach.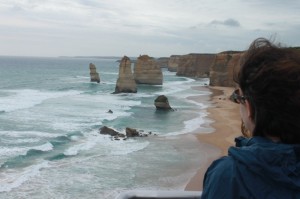 Because we had covered half the distance the day before, we had plenty of time to enjoy the drive home and took a few more breaks at the various beaches along the way, as well as making an obligatory visit to the Twelve Apostles. Our slow, twisty drive back took us through coastline reminiscent of the Jurassic coast in Dorset. Our final stop before heading back to the main road home was the Split Point Lighthouse, just off the path from Aireys Inlet, that was used as the set for Round The Twist, a cheesy 80s kids TV show that we both remembered watching. We weren't the only ones: while we were walking up the hill we passed a man quietly humming the theme song to himself.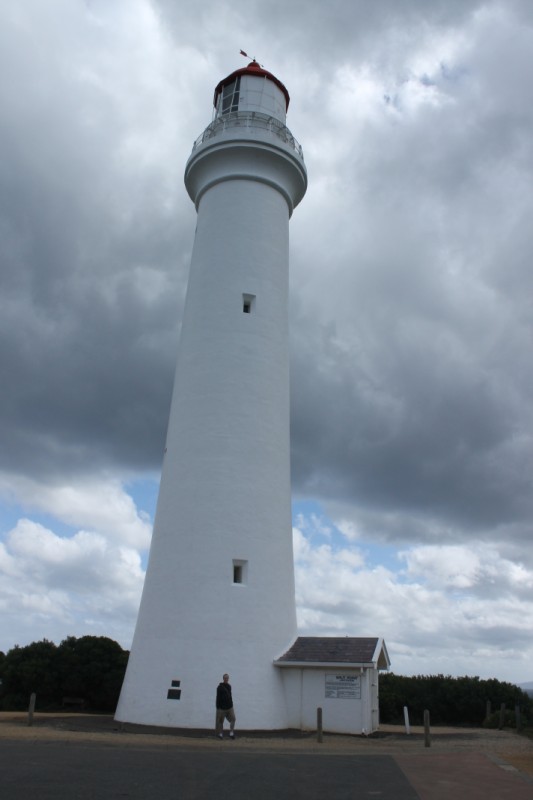 We arrived back in Melbourne as dusk began to settle but were definitely glad that we made time to explore the Great Ocean Road.
Castlemaine (near Bendigo)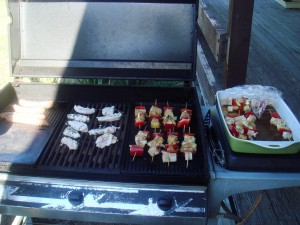 In the first few weeks of December, the summer barbeque season kicks off in Victoria, and when we were invited by our friend Helen, along with our other hostel-companion Grace, to accompany her on a trip to the countryside for a BBQ being given by the farm-stay hosts she had lived with and worked for back in October, we jumped at the chance. Helen worked at Karoline and Peter's home farm in Castlemaine as part of a farm stay through Help Exchange and learned many interesting things which she shared on her blog here.
The train journey was quick but incorporated a brief glimpse of the Dandenongs and some interesting conversations about whether Castlemaine beer does in fact come from Castlemaine (it doesn't, it's brewed in Brisbane). After a catching a taxi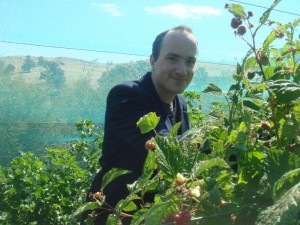 from the station and following some directions, which involved looking for a turn in road and some clustered letter boxes, we arrived at Karoline and Peter's gorgeous farm and were greeted by their two dogs. It wasn't long before Karoline (who was trying to recreate a Scottish dessert that Helen had made while staying there) asked us if we would do her a favour and pick some blackberries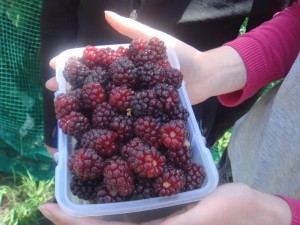 and raspberries. We were only too happy to go out into the sunshine to pick (and occasionally feast on) plump, ripe raspberries. These were just the tip of the fruit barrel as the farm also grows figs, cherries, apricots, pears, peaches and even olives. We also witnessed the first sprouts of some of the crops Helen had been responsible for planting while she was there and it looked like they were thriving! The views from the farm were breathtaking and the porch looks out onto endless fields where flocks of Galahs swoop and eagles soar overhead. There is also a small waterhole which is used for swimming and as a water source for some of the house's bathroom systems.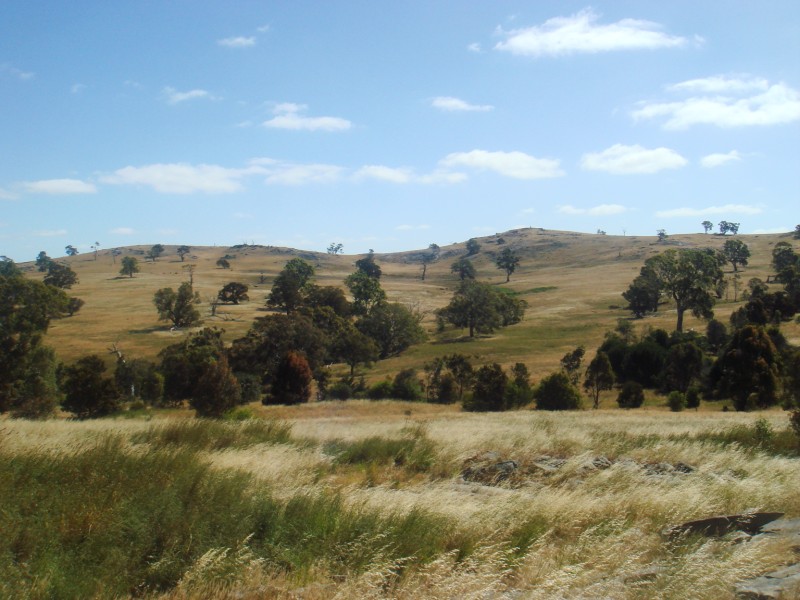 It wasn't long before the other guests started to arrive and the food and drink on the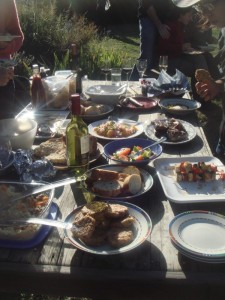 table began to mount up. The other guests were all living locally (except for the new Help Exchange volunteer who was from Spain) and many seemed to have either built their own houses or at least been involved in the process somewhere along the way. One of the guests, Chris, was in the process of creating his own bush fire shelter out of an old cargo container which had been partially buried underground. I asked one of the younger guests who lived in Bendigo whether he had any plans to travel or study in another part of Australia and he said, "no, why would I when I already live in such a beautiful part of the world", and I could see his point. Everyone was so friendly and welcoming and the surroundings so relaxing that I almost wish I could have stayed there forever myself.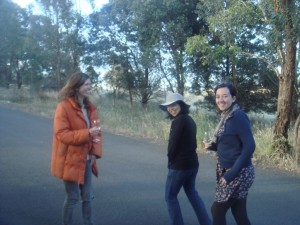 As the sun began to set and the wine continued to flow, we decided to take a country walk down the lane to try and spot some Kangaroos. After about 15 minutes we came to a field where we spotted a mob in the distance. Just as we were getting excited, we heard a car drive up and it was Chris who'd heard that we'd gone out looking for kangaroos and had another plan. He drove us a short distance to his house which is in the middle of bushland where kangaroos reliably appear every evening by the watering hole. It wasn't long before we spotted them, much closer than most of the ones we'd seen so far. They only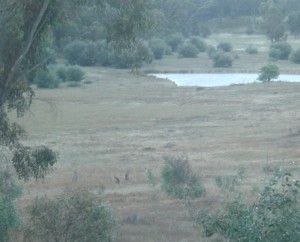 paused for a second before springing off over nearby fences back into the shelter of the forest, but it was definitely worth the trip. Conscious of having to catch the last train back to Melbourne, we had just enough time for a quick tour of the container fire shelter and it was very impressive. At present it was partly being used as a wine cellar but perhaps wine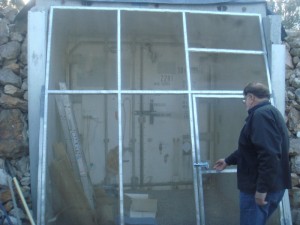 reserves are exactly what you would need to wait out a bush fire. Chris very kindly drove us back to the farm to say goodbye and then on to the station where we reached the platform with minutes to spare. We got back to Melbourne feeling refreshed and really glad that we'd been given the opportunity to play at the Good Life for the day (if only I could learn to grow crops as successfully as Karoline and Peter)…