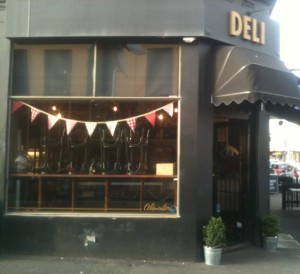 Melbourne is a food lover's paradise, a fact which Sydney is all too aware of and is constantly trying to challenge in a friendly, one-upmanship sort of a way. There is an emphasis on fresh, local (or at least Australian grown) produce but not in a limiting way, as experimentation and innovation is at the heart of almost anything that Melbourne embraces. Sometimes it works, other times it doesn't but there is always fun to be had and interesting combinations to try as part of the trial and error process. Below is a collection of some of the places we enjoyed during our stay:
Birdman Eating, 238 Gertrude Street, Fitzroy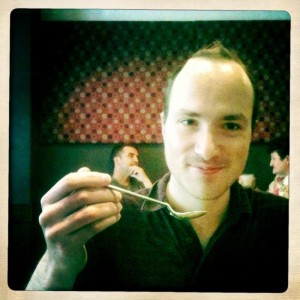 This very popular eatery on Gertrude street takes experimentation to the limit by slicing and dicing iconic and classic dishes to create something new. The springtime had brought a theme of deconstruction into the mix and we tried the de-constructed fish and chips followed by a de-constructed banoffee pie. While the presentation was great, the dishes were at best average ('de-constructed fish' meant tiny, tough and overcooked fragments of an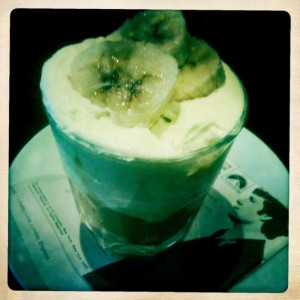 unidentifiable fish while the banoffee pie was very heavy on the cream and non-existent on the crumb, which sadly was not an improvement on the original). Still this place is very popular with the locals and its innovative and fun approach to food, combined with its ever evolving menu means that it's only a matter of time until you discover a culinary gem.
Trippy Taco, 234 Gertrude St, Fitzroy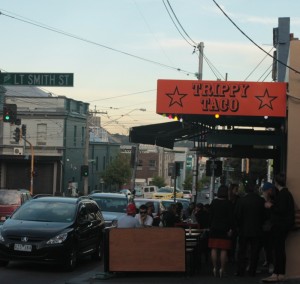 There is no better place on a warm Spring or Summer's evening to stop for a takeaway before heading to the park in Fitzroy than Trippy Taco. Nearly always spilling over with crowds of both the sit down and grab n' dash variety, the food here is both reasonable and delicious, serving a range of filling burritos, tacos and other Mexican staples for around the $1o mark. The best burritos we've yet encountered west of Mexico and a fantastic post-pub snack stop off point.
Lentil as Anything, Abbotsford Convent (1 St Heliers St) and St Kilda (41 Blessington St)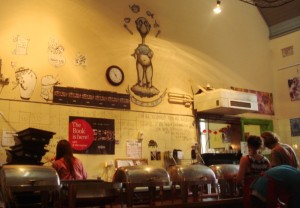 Lentil as Anything is one of those operations we came to think of as typically Melbourne. With branches in both Abbotsford Convent and St Kilda, their idea is to serve a range of vegetarian (and vegan) lentil curries on a pay-what-you-want-to, self-service basis. Though this idea is not original in itself, at Lentil your donation is anonymous so if you can't afford to give much, no-one is going to judge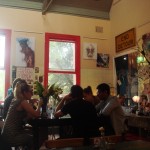 you. We visited the Abbotsford branch and found a great community-centric space (complete with board game cupboard), which feeds and provides culinary training for disadvantaged people. As with Café Gratitude in Berkeley, if you enjoy the food and have the means, you are encouraged, but by no means forced, to pay a little extra so that someone less fortunate is able to eat there – which really wasn't a big ask given the quality of the food and the fantastically welcoming atmosphere.
Wabi Sabi Salon, 94 Smith St, Fitzroy
Located at the south end of Smith Street, this restaurant shows its authentically Japanese style the moment you walk in. We found inventive sushi dishes and seasonal bento boxes as well as delicious sashimi and soups in a vibrantly decorated environment – the secluded garden section is particularly atmospheric. Visit during the day for some light bites at café prices. The plum wine is so-so but the on-tap Asahi or sake offer an excellent liquid accompaniment.
Little Creatures Dining Hall, 222 Brunswick Street, Fitzroy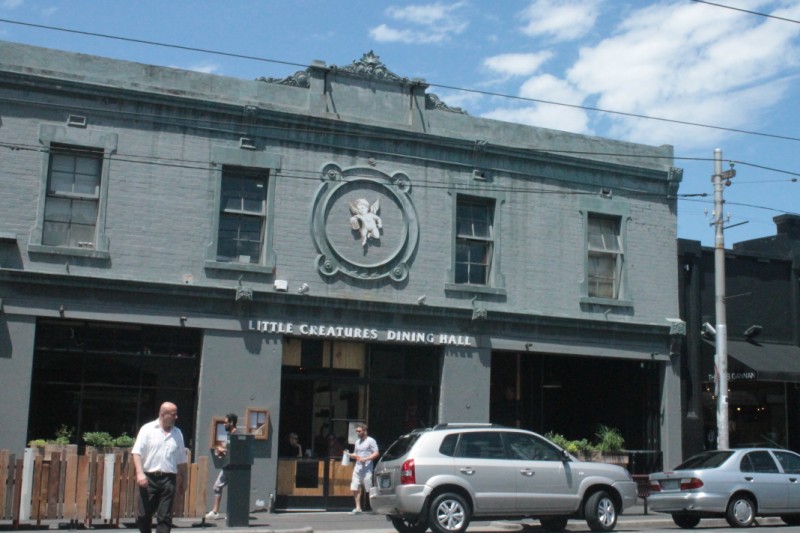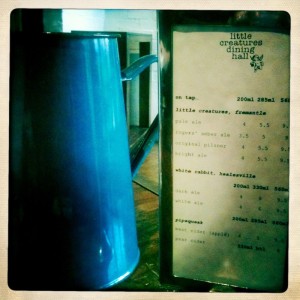 This is another cavernous converted warehouse operation on Brunswick Street, catering to a somewhat hipster crowd – it has several smaller dining areas adjoining the main, airy, canteen-style dining room. We generally went here during the quieter daytime periods to make use of the free wifi (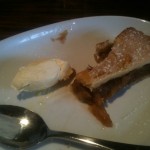 and home brewed ginger beer) but it also serves a decent range of pub-style offerings, in the form of delicious pies with mash and gravy and apple pie with ice cream. Combine this with a pint of their own-brand ale and it's a great place to while away a Sunday afternoon in Fitzroy, especially if its raining!

Babka Bakery Café, 358 Brunswick Street, Fitzroy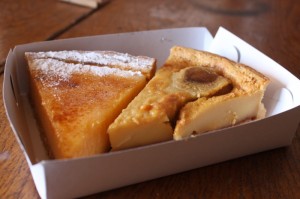 A very popular little bakery, tucked away on the northern end of Brunswick Street near some kooky vintage fashion stores and the Fitzroy garden nursery. Open for lunches only, there is nearly always a wait but if you're in a hurry head straight for the take away lemon cake, said to be the best in town, and we couldn't really disagree! Menu items change seasonally and range from hearty stews to delicate salads but it's the cakes which really make the trek up Brunswick street worth it.
Breizoz Crêperie, 49 Brunswick Street, Fitzroy

Just around the corner from the 112 tram stop on the corner of Brunswick and Gertrude, this small but charismatic crêperie serves perfectly presented French pancakes until the small hours of the morning. Just around the corner from our place, we ended up stopping there after many an evening for a nice warming chocolate crêpe. Good for a take-away after pub snack or for a lazy weekend brunch accompanied by a good glass of French wine (they also offer French classes too, though we hear there's a bit of a waiting list for those – perhaps the free after class glasses of wine have something to do with it)…

Red Chilli, 223 Brunswick Street, Fitzroy

We were introduced to this unassuming family-run Thai restaurant by our flatmate, who has been visiting it more or less every day since he arrived in Melbourne. The owner, a man called Boon, exudes the calmness of a veteran restaurateur who knows that his food is the real deal. Sometimes the meals can take a while to arrive, but they are well worth the wait and with very reasonable prices, there are few complaints from the large number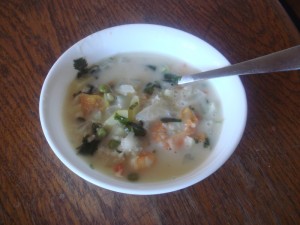 of regulars. We recommend the lemony Tom Yum soup with prawns, and the Panang or Yellow Thai curry though everything on the menu looks delicious and Boon is always happy to provide a bowl of freshly chopped chilli to anyone who requests it.
On our last day in Melbourne, we tried to create a Boon inspired dish using our leftover ingredients – coconut milk, rice, lemon, lime, ginger and a good handful of coriander from the local Asian market, but it wasn't a scratch on old Boon's, perhaps a Malaysian/Thai cooking might help point us in the right direction…
Shanghai Dumpling House, 25 Tattershall Lane, CBD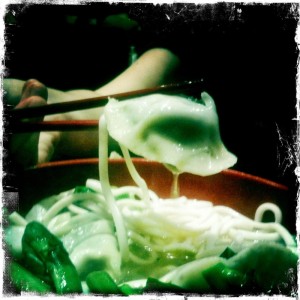 Located in Melbourne's Chinatown, we were told early on that this is one of the two dumpling houses of the moment (the other being the Shanghai Dumpling Village on the main street). You will be able to identify both by the long snaking queues out of the door but they are definitely worth the wait. Both have extensive menus, free green tea, a BYO policy and a very fast and graceless service but the hand made dumplings are among the best we've tasted. Neither take bookings so either arrive early or enjoy a drink or two in the old shipping container bar (Section

next door beforehand.
Sea Salt Cafe, 364 Lygon Street, Carlton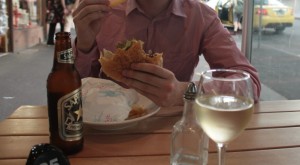 Our favourite stop before or after a film at the Cinema Nova, this small, sustainably aware fish-and-chip shop serves some of the best burgers in town (the grilled tuna with tomato salsa is to die for) but the vegetarian (and non vegetarian) sushi is also pretty good and the chips are pretty tasty too.

Movida, 1 Hosier Lane, CBD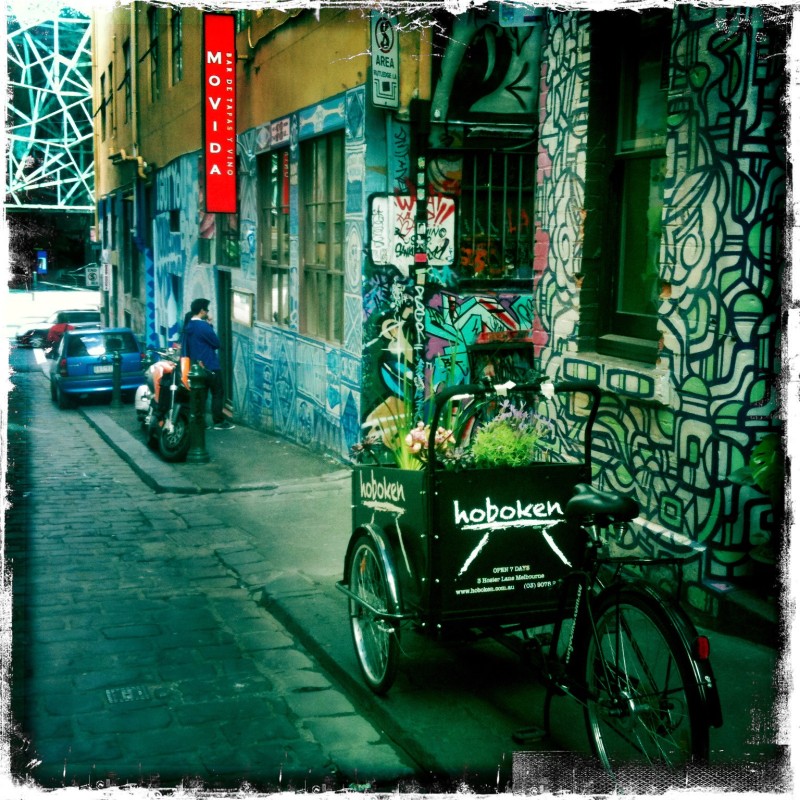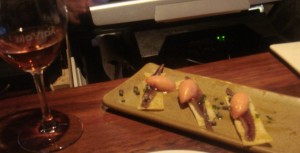 Tucked away down the wonderful, graffiti-clad Hosier Lane lies Movida, a place which is quintessentially Melbourne on the inside and out. This cave-like restaurant, darkened by graffiti scrawled windows, serves some of the best tasting tapas outside of Spain. I try not to eat fish often, but when I do, it is anchovies that I crave (thanks mainly to the delicious anchovy bruschetta's served at my local Deli in Balham), so when I saw anchovies on toast with smoked tomato sorbet on the menu I had to try it. Served with a glass of Tempranillo, these were heaven on a plate and as tapas go, quite filling too. We returned to Movida several times (sampling and sharing small tapas dishes meant it didn't have to be expensive) and tried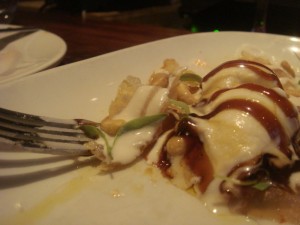 smoked mackerel with maple butter sorbet and pine nuts (a little rich but an interesting taste); chickpea and spinach croquettes; cinnamon sponge with pear sorbet and a Spanish chocolate pot with donuts. Movida has built quite a reputation for itself and we always failed to book a table in advance here but the ad hoc bar seating is good and nearly always filled with interesting characters and conversation (particularly of the theatrical variety).

Rose Street Artists' Market, Rose Street, Fitzroy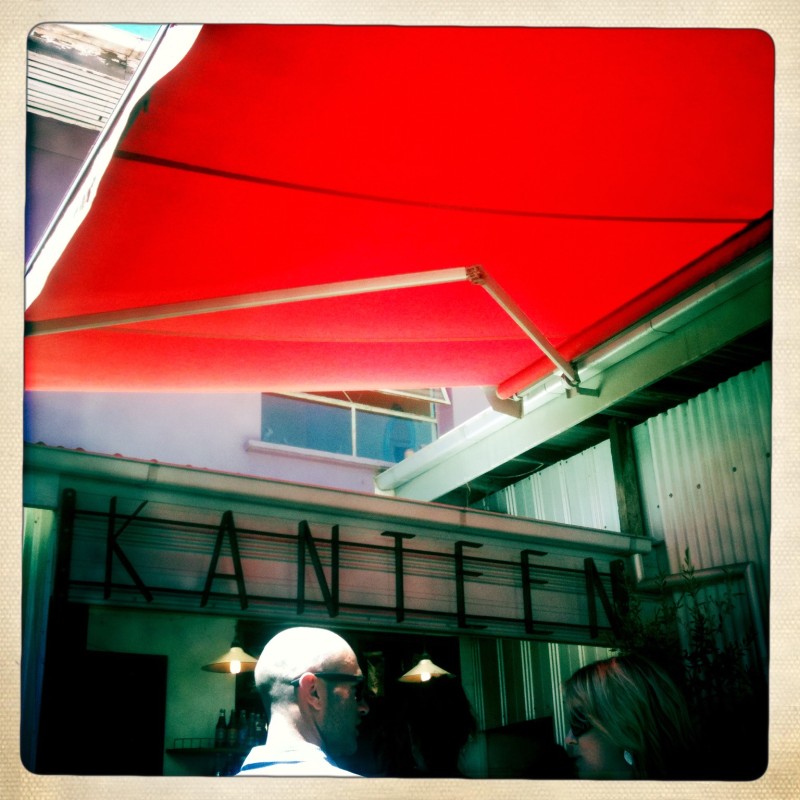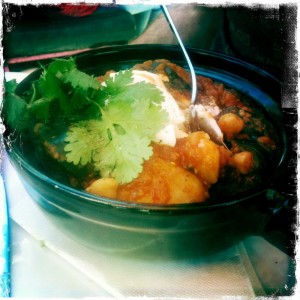 Rose Street Artist's market is a weekly weekend affair that takes place in the heart of Fitzroy, just off Brunswick Street. Inventive local designers and artists show off their wares, which range from vintage fabric earrings and ceramic pendants to notebooks crafted from old vinyls and the covers of old children's books.
The brightly-coloured canteen also serves excellent home-cooked food such as chickpea curries, avocado with zesty lemon on toast and portuguese custard tarts with Nutella in an outdoors space surrounded by vintage bikes and print umbrellas. This is home-made craft centric Melbourne at its best, on both the food and design fronts.

The Aegean, 19 Brunswick Street, Fitzroy

This was our Greek next-door neighbour which serves decent mediterranean cuisine in a lofty dance hall. A very popular party venue, we could smell the tempting aroma of grilled souvlaki from our balcony most days and could hear the sounds of plates smashing and Greek bouzouki bands well into the night every weekend.
Naked for Satan, 285 Brunswick Street, Fitzroy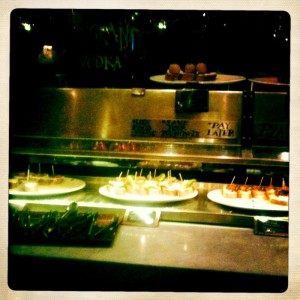 This legendary Fitzroy establishment is well known for its vodka mixes, 80 cent Pintxos and its fabled naked resident who went by the name of Satan. Whether sheer legend or anchored somewhere in truth, this dark bar (think candles and polished copper) is nearly always packed and the eclectic range of Pinxtos are actually very good. The bar staff circulate with trays so make sure to sit near the kitchen if you want your pick and prefer your tapas hot. When you feel full you simply take up a glass containing all your collected tooth picks and pay – the bill is nearly always a pleasant surprise.
Vegie Bar, 380 Brunswick Street, Fitzroy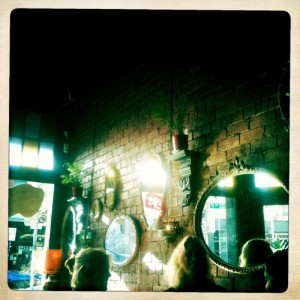 Arrive early (5.30 pm at the latest) or opt for lunch instead of dinner if you want to get a seat at this extremely popular Fitzroy vegetarian affair which doesn't take bookings. The food is eclectic, nutritious and delicious covering everything from pizza, curries, noodles, broths and burgers to salads.
And some of the worst…
Lord of the Fries (Pun-tastic Fast Food on Elizabeth Street) – Delicious fries, Greasy burgers.
Cumulus Inc. (designer Bistro on Flinders Lane) – Overrated. Overpriced. Over-hyped.
Pepperoni's (the 'best pizza slice in town' off Elizabeth Street) – Actually the direct opposite of what its name suggests. We ate here out of desperation at 10pm one night and were served chips with unmentionable additions and soggy pizza with burnt topping.