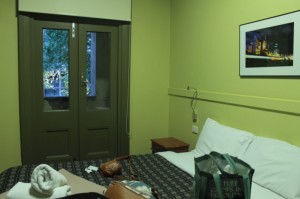 The YHA Central hostel is a relatively new outfit, located on Flinders Street in the building of an ex-city hotel and so it provided an ideal jump-off point to go out and explore the CBD and its surrounds. Our first day in Melbourne was bright and sunny, but it was also much colder than we were expecting (we hadn't realised that late Spring would call for jackets, scarves and even gloves but some people were still wearing them). The city itself has o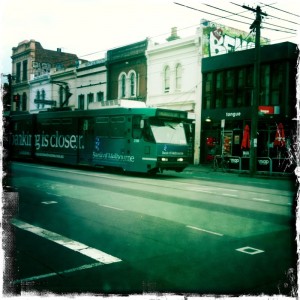 ften been referred to as the 'England' of Australia, and we began to see why as aside from the trams and the overhead screeches from colourful Lorikeets; the Victorian/European architecture, neatly clipped city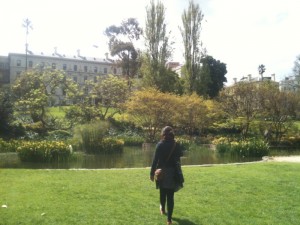 gardens and very temperamental weather made us feel right at home. Our first wander took us down Flinders Street to the Treasury Gardens and the Fitzroy Park beyond. It is here that we not only came across a model Tudor village (a gift from Lambeth in England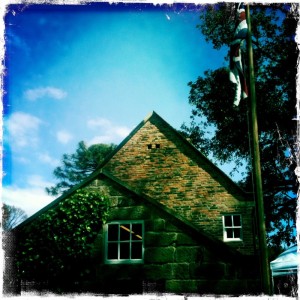 , for Australia's help with grain supplies in WW2) but also Captain Cook's Yorkshire cottage, which had been transported from England brick-by-brick and lovingly reconstructed in the middle of the park. We continued on through the park with its ornamental lakes and fountains until we reached the busy Victoria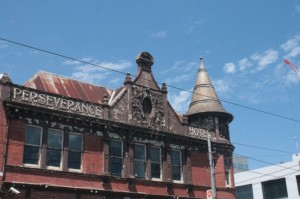 Parade which marks the fringes of Fitzroy, one of the first Melbourne suburbs. Here we discovered quaint tram-clad roads, bordered by old Victorian hotels and 19th century terraces in a Spanish style with names such as 'Barcelona Terrace' emblazoned on their tops. The first intersecting road we met was the infamous Gertrude Street, once the stuff of nightmares apparently but today it exudes the image of a fairly smart village with its blossom-fringed pavement cafes and restaurants, old hotel pubs, vintage fashion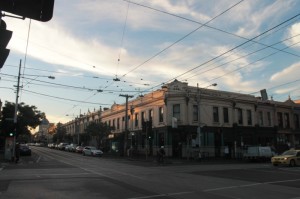 boutiques and art & craft shops. The intersecting Smith and Brunswick streets, which run parallel to each other, carry on a similar, if slightly grittier theme all the way up to North Fitzroy and beyond. We had been told that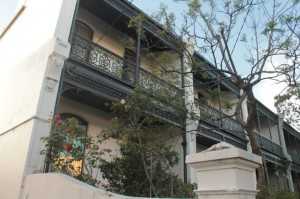 this was Melbourne's hipster centre but we couldn't help but be charmed by its relaxed atmosphere, fantastic restaurants, bars, jazz cafés and coffee shops. It was the sort of place where you get the feeling that good wine, f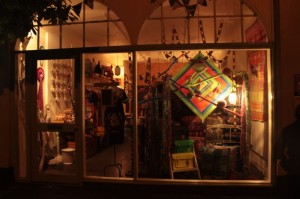 ood and company is just around every corner, and being just a 20-minute walk through a beautiful park to the city centre it was also very convenient, though we couldn't help but feel that our chances of finding affordable accommodation around here would be slim.
We decided to take the tram back to the hostel and while faffing around with Australian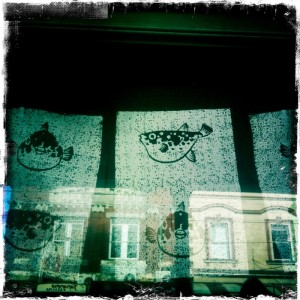 coins, trying to work out if we had enough for the fare, we met our first fellow London resident who had just moved to Melbourne on a work transfer (the city is a big magnet for people from the UK looking for new horizons). As he was just beginning to explore the city too, we swapped numbers and accommodation tips.
Back at the hostel, we focussed our attention on starting the flat hunt as, like everything else in Australia, even hostel accommodation can quickly eat up a travel budget. Luckily there were others in the hostel in the same situation and it was comforting to be able to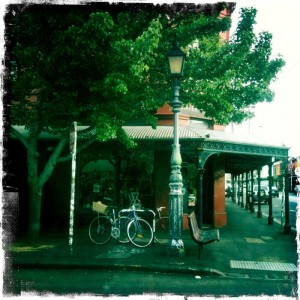 share tips and information over a cup of tea in between searches. Inspired by our visit to Fitzroy, we decided to use that as a base and searched for accommodation in its radius, including the suburbs of Carlton, North Fitzroy, Brunswick and Northcote. Gumtree was luckily full of ads, so we replied to half a dozen. The next day a few people had gotten back to us, some saying they were looking for a long-term tenant, others a single flatmate, but a more promising response said that although the room they'd advertised on Gumtree had gone, they had another which had just become free on Brunswick Street, just minutes from the cafés and pubs on Gertrude. Feeling it might be a little too good to be true, we went to view it