HILO (The Big Island)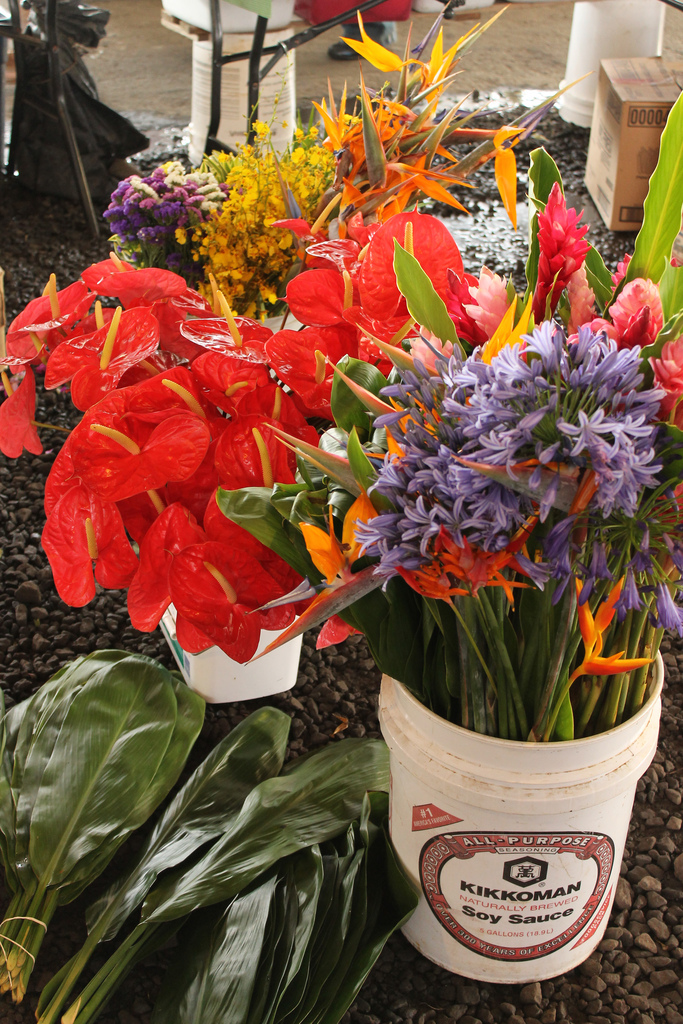 Our Hawaiian journey began in Hilo, which doesn't attract as many tourists as other parts of Hawai'i due to the large amount of rainfall it receives. Having just spent 5 days on a boat, I made the foolish decision to walk from the port into town where it promptly bucketed down with rain (so strong that it actually stung my skin) leaving us waterlogged, cross and not really sure whether we were going in the right direction. After about half an hour of squelching along a roadside gravel path, we reached an art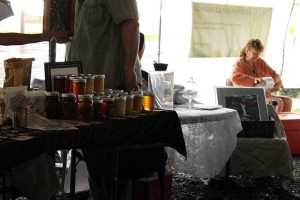 gallery where a very nice lady took pity on us and offered us a lift into town. We climbed into her truck, dripping a puddle of water onto her car floor while she drove us to a local market near the town centre. The pineapples, honey, flowers and local produce were tempting and it was great to see so many local farmers selling direct but still dripping with water, we decided it was best to find a local café to dry off in. After a short walk we came across the Kava Café, which funnily enough sold kava (a favoured drink in many South Pacific islands made from a mixture of water and crushed kava root which has anaesthetic and sedative properties). It tasted like peppery earth but did the trick and we were soon relaxed and drying out. When we first entered the café, I saw that there were several 'no sleeping' signs on the walls and thought them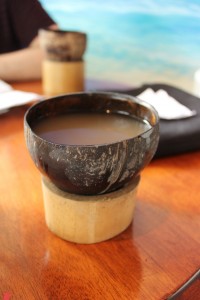 a little strange at the time but after a couple of cupfuls of Kava, they made perfect sense, especially with the sounds of a Jawaiian (Hawaiian reggae) soundtrack lulling in the background. In an attempt not to drift off, we switched on the laptop for the first time in a week to discover one bit of good news – the freighter company Globoship had gotten back to us to say that the AS Cypria freighter ship had just been booked for passage between Adelaide and Singapore in late December with one cabin available. It was the one and only freighter ship doing the route and taking passengers, so it looked like our speculative emailing had paid off. It was all too soon time to head back to the port, this time taking a local bus. The bus dropped us off in the middle of a minor flood which had accumulated on the road from all the heavy rain so we waded, in high spirits, through brown, petrol-laced water back to the boat and a nice, warm shower.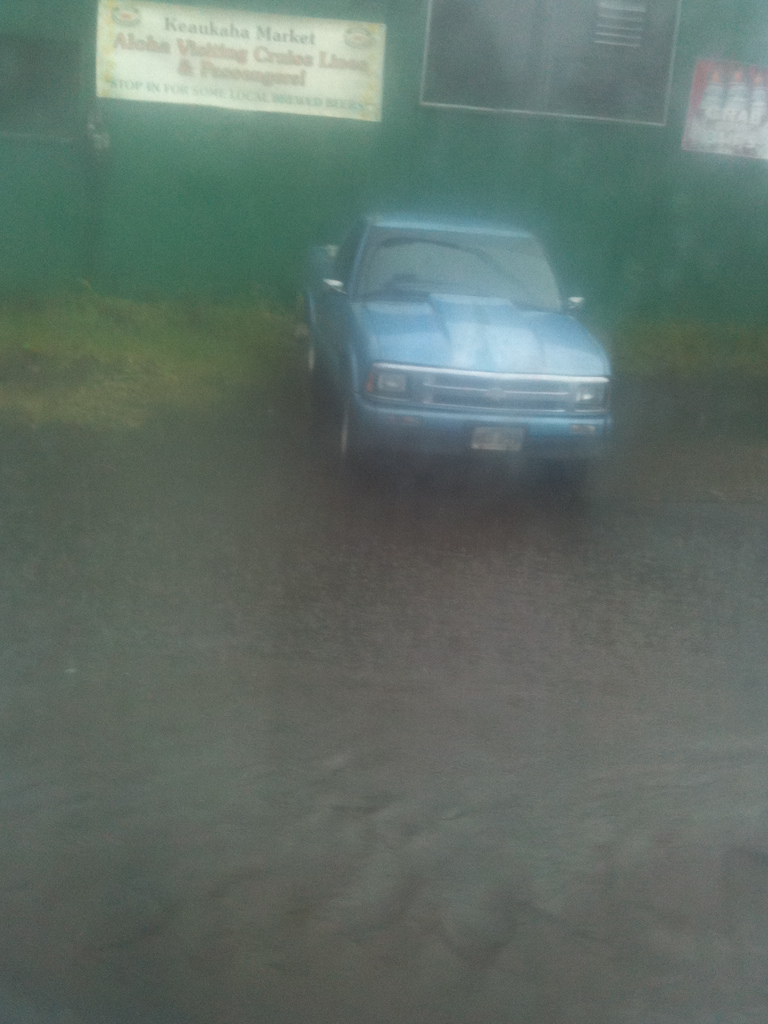 HONOLULU (O'ahu)
For some reason, the boat sailed on to O'ahu that evening – even though we were due to dock at Kona on the other side of the Big Island the day after next – whic
h we thought a little strange but it probably had something to do with port slots. This time we were docked very near the centre of Honolulu and from the minute we left the port, it was clear that this was the American Hawai'i we were used to seeing on postcards, t-shirts and in Hollywood films. Smoothie bars, surf shops and Hawaiian shirts, shorts and garlands could be found at every turn. In the morning we took a bus ride out to the countryside (to the Pali lookout, the Halona blowhole and Hanauma Bay). The bus driver was obsessed with films and TV and reeled off a very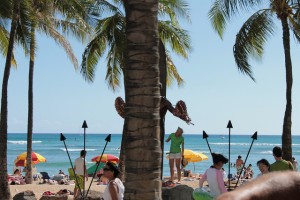 comprehensive list of all her favourites that had been filmed on O'ahu. These included Lost, 50 First Dates, Forgetting Sarah Marshall, the Jurassic Park films, Pearl Harbour, Pirates of the Caribbean: On Stranger Tides, Blue Crush etc. etc. It is no coincidence that nearly all of these are Hollywood blockbuster films and series – the local government apparently offers Hollywood film studios incentives to film here (under the proviso that the filming will ultimately bring benefit to the local economy). One of the most popular tourist tours on the island is the 'Lost experience' which takes people to various Lost filming locations, so I guess it works to some degree.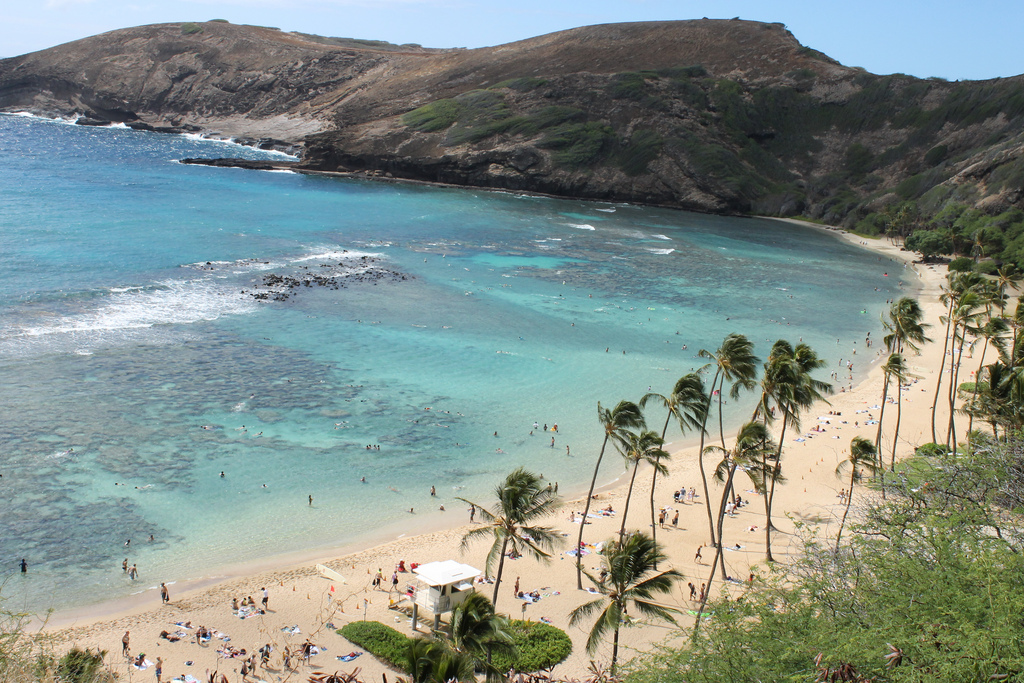 O'ahu was breathtakingly beautiful with lush greenery, waterfalls and turquoise waters – I could see why it is often referred to as paradise. It was hard to tear ourselves away from the beach but we were conscious of having no watch and not knowing exactly when the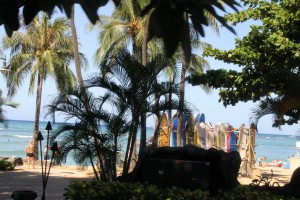 boat was leaving, we reluctantly headed back to town. When we got there, we found out that we actually had a couple of hours longer than we thought, so in the hope of squeezing in another swim, we jumped on the Waikīkī trolley which went to, (no surprises), Waikīkī beach. A bronze statue of Duke Kahanamoku ('the Father of Modern Surfing') bedecked with Lei's (Hawaiian garlands) marks the official welcome point of Waikīkī but also mak
es clear, to those who might have missed the other signs (such as the many colourful surfboards lining the sand), that Waikīkī is above all, a surfer's paradise. It is also tourist resort central, with air conditioned shopping malls, the 'Hilton Hawaiian Village', and every other major hotel chain vying for space on the crowded beach front. The beach does have spectacular views of Diamond Head (which dwarfs the built up hotels) and so we sneaked through the Hyatt Regency Hotel to use their beach access and enjoyed a second swim before returning to the boat.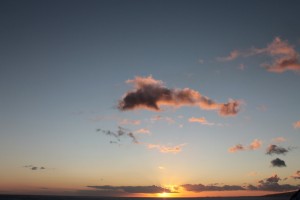 This may have been Americanised Hawai'i but if you take it for what it is, it is enjoyable in its own way. The boat was docked until dusk and so we watched a spectacular sunset (where even the clouds seemed to take on marine themed shapes) before lights all along the coast and up into the hills began to switch on, mimicking the lava flow of their volcanic island.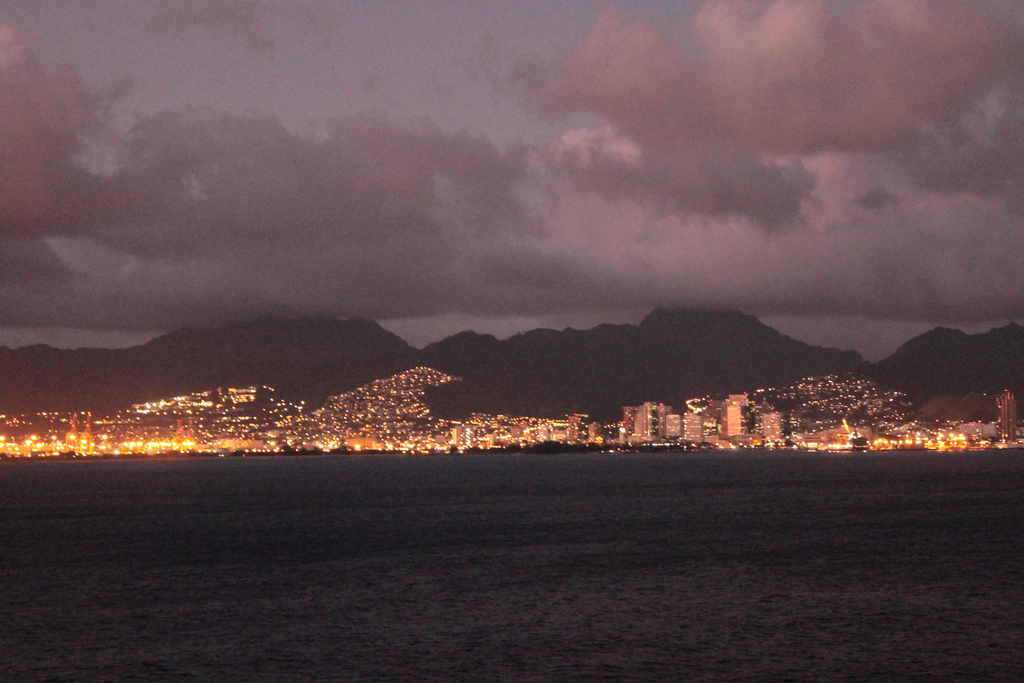 KONA (The Big Island)
Our last Hawaiian stop was in Kona where we had two aims: to visit Greenwell's coffee farm and to find the Mamalahoa hot tub garden, which is run from a private family home in a residential neighbourhood above Kealakekua somewhere in the hills (they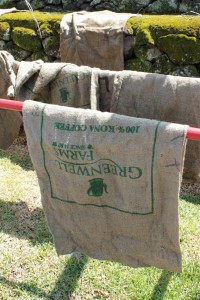 also offer the some of the best value massages on the whole of the island). We couldn't find any buses going in that direction, so it soon became obvious we were going to have to take a cab. Nobody seemed to have heard of the place but after about a 25 minute drive, we spotted Greenwell's farm so we knew we were close (Mamalahoa is about a 15 minute walk from Greenwell's). I find that massage is a fantastic way to release toxins and with all the fatty food I'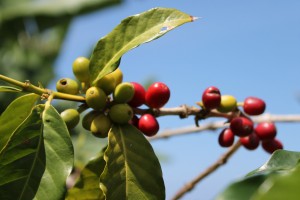 d been eating on the boat, there was no need like the present, so I had booked a hot stone massage for the early afternoon (additionally, there are no 'walk in's' at Mamalahoa, so if you want to visit, you have to make an advance booking). With a bit of time to spare, we headed to Greenwell's farm where they offer free tours and tasting of their various Kona coffees. The farm is a family run affair (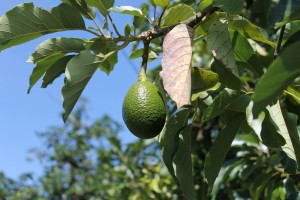 the land has been farmed by the same family since the late 1800′s) and alongside its coffee crop, it also produces avocados, mangos, citrus and apple bananas. The farm is also rife with chameleons (the first I had ever seen in the wild). We went on one of the free walking tours which was fantastic – we were led through every stage of the coffee production process, from the farming of the coffee cherries themselves to the harvesting, processing and roasting stages. There is nothing that Greenwells doesn't know about coffee and they also take online orders so if you're interested in sampling some for yourself, just click on the link here.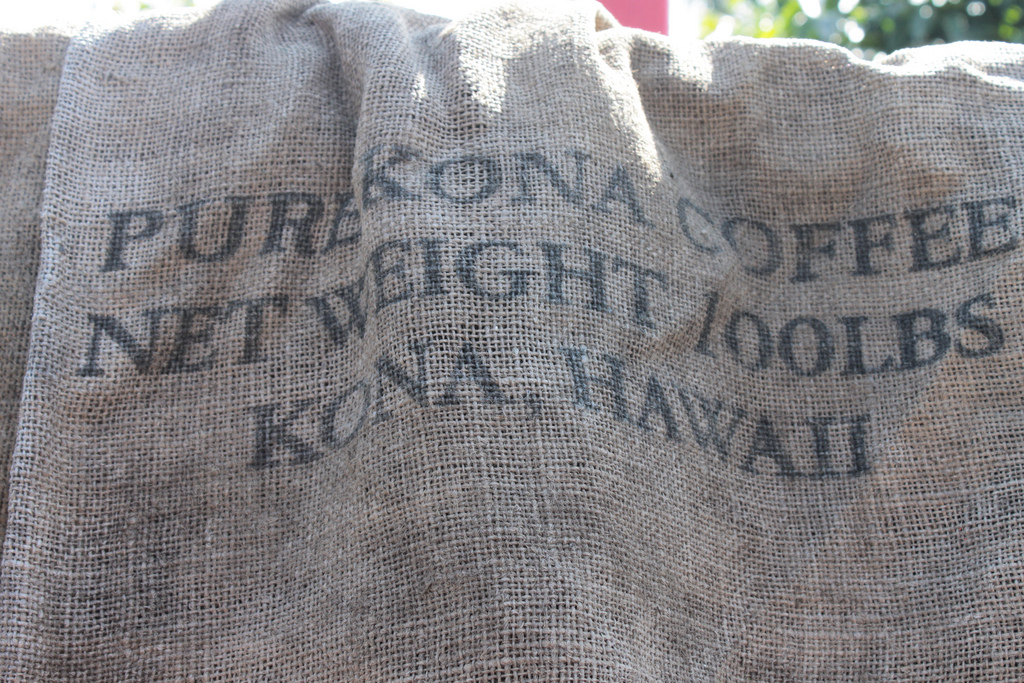 After drinking a lot of coffee and lunching on a bag of chocolate covered walnuts, we made our way along the road to the Mamalahoa hot tub house. It wasn't really signposted so we wrongly rang the doorbell of a few of their neighbours (who looked a bit perplexed when we asked if they had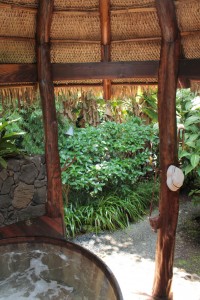 hot tubs in their gardens), before we were finally directed to the right place and were greeted warmly by the owner.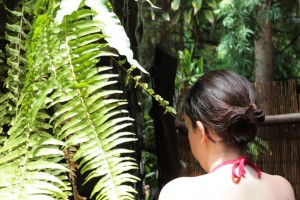 When she found out that we didn't have a car, she very sweetly let Alex and I have a free hot tub session and knocked some money of the price of my massage too which was very unexpected and kind (we found generosity such as this to be quite common in Hawaii). Each hot tub is in a private section of a beautiful garden and each has an outdoor shower where water is pumped through a rock. The massage itself was one of the best I have ever had and it's probably a good thing I don't live nearby otherwise I'd quickly become quite addicted. Feeling revived we headed back to the ship for another five days at sea en route to Pago Pago, but after the massage, I felt strangely more able to cope with that.