On our journey through the South Pacific we were able to sample many of the islands' own delicacies and specific ways of preparing food. The food in Hawaiʻi represents a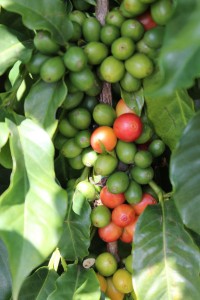 microcosm of Polynesian food, drawing on recipes that have been passed down for generations and which make full use of the abundance of natural produce available (e.g. Kava, Taro Root Stew, Apple Banana chips, Green Mangoes with fine spice powder, Pineapples fried with salty dried plum and Green Papaya tossed with fresh prawns). New flavours from foreign 'visitors' have also made their mark over the years, Malasadas (Portuguese doughnuts), pizza and coffee being notable examples. More contemporary recipes include Ahi Poke (seafood cut into bite-sized chunks and mixed with green onions, roasted kukui nuts, onion, sesame oil and seaweed), Apple Banana bread, Saimin and Bilimbi berry smoothies. Thanks to the huge variety of flora and fauna on the island and the inventive approach to food, there are many unique dishes to try. Here are some of our favourites:
Apple Banana Bread
Not to be confused with Apple and Banana Bread, this is a standard banana bread recipe made with locally grown Apple Bananas, which are smaller, tougher and have a stronger flavour than the Caribbean varieties.
Our banana bread came from the Greenwells farm near Kona, and though we haven't worked out their recipe here is one just like it!
(recipe sourced from 8chocolate.com, available under CC share-alike license)
Ingredients: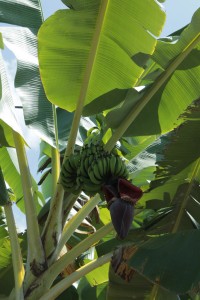 ½ cup (1 stick) of unsalted butter, softened
1 cup white sugar
2 eggs
3 cups of ripe apple bananas, diced and mashed (about 6-7 bananas as apple bananas are small)
1 teaspoon vanilla extract
1 ½ cups all purpose flour
¾ teaspoon baking soda
2 tablespoons unsweetened cocoa powder
1/3 cup sour cream
6 ounces or about ¾ cup of semi-sweet chocolate chips
Combine the softened butter, sugar and eggs and blend with mixer. Add in vanilla and half of banana mash and mix again. After blended, add in the other half of banana mash and blend again with mixer.
In a separate bowl, combine flour, baking soda and cocoa powder. Add this flour mixture to the batter in 3 or 4 stages blending with the mixer after each addition. Once completely blended, fold in the sour cream and chocolate chips until well mixed.
Pour the batter into a lightly greased 9×5 inch loaf pan and bake in a preheated 350 degrees F oven for 60 minutes. After 60 minutes, check with a toothpick inserted into the center of the loaf to see if it comes out clean. Continue baking if not ready. Cool in the pan slightly before unmolding. Continue cooling on rack and slice when completely cooled. Makes approximately 16 slices.
Saimin
An asian-style noodle soup, filled with dashi (which is Japanese soup stock) or chicken broth and topped off with strips of omelette, onion and fish cake. Served at street stalls and fast-food joints across Honolulu, this is definitely worth trying!
As far as I can tell, the instructions are simple… boil some stock and put the ingredients in!
(recipe and image sourced from travelhawaii – licensed under a CC v3.0 Share-Alike license).
Yields: 3 to 4 servings
Prep time: 10 min
Cook time: 15 min
Ingredients:
4 quarts water
1 tablespoon salt
1 (8-ounce) package dried Japanese soba noodles*
4 cups chicken broth or stock
1 tablespoon grated fresh ginger
2 tablespoons soy sauce
Kava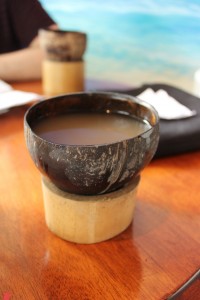 An ancient Polynesian tradition, also referred to as A'va in Samoa and Fiji, this is a heady cocktail made from crushed Kava root (sometimes with added ginger). The drink is traditionally used for greeting ceremonies between villages but is also served up in local cafes. The taste is quite peppery/earthy but you get used to it quickly, and it provides a calming effect not unlike a nice beer.
We had ours in the Kava Cafe in Hilo, while waiting for a burst of torrential rain to subside.