With a bit of time left on our side in the US, we decided to take the Pacific Coast Highway through Newport and OC Country to San Diego.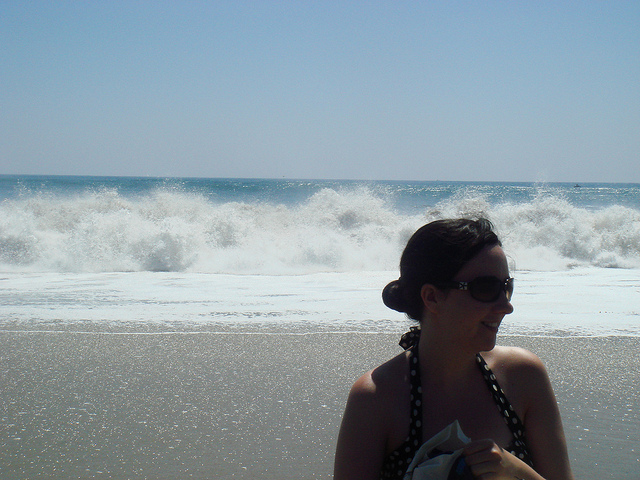 Despite the obvious 'cultural' link with Josh Schwartz, we found Newport to be far less 'OC' than we were expecting (and not in a good way). A combination of endless queues of giant cars (the latter being true to form I suppose), chain restaurants and tacky shops with a non-existent public transport system made us glad we were only passing through. The beach itself is quite nice, but compared to the coastal beauty of Big Sur and Northern California it was definitely lacking something. Laguna beach – a little way further down the coast – was by contrast, a pleasant surprise with beautiful, palm tree clad stretches of coast and hill top huts where people were reading and painting.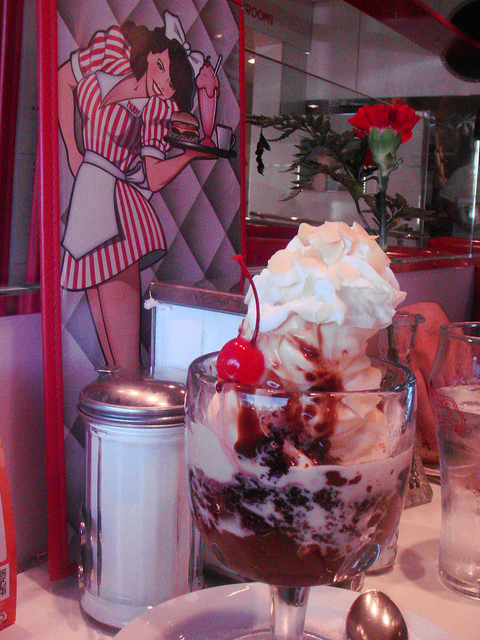 The onward drive to San Diego was scenic, with palm trees whizzing past the window and a marked increase in temperature as we headed south. We stopped once more in a kitschy little diner on the way (one of the famous 'Ruby's clan) which served, even by American standards, large portions of 50′s diner style food (the usual cherry pie, ice cream sundaes, hamburgers and fries), and then spent the rest of our journey trying to recover from the bloat. San Diego greeted us with an air of confusion as we made our way into the city centre and struggled to find somewhere to park our little car on our backpacker budget – nearly impossible it turned out. In a way I was glad it was so difficult, at least it meant that there were a bearable number of cars in the city centre, meaning plenty of space for pedestrians and bikes, but I still can't work out whether it is down to simple economics or city policy…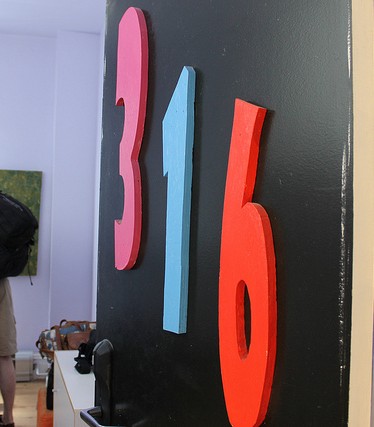 The hostel itself was certainly one of the more unique ones that we visited in California, with every surface available adorned with lively colours. It was located in the 'Gaslamp' district, a hodgepodge of soulless pubs hosting Karaoke nights and sports bars packed with screens, screaming punters and large groups on one long bar crawl headed for Tijuana. The only real points of amusement nearby were an alcoholic 'Slurpee' bar which served semi-liquid ice cocktails with loads of food dye and a couple of interesting thrift stores. The real soul of San Diego lies elsewhere: in town it's somewhere to the south near UCSD, an area we didn't have time to visit; but further afield there is the beautiful coastline of La Jolla and to its north the Torrey Pines State Reserve. La Jolla is a coastal suburb of San Diego which has a different feel to the inner-city noise-fest nearby – it is much more relaxed and laid back, though conforming to some of the typical Californian suburban sights of furniture stores and minimalist cafés.
Within La Jolla there is a major point of contention at the 'Children's Pool' (a sheltered cove which the people in charge decided was a perfect place for the county's children to swim. A nearby colony of seals had similar ideas however and decided to claim the beach as their nursery resulting in an ongoing battle. As always happens whenever nature makes inroads into a populated settlement, there are those who wish to turn the beach into a protected area for the seals and those who want it for their kids. Representatives from both camps man neighbouring info stalls at the entrance to the beach (so far only a couple of stand side fights have been reported). At present there is an uneasy truce with neither side getting exactly what they want but the seal population seems to be sticking around, so it looks like the compromise is holding so far.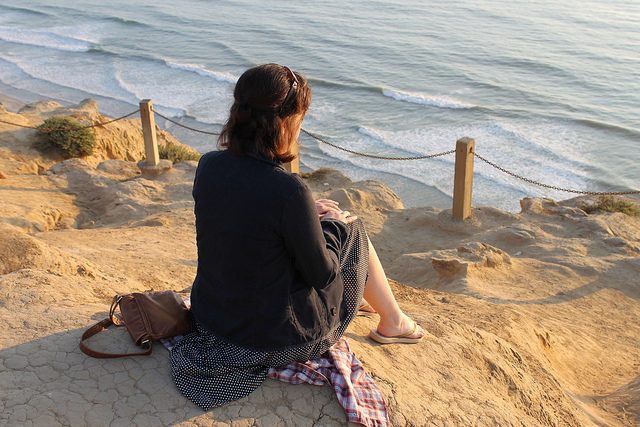 Not wanting to get too embroiled in the seal battle, we headed a little further down the San Diego coast to watch the sunset from Torrey Pines. This is a cliff face that overlooks a long stretch of beach and open sea, with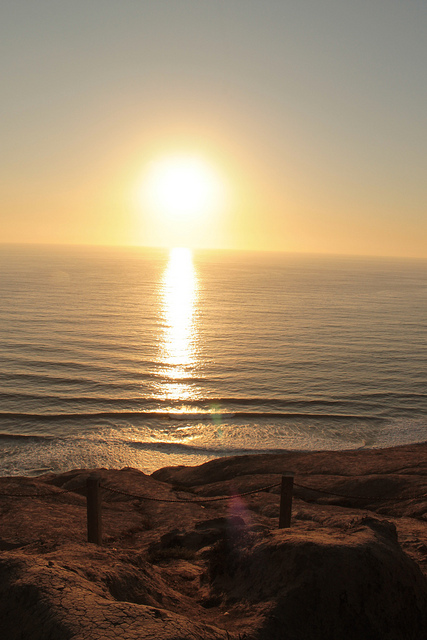 a precarious walk down to an impressive stretch of sand. We were joined by a small crowd of sunset gatherers, including a group of photographers armed with cameras of varying lense size. As the sun began to sink, three of the group jostled for position on a small viewing ledge, getting visibly angry as their huge lenses crossed with each other like swords (I never realised that photography could be so competitive but there we go)! We stayed to watch the sun set on its paparazzi before going for a moonlit walk along the beach.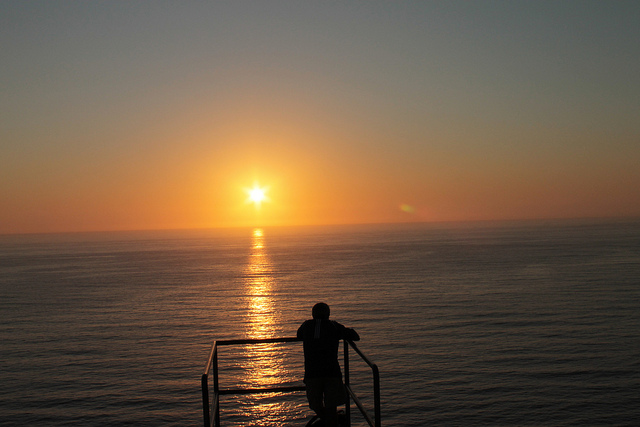 My cousin Naomi had kindly offered for us to stay with her and her family in North Hollywood for our last ten days in the US and so we left San Diego the next the day for our final coastal drive back towards LA. On our exit out, a water main had burst in the middle of town creating a sort of film set atmosphere with evacuees on the street and SD cops closing off the area. It seemed a somewhat fitting end to our coastal Californian road trip.