Monterey Bay Aquarium Restaurant (886 Cannery Row, Monterey, CA)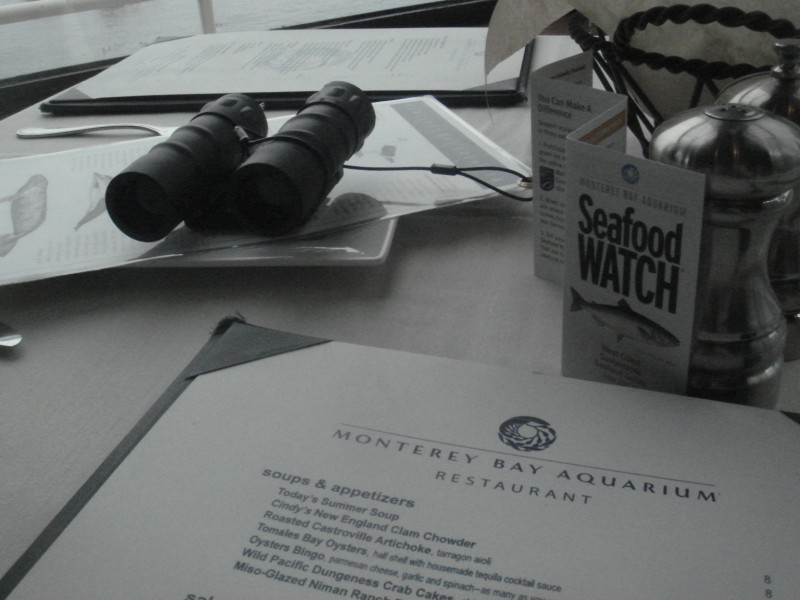 The restaurant at the Monterey Bay Aquarium is well worth a visit, if not for the reasonably priced food, then at least for the panoramic view, enhanced by the placement of table top binoculars which help you to spot the more subtle action taking through the window. Though sometimes it's safer to leave those well alone – a seal brutally bashing a hapless seagull around was not the wildlife spectacular we had been hoping to see. The atmosphere was lightened a little however by an amusing conversation we overheard from the next table sparked by appearance of 'French' fries on the menu. An elderly man was proudly telling his group that during the more recent invasion of Iraq, French fries had been dubbed 'Freedom fries' by some Americans in protest at France's objection to the war – he then went on to conclude that once the tide of opinion began to change this side of the Atlantic and it turned out that the French weren't actually wrong, the French in fry was restored to its rightful place – I'm sure the French were most relieved!
As to be expected with the food available here, much emphasis is on sustainably sourced fish and organic/local produce. There were copies of the aquarium's recently published sustainable seafood and sushi guides available on each table to either help inform your lunch choice or for you to take home if you couldn't stomach eating fish while actually at the aquarium. Online copies of the guides are available here or as a handy iPhone app. Although presently there are no guides available for Europe or Asia, someone from the aquarium said that research for these markets is underway and the guides should be available in the UK soon.