We finally boarded the Amtrak train after a minor delay but were just glad to be on the move. We opted for a sleeper car this time as we'd be on the train for three nights.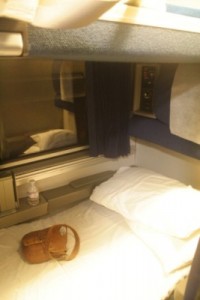 The room in our carriage was small but comfortable, with two seats that faced each other (transforming to a bed at night) and a top bunk. Each carriage is served by an attendant who looks after their travelling community (even turning the beds down at night). The view is a bit better than the one we had had on previous journeys in coach (as the window is all your own and is not obscured by the seat in front), but the ability to shut yourself off from the rest of the goings on of the train with one slide of a door and just take in the sights is what makes the Amtrak sleeper really worthwhile.
Route (main stops): Chicago – Omaha – Denver – Salt Lake City – Reno – Sacramento – San Francisco. Crossing three time zones – Central, Mountain and Pacific.
Day 1 – Chicago, Illinois to Lincoln, Nebraska
First we headed through a town called Aurora, essentially still part of the Chicago suburbs and also famous as the setting of Wayne's World (people still pilgrimage there apparently). Once we were clear of the urban sprawl we reached a small town called Galesburg and the open countryside. The first sights out of Chicago were mostly plains, farmland and clusters of forest. The odd water tower was visible from the train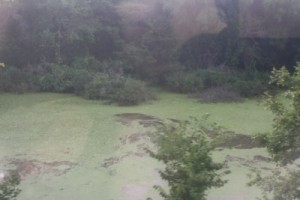 (each emblazoned with the name of its farm or town) and flocks of small birds could be seen flitting through the rows of corn. As we approach the Mississippi, the ground begins to get more swampy until eventually we are passing stagnant ponds full of green algae – the most likely culprit is run-off from nearby farms. Crossing the Mississippi at sunset was quite exciting – it was very wide and appeared to be flowing quite slowly (though probably with a deadly undercurrent).
We overheard a conversation between Jim, our 'car' attendant and a fellow passenger further down the carriage about flooding in the area we were crossing – apparently it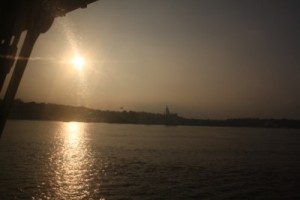 was completely submerged earlier in the year. Omaha was also experiencing severe flooding as we took the train. According to Jim, it's now "one thing after another" – the basin used to flood once every seven years, but recently the floods have been occurring once every four years. These are the kind of things you can easily skip over when taking a plane (which is what most of our fellow stranded passengers did when the original zephyr was cancelled) but you have to take note of when travelling overland. Jim makes the Zephyr journey forwards and backwards frequently and was an expert on the minutest of changes which have occurred en-route over the years.
We shortly crossed the Iowa state line and our first stop was a place called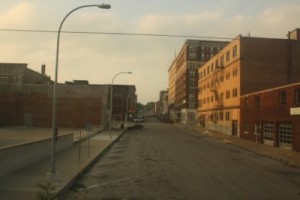 Burlington. This was a fading industrial town with an outer shell of operating factories and machinery but many dilapidated areas and empty warehouses in the inner town. Perhaps a warning sign of the decline of American manufacturing? Most operating business seem to be centered around construction, trains and auto-mobiles.
Just after we reached Danville, Iowa, we saw a thin cloud of black smoke trailing past our window – judging from the commotion that had ensued from outside our room, there was little doubt that our train engine was the culprit. The driver stopped the train pretty quickly and we had a long wait in an eerily still corn field while the engineers dealt with the problem. With the engine off we were relying on emergency power, so we sat in the dusky light thinking of the food we probably wouldn't be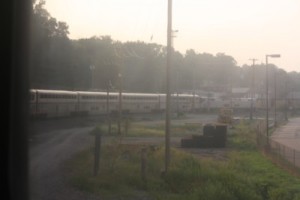 getting for a while. After an hour of sitting on the tracks, a nearby freight train came to the rescue and lent Amtrak one of their engines which they helped attach. This had two disadvantages for us though: freight engines cannot go as fast as the normal passenger engines and because of the delay we had now missed our slot – as the Amtrak trains share the line and play second fiddle to the freight trains on most tracks. Once you are delayed, even a by a tiny fraction, on a long journey like this you have to keep waiting for higher priority trains to pass you on the way.
Our first dinner on the train was good – after the delay caused by the engine we were very hungry and there were a few options on offer (even a vegetarian one). After our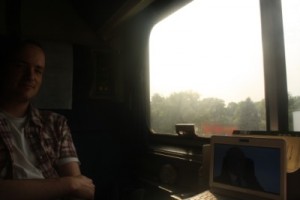 dinner we came back to the cabin to find the beds already folded out, with reading lights switched on, which made the room look welcoming and cosy. I took the top bunk and Anna the bottom and despite the obvious claustrophobia issues I slept much better than Anna did. The bottom bunk shakes a lot more as the train rattles along the tracks – the top bunk is quite a small space but at least it deals with the bumps a bit better. In the night there was an impressive thunderstorm, with heavy rain loudly pelting the windows and long bouts of lighting which lit up the surrounding area for seconds at a time. The train came to a standstill on the tracks for a good half an hour (perhaps because of the storm) and we suddenly felt a bit vulnerable on such a small travelling vessel.
Day 2 – Lincoln, Nebraska to Salt Lake City, Utah
When we woke up, the train was stopped at Lincoln, Nebraska (we crossed the state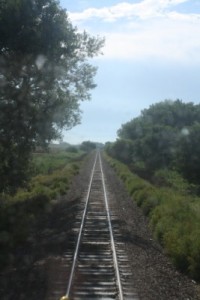 line sometime the night before). According to the timetable, this meant that we were six hours late already. Around this part of the journey we saw the same kinds of corn fields and arable land that we had seen in Iowa and Illinois, but the land was slightly bumpier. By this point we were travelling through rural communities and any big city influence had finally lost its grip. We met a couple of Australians at breakfast, who had just returned from a visit to one of the Amish communities (Bird in Hand in Lancaster County) which was fascinating to hear about.
By the time we reached Hastings, Nebraska it was coming up to mid-afternoon. We saw what must have been the heat and the dust reacting to form static electricity resulting in incredible lightning flashes in the middle of the clear noon-day. A little further on we began to see oil wells and what appeared to be some kind of cattle concentration camp, with thousands of cows outside in the heat in small enclosures. We couldn't work out whether it was a dairy or meat farm but the conditions looked awful. This was also quite near to a large cattle market. Although we are only seeing a small cross-section of the area, it did really reinforce the scale and harm caused by some methods of modern industrial food production, especially as this was the first of many we would pass over the next few days.
When we went to lunch we were seated opposite our first real right-wing "nutcase", who was just returning from a shooting meet in Ohio. He was quite frightening and had a cold, detached stare. We put on our best Louis Theroux impressions in an attempt to get through lunch while he banged on about San Francisco being a cess-pool, Obama being an idiot and various other homophobic and racist comments. We dreaded being sat next to him in the dining car again (who you sit with depends upon dinner slot timing) but luckily this didn't happen.
Our next stop was Denver, Colorado, where we had a longer break and were able to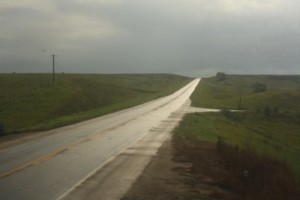 stretch our legs for the first time in a day. We tried jogging up and down the platform but apparently that's not allowed for 'health and safety' reasons so we walked along the train tracks which led to the city instead. We were surprised at the heat as we had an expectation of snow and wind in the Mile-High City (wrong season, I suppose). There were fewer skyscrapers than in Chicago, but still very interesting architecture. We stopped right next to the Denver "Rockies" baseball stadium in the middle of a game – half the stands that we could see were empty.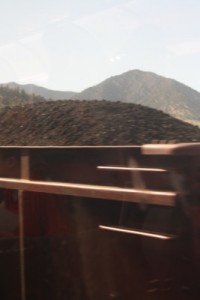 Denver was also quite a hub for freight transport – we saw freight trains over two miles long and full of coal. Around Denver the terrain is pretty flat but from the observation car you could  see the Rockies (which we were about to cross) looming overhead. If the train had been on time we would have been crossing them late morning/early afternoon but it was heading towards sunset so we hoped we'd manage to ascend them before dark.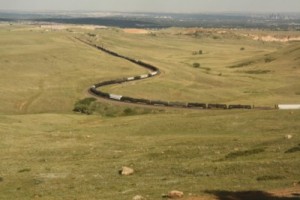 So began our slow and steady climb up the mountains, still being carried by our freight engine, where we were able to see Denver from 1000 feet above. Along this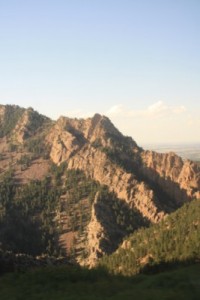 part of the track, the winds can be fierce enough to knock a train over so they have welded some disused train carts (or hopper cars), filled with sand, to an adjacent track to act as wind breakers. Flowers and trees have naturally grown in the cars so they are now referred to as a track garden.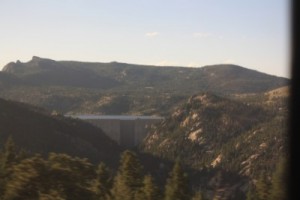 Ascending the mountains and travelling through the many tunnels carved through the rock was spectacular (the Moffat tunnel is the longest at 6.2 miles long). When not in tunnels, we were able to see enormous valleys lined with trees, eagles flying overhead and also the Hoover Dam. The US creates around 6% of its total electricity by hydroelectric power.
Once we were into proper "South Park" territory (though not a snowball in sight) we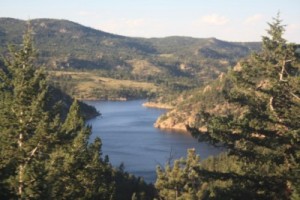 were able to see the small mountain communities of Fraser, Granby and Glenwood Springs – very interesting and surprisingly populous towns with plenty of coffee houses and even an artists' residence with skis for fence posts. They are quiet and sleepy during the summer months but spring to life when the snow reappears in Winter
By the time the sun started to properly set, we were in the dinner cart, seated with a young boy and his grandpa who were heading to Yosemite for a holiday. They were both very interested in trains and always travelled on them instead of planes, when given the choice. The Grandpa had travelled on the Santa Fe in the "good old days of rail travel" and regaled us with stories of what the trans-American train journeys used to be like before flying became the most popular way to travel cross-country. His grandson hoped to start his own trans-America train company one day and had even built a model construction of it in his parents' basement.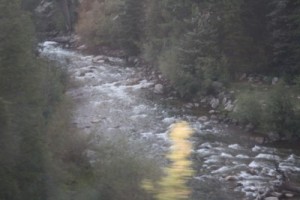 On return to our cabin, the window of our sleeper car loomed out at us, a bit like a panoramic cinema screen powered by the moon. We watched the forests became dense and lush as we followed the moonlit Colorado river in a parallel path until we fell asleep.
Day 3 – Salt Lake City, Utah to Emeryville, California
When we rose the following morning, we were greeted by sights of Salt Lake City and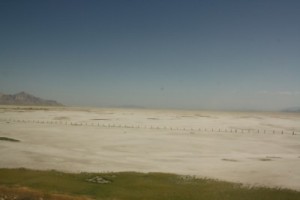 the salt basin. As we got moving we saw the enormous salt lake itself, as well as salt mines, flats and enormous mountains of salt itself. The terrain is very flat and the whiteness of the salt makes it almost look like pack ice (you almost expect to see a polar bear wander into the picture until you open the window and feel how hot it is outside). We did spot a coyote on a salt beach though, as if to remind us where we actually were. At this point we learned that the train was going to be arriving at least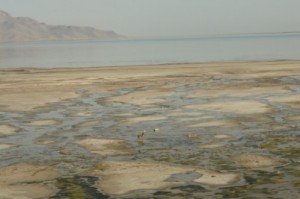 10 hours late, which fortunately didn't affect us too much but must have been very difficult for those catching the train or unable to get much sleep. It did mean we'd be on board for a further night and as a result, Amtrak offered everyone a free dinner. The dining staff raided the stores for anything they had left and were able to put together a soup/stew with some mashed potato (everyone gave them a round of applause as the train stalled yet again in the middle of the desert because the freight engine computer had failed).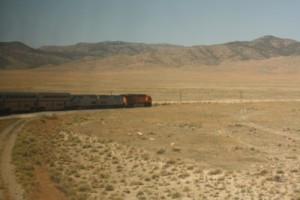 When they are at last managed to boot it again (after calling an off site engineer) we continued to cross the Nevada desert, which is basically sand and hills, interspersed with small oases of green and the odd oil barrel. By this point we had talked to most of the staff about how they found the working on the Zephyr – they all loved being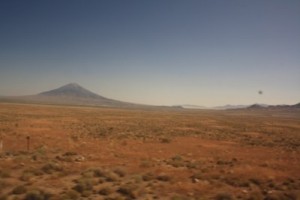 part of the incredible train journey but the hours seem to be punishing (the stewards and dining car staff work over 18 hour shifts, with the odd nap break during the off hours). They also had concerns about safety given that they are often working those extremely long hours for 6 days at a time, with no stopover break if the train is delayed. Given our earlier experience of the ineptitude of Amtrak's management in Chicago, we found the situation tragic and believable. The staff were absolutely incredible and managed to keep the atmosphere extremely positive despite the sleep deprivation and other difficulties they must have been facing.
As the night descended, we were still crossing the desert – it was possible to see a huge array of stars, there being practically no light pollution. It was beautiful but by this stage we starting to get a little cabin feverish and we were looking forward to getting to the final stop – even if it was now going to be at 4am.
Overall, we enjoyed the experience and met many fantastic people who told us lots of interesting tips and stories (many of whom we've since kept in touch with). There is definitely something to be said for the travelling community spirit which longer journeys seem to bring out.